How North Korea Views the Ukraine Crisis
Has the Russian invasion of Ukraine changed North Korea's strategic calculus?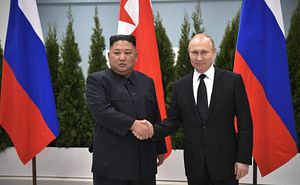 "The Ukraine situation is never irrelevant to us." With global attention focused on Europe, "there is a possibility that North Korea will conduct strategic provocations." These were the words of the now South Korean President-elect Yoon Suk-yeol, nearly three weeks before South Koreans took to the voting booths to elect a successor to Moon Jae-in.
Yoon's message, an unusually potent remark from a then-presidential candidate, was clear. Not only will South Korea be paying attention to the ever-rapidly evolving situation in Ukraine, but so will North Korea. Yet to what extent will the Ukraine crisis have a direct impact on North Korea's own foreign policy behavior, its actions toward the United States, and its attitudes toward its own missile and nuclear development? Moreover, with the recent spate of missile launches from North Korea, what might be its broader foreign policy objectives in 2022?
Global Crisis and Attention: When the Time Is Right
Earlier this year, as Pyongyang conducted seven rounds of missile testing in the month of January alone, U.S. Secretary of State Antony Blinken hastily remarked that North Korea was "trying to get attention," asserting that Pyongyang has "done that in the past. They'll probably continue to do that." It was a far from well-timed response, let alone an accurate portrayal of North Korea's complete motivations. We all know that Pyongyang does not simply want "attention"; rather, it seeks to extract political and economic concessions from its age-old adversary of the United States, its allies, and the broader international community, with the overarching goal of international recognition as a nuclear power.
One means by which the North has – historically – sought to leverage gaining political and economic concessions is by conducting provocations, with the hope that the international community will then listen, if not acquiesce, to Pyongyang's wishes. The tit-for-tat exchange of provocative rhetoric between former U.S. President Donald Trump and North Korean leader Kim Jong Un – not least the infamous words of "fire and fury" – immediately come to mind.
Yet at a time when the international community remains focused on Eastern Europe, bellicose North Korean behavior is likely to have two impacts, neither of which offers any real concrete advances to Pyongyang's broader foreign policy desires. First, of course, conducting missile tests of greater scope and sophistication will allow the North to continue buying time. With global attention directed to Eastern Europe, the likelihood that the international community will enforce further multilateral or bilateral sanctions on North Korea, if it continues missile tests, remains low. That said, should a further nuclear test be conducted – the last of which took place in 2017 – the international response may be markedly more potent. Second, and relatedly, however, this window of opportunity is small. Even if Pyongyang does not suffer the costs of sanctions, it is not gaining much, if anything, from the international community, at present.
Pyongyang's Foreign Policy Priorities
Kim Jong Un's speech to the ruling Workers' Party of Korea (WPK) in December 2021 made minimal mention of North Korea's foreign policy priorities for the coming year, in contrast to his addresses – and New Year's Addresses – of previous years. There was no explicit mention of the United States, nor lengthy focus on inter-Korean relations, for instance. That was a surprise, as these issues continue to remain significant for North Korea's policy calculations.
That said, Pyongyang's stance toward Russia's invasion of Ukraine, somewhat predictably supporting its former Cold War patron, has become increasingly vociferous with time, even if explicit commentary from state media on this issue has been far from regular. When the North does engage in rhetoric in this vein – most prominently blaming the United States as being the "root cause" of the Ukrainian crisis – such actions suggest that the Kim regime is taking a well-tried-and-tested leaf out of North Korea's foreign policy playbook. It will use any criticism of the United States, such as from Russia, to further its portrayal of Washington as a belligerent actor, against which the North has every right to continue its military build-up.
Recent missile tests, while not a direct response to the ongoing crisis in Ukraine, suggest a continuation of Pyongyang's increasingly voracious pursuit of further missile – and potentially even nuclear – development this year, as demonstrated in January. North Korea claims that it conducted tests of "reconnaissance satellites" on February 26 and March 4. Yet a recent statement from the U.S. Department of Defense said that these tests crucially involved a new intercontinental ballistic missile (ICBM) system, even if they "did not demonstrate ICBM range."
The revelation of the Hwasong-17, arguably the world's largest road-mobile liquid-fuel ICBM, on October 10, 2020 is firmly engrained in the minds of analysts and politicians alike, and raises the question of whether such technology could be used for subsequent tests. Indeed, Kim's recent visit to the Sohae Satellite Launching Ground points to the likelihood of further missile tests, couched as part of North Korea's satellite program, in the near future. In the usual euphemistic language, Kim made clear how further "satellite" launches would take place; the likelihood of Pyongyang disguising an ICBM launch as a "satellite" launch is high.
A Hawk in Seoul
How the international community will respond to North Korea's actions, beyond rhetorical condemnation and imposition of sanctions remains unclear. On March 12, the United States imposed sanctions targeting North Korean individuals based in Russia, and Russian firms, responsible for supporting North Korean missile sales.
Yoon, the outspoken South Korean president-elect, has underscored his opposition to a South Korean foreign policy that is "tailored mostly to improving relations with North Korea," alluding to the approach pursued by the Moon Jae-in administration over the past five years.
Even with a new South Korean president in office, inertia in South Korea's policies toward North Korea, as I have argued previously, remains a likely possibility. Yet, the Ukraine crisis also affects South Korea's foreign policy priorities more broadly. That South Korea has recently halted transactions with Russia's central bank, and pledged to restrict exports to Russia, may seem a decisive move, but of note, Seoul only engaged in such sanctions following initial steps taken by the European Union and United States.
Both North and South Korea will also be paying attention to how the Ukraine crisis unfolds with respect to nuclear escalation. Russian President Vladimir Putin's placing of his nuclear forces on high alert – "special duty combat regime" – over a week ago highlights, for the North, the value of nuclear weapons for deterrent and posturing purposes. Yet the Russian invasion of Ukraine also underscores, for South Korea, the rapid pace at which conflict can escalate. As global eyes focus on Ukraine, it is likely that North Korea's nuclear and missile aspirations would have continued, notwithstanding the invasion. Yet even if sanctions are imposed on North Korea, Pyongyang's ability to evade them has hitherto not abated its quest for the recognized status of a nuclear power – which it believes it already has gained – and which only look set to continue over the course of the year.