Assam's Women at the Frontline of Protests Against India's New Citizenship Law
Women in the Indian state of Assam are making their voices heard.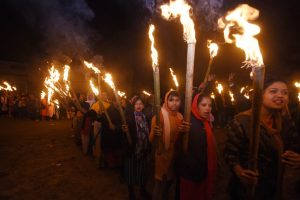 One of the many distinctive aspects of the agitation against the Citizenship (Amendment) Act in India's northeast is the large participation of women from all age groups and communities. This has been most discernible with women from Assam, who have also been at the vanguard of protests in different countries.
The agitation against the new law in Assam had its origins almost two years ago, but it gathered steam early last year when the bill was placed in Parliament. The movement fizzled out when the bill could not be passed by the ruling Bharatiya Janata Party in the upper house of Parliament. It picked up again with greater momentum a month ago when the new version of the bill was passed in Parliament.
Almost the entire Indian northeast has been rocked by the agitation, but it continues to be more intense in Assam. In recent notifications, the central government has exempted from the purview of the act all the states in the region that are either under the Inner Line Permit (ILP) regime or the autonomous councils under the Sixth Schedule to the Indian Constitution. This safeguard does not include a large part of Assam, which has continued to fuel the protest. The new law also nullifies the historic Assam Accord, which accepted 1971 as the cut-off year for citizenship in the state.
The movement organized by women in and from Assam ranges from processions and hunger strikes to singing protests. A memorable incident was the procession on December 12 through the heart of Guwahati in Assam, led by college students, where hundreds of women also participated. A barricade erected by the police on G. S. Road proved too weak to halt the march, which ended at the complex where ministers have their offices. Incidents of violence were reported on that day, prompting the police to open fire on the protestors.
Rajeev Bhattacharyya is a senior journalist in Assam, India.