Thousands of Indians Welcome New Year With Spirit of Resistance
On a cold evening, a diverse group of concerned Indian citizens took to the streets to protest the new citizenship law.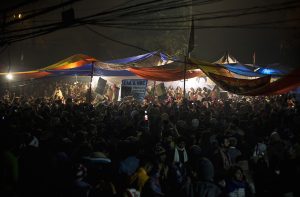 Thousands of people in the capital city of Delhi braved the cold on New Year's Eve to mark their protests against a new citizenship law that allows only non-Muslim refugees to apply for citizenship.
Delhiites joined residents, mostly women and girls, of the Shaheen Bagh area of New Delhi in entering the new decade singing the national anthem, raising slogans against the federal government, and reciting the poetry of resistance.
Mass protests, not just by Muslims but by a diverse group of concerned citizens, erupted in several Indian cities after December 15, when police in Delhi's Jamia Milia Islamia University used tear gas and bullets and beat students with wooden batons to disperse protesters. More than two dozen protesters, mostly in the northern state of Uttar Pradesh, have died in alleged police crackdowns.
Indian President Ram Nath Kovind approved the Citizenship Amendment Act (CAA) 2019 on December 12, paving the way for non-Muslim immigrants from Pakistan, Bangladesh, and Afghanistan to apply for citizenship. The law has no provision allowing Muslim refugees to become citizens.
Politicians from the governing Hindu nationalist Bharatiya Janata Party (BJP) have also proposed a National Register of Citizens (NRC), which is currently being implemented in the northeastern state of Assam and which may require all Indian residents to prove their citizenship even if they have passports or other government-issued identity cards.