Bhutan's Lawmakers Urged to Decriminalize Homosexuality
Bhutan's upper house of parliament is set to deliberate a bill that could decriminalize homosexuality in the country.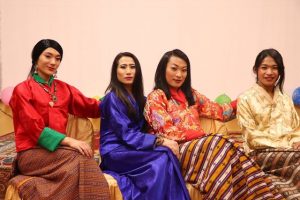 As Bhutan's LGBTQ community nervously waits for the Buddhist country's upper house to discuss a bill to decriminalize homosexuality in the coming weeks, the international human rights group Amnesty International has called on Bhutanese parliamentarians to seize this "historic opportunity."
"This will be an important step in recognizing that Bhutan supports the equality of all citizens regardless of sexual orientation or gender identity," said Babu Ram Pant, the South Asia campaigner at the U.K.-based organization. "For a country that prides itself on the happiness of its people, Bhutan must without any delay rid itself of laws criminalizing consensual same-sex relationships," he said in a statement.
Pant was referring to Bhutan's policy of gross national happiness (GNH), which seeks to make happiness, or the holistic wellbeing, of its citizens a key national goal.
The attitude of GNH is visible also in the struggle of the LGBTI community here. Unlike other countries where they are having to fight for equality, Bhutan has witnessed a refreshingly peaceful and amicable campaign.
The motion to repeal Sections 213 and 214 of the Penal Code of Bhutan, which was proposed by Minister of Finance Namgay Tshering, was passed almost unanimously in the lower house of the parliament last June. The sections deem homosexuality as illegal. Now the bill has reached the National Council, or the upper house.
However, Bhutan's public broadcaster BBS wrote on its Facebook page last week that the Legislative Committee of the National Council had proposed not to repeal the Sections 213 and 214 of the Code.
LGBTI people in Bhutan have had a sense of social exclusion and discrimination. "Bhutanese are generally quite tolerant about anyone being LGBTIQ. But we need to go beyond just tolerating," said Namgay Zam, an independent journalist who has been advocating for the community and has started an online petition to encourage the upper house to pass the bill. "We need to accept that humans not only come in all shapes, sizes, and colors, but also with all kinds of sexuality. It's about social inclusion after all."
What's more, more than 42 percent of transgender women and 23 percent of gay and bisexual men in the country have attempted to take their own lives more than once, according to a 2016 Integrated Biological and Behavioral Surveillance survey. And in a 2019 study, 69 percent of the respondents felt that criminalization of homosexuality has impacted them negatively.
Amnesty International also said that the community has faced social hostilities. "The amendment will be the first step towards removing discrimination, harassment, bullying and violence that many LGBTI people or those perceived to be LGBTI continue to face in Bhutan," said Pant.
The existence of "such discriminatory laws" are enough for "a chilling effect, and exacerbates discrimination and stigma against LGBTI people," the statement added.
The fact that homosexuality is illegal has dissuaded many from disclosing their sexual identity. Only 316 people had identified themselves as LGBTI in the country until last year, according to the Kuensel newspaper. With the pending decriminalization, the community is hopeful that many more will come out.
However, any stigma may not be because of religion. Although Bhutan is the world's only Mahayana Buddhist country where people are generally religious, that has not come in the way of equal rights.
"Our religion has so far never objected to the way we live our lives," said Tashi Tsheten, director of Rainbow Bhutan, which represents the country's LGBTI community. "Our gender identity and sexuality are linked to our past deeds or 'karma' of our previous lives. We take that as an opportunity for acceptance as we believe we do not decide our fate and our lives are often determined by our deeds. This is why our religion teaches us to accept the way we are and not judge others for who they are."
The leaders of the LGBTI community have also not offended others. "As a network, our advocacy strategy was solely based on building relations and connecting to people who can help us achieve our ultimate goal of decriminalization," Tsheten explained.
The movement to demand equality started in 2015, when the community started organizing programs on HIV/AIDS. Two years later, Rainbow Bhutan was formed as a collective with a Facebook page.
"We will keep on moving forward regardless of the decision but if decriminalization happens, it will act as a catalyst for us," Tsheten said.
However, decriminalization is just the first step, he added. "It will surely open up spaces in the government and other sectors to lobby for change and acceptance in the country. Few of the opportunities that we look forward to is inclusion of SOGIESC (Sexual Orientation, Gender Identity and Expression, and Sex Characteristics) in all the major policies that the government drafts and in the current national policies of the government. Policies protecting the community against discrimination [and] access to change of gender in legal documents are some of the immediate plans for us."
Harshita Rathore is a journalist with StoriesAsia.