China's Belt and Road: Is Asia Getting More Cautious?
Xi's recent voyage to Myanmar spotlighted the broader question about whether some key regional states are getting more cautious in responding to Beijing's initiative.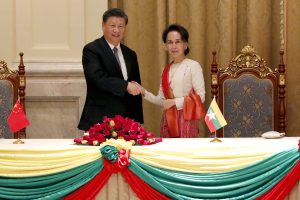 One of the storylines that ran throughout Chinese President Xi Jinping's first visit to Myanmar in his current capacity was the inroads Beijing was hoping to make with respect to its Belt and Road Initiative (BRI). While the focus itself was not surprising, it nonetheless raised a broader question at play in the wider region: are key states getting more cautious in how they engage the BRI?
Since China's BRI first took off, there has been a near endless focus on the mix of opportunities and challenges it presents for various countries as well as how other major powers are responding to it But as I've argued before, a key part of that conversation, beyond what China wants or what the United States thinks and does, is how key regional states themselves are responding to the BRI.
Getting a sense of regional reactions is challenging given the diversify of responses we have seen, the evolution of the BRI itself, which remains quite amorphous in some senses amid the periodic reports we see, and the relative availability of alternatives offered by other countries such as Japan. Indeed, regional engagement with the BRI is best seen not as a linear process, but a more dynamic one in response to changes in these variables and more.
That said, we have seen some signs that a few key Asian states have gotten more cautious about engaging the BRI amid several dynamics. Fears of so-called debt traps with respect to projects such as Hambantota, exaggerated though they may be, have nonetheless played into the greater caution at play with certain deals. Leadership changes have brought about initial scrutiny on existing projects and some measure of recalibration, with Malaysia's Prime Minister Mahathir Mohamad and Pakistan Prime Minister Imran Khan being cases in point. And some polling data indicates that wider concerns about China's rising capabilities and assertive behavior are showing signs of partly rubbing off on initiatives such as the BRI as well.
Myanmar has been among the countries which has been exercising greater caution with respect to how it engages the BRI. While China has continued to press for progress on key infrastructure projects, the Myanmar government has not been afraid to slow agreement and implementation and not move forward with others in their entirety. Myanmar has also had the assistance of several other countries including the United States as it renegotiates some of its deals with China to address previous concerns.
We saw some of this at play with Xi's visit. Most notably, while the trip saw both sides ink 33 agreements and there was progress on the geopolitically significant Kyaukpyu project, no other inroads were made on any major old or new deals that had been floated between the two countries, including those tied to the BRI. Sean Turnell, a longtime expert and an adviser to the Myanmar government, told The Irrawaddy in an interview that the scrutiny on deals including those tied to the BRI were rooted in the fact that the current government wanted to depart from the previous approach to signing off on many agreements without proper consideration of various financial, environmental, social, and human rights considerations.
To be sure, as with Asia more generally, we should be careful about reading too much into single developments and moments in time including Xi's Myanmar visit, and to mistake current caution for more intense pushback or enduring skepticism. As noted previously, country responses to China's BRI are dynamic, and Myanmar is no different, which does not discount the possibility that its more cautious approach may change in degree and in kind according to various developments, be it the terms afforded to it or a shifting context after elections expected later this year. Nonetheless, Xi's Myanmar visit reinforced the fact that the evolving response of significant countries will continue to be important to watch within the continuing story of the BRI's development.