Does India Gain Anything From the Shanghai Cooperation Organization?
Any benefits from the SCO are cancelled out by the presence of China and Pakistan.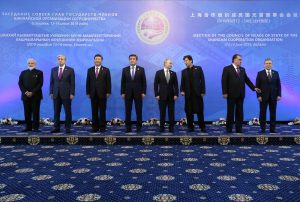 2020 will mark the first time India hosts the annual Shanghai Cooperation Organization (SCO) summit. In the week before the event, one can expect an outpouring of commentaries on what it will mean for New Delhi. Let me, therefore, be done with my part of this discussion early by providing a short reply: It will not mean much. Not just in the coming year, but at all. India will not gain much from its participation in the SCO.
One of New Delhi's most important challenges is to hold the threats posed by Pakistan and China at bay. And yet New Delhi joined the SCO, which has Beijing as one of its founding fathers and guiding spirits – moreover, India attained membership in the SCO together with Pakistan in 2017. Diplomacy may be perhaps understood from the point of view that every dialogue is necessary, and various formats help to share more words, views, and information. But let's cut to core issues: Can the SCO take a stand on the Kashmir dispute that India would like, given that China is sure to take Pakistan's side? Can the SCO take a stand on the border dispute between India and China that New Delhi would appreciate, given that none of SCO's other members have the capability to stand up to Beijing in such a dispute? Can the SCO actually help India in its dealings with China in any significant way?
New Delhi's policy toward Beijing in the last few years has been cautious. India avoided direct confrontation (apart from the Doklam moment), but involved itself in proxy wars of influence with China in the region (in Nepal, Sri Lanka, and the Maldives)and enhanced cooperation with friendly nations of the Indo-Pacific (clearly, though not outspokenly, against China's rising presence), all while extending a highly-raised diplomatic hand of friendship in bilateral relations with China (the Wuhan and Mamallapuram summits). Perhaps it can be said that New Delhi wants to keep talking to Beijing and avoiding direct conflict as much as possible (as it can't win). But at the same time, India attempts to contain China's influence in the region by cooperating with its South Asian neighbors and like-minded states (like the United States, Japan, and France).
How can the SCO help? Any form of joint containment of Chinese influence in the region would not happen within the confines of the SCO. We are therefore left with dialogue: The SCO is one more avenue of dialogue with Beijing, but that is all it is.
Before the two South Asian countries joined, the importance of the SCO lay in bringing together China, Russia, and Central Asia. What are India's primary goals with regards to Central Asia? Arguably its interests are to have its economic relations with the region flourish, to find ways to enhance the connections, and to cooperate in combating terrorism.
The first and second objectives can be obtained – as much as possible – without the SCO. India does not need the format to take care of its relations with countries like Kazakhstan, Tajikistan, or Uzbekistan. But a primary obstacle to New Delhi's cooperation with Central Asia is the geographic reality that it is separated from the region by a hostile Pakistan and unstable Afghanistan.
One of India's grand strategic plans to find a land route to Afghanistan (and hopefully beyond to Central Asia) is to establish a connection through Iran's Chabahar port. Thus, one of the most important initiatives that may open a new road from India to Central Asia depends on trilateral India-Afghanistan-Iran cooperation (whether it will work or not is another issue). The SCO is not helpful in this regard as Afghanistan and Iran are merely observers.
It is true, however, that both Kabul and Tehran have expressed past interest in SCO membership. Such developments would be positive for India. It would still remain to be seen what New Delhi could attain by jointly sitting at one table with Iran, Afghanistan, and the Central Asian states that it cannot achieve outside the SCO, bilaterally or in wider formats – and without the involvement of Pakistan, which India would consider a hindrance.
It has been argued that the SCO Regional Anti-Terrorist Structure (RATS) has had its achievements. That may be also of some significance for India. But New Delhi's core goal in the region is a stable Afghanistan with as little Pakistani influence as possible. Regional anti-terrorist cooperation with the Central Asian states is of value for India when it reduces the capabilities, or at least movements and smuggling options, of the Taliban and other radical groups in Afghanistan. From this perspective, cooperation with the Central Asian republics that border Afghanistan is certainly important for India (as it was in the past, especially with Tajikistan). 
But, once again, it is Pakistan that is part of the SCO, not Afghanistan. This means that Islamabad will take care of its own goals in the same region within the SCO. It also raises the question of intelligence sharing within the SCO's anti-terrorist structures, as these could lead to India sharing data with Pakistan and China.
The SCO is not an "alliance of the East,"  or an "anti-NATO" as some predicted it would become years ago. Had it been going that way, India would not have even wanted to participate. Even below the military and strategic angles, the SCO members do not have many clear overlapping goals. This is not only about how India can benefit from the SCO, but what the organization can achieve at all. It is a hardly influential format of divided states, an international organization with negligible achievements and uncertain future. 
The bottom line is this: From the perspective of New Delhi's primary goals, any larger benefit of taking part in the SCO will be cancelled by the fact that the organization includes India's key rivals as members.