Has the US Lost Myanmar to China?
Xi's visit bolstered China-Myanmar ties, but the West can still compete.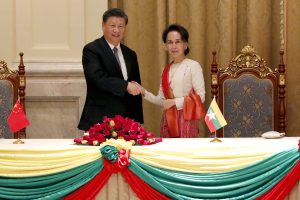 Chinese leader Xi Jinping just wrapped up a two-day visit to Myanmar from January 17-18, the first trip by a Chinese head of state since Jiang Zemin traveled to Burma in 2001. Xi's visit notably occurred in the 70th anniversary year of China-Myanmar diplomatic relations and further cemented bilateral relations, which have been in general extremely positive since the West turned away from the embattled country in light of the Rohingya migrant crisis that erupted in 2017. In Naypyidaw, Xi and Myanmar State Counsellor Aung San Suu Kyi signed 33 agreements related to infrastructure development, trade, manufacturing, and special economic zones (SEZs).
Xi and the Chinese Communist Party now hope to put bilateral ties on a more permanently secure footing. Beijing had long shielded Myanmar's junta from international scrutiny at the United Nations and backed the abusive military regime during the 1990s and 2000s when it was estranged from the West. But when the previous government of President Thein Sein began to reform the country's political institutions and open the doors to global investors, the Obama administration in the U.S. responded with deft diplomacy and high-level visits, suspending economic sanctions in 2016.
Now that Myanmar is once again facing international isolation following the violent expulsion of more than 700,000 Muslims of the Rohingya minority ethnicity between 2012-17, Aung San Suu Kyi's government finds itself more reliant on Beijing's graces than ever. Suu Kyi, a former Nobel laureate and long-time dissident who was under house arrest by the military junta for nearly two decades, has shown a clear preference for pragmatism by engaging with Beijing to secure major investment commitments. China, in turn, hopes to gain a reliable partner to its south, with a vital strategic outlet to the Indian Ocean.
Myanmar's Mixed Political System
Though nominally a constitutional democracy, Myanmar is still a semi-authoritarian quasi-military state, where legislative and financial transparency are far from the norm, and the government uses colonial-era legislation to imprison journalists who criticize Suu Kyi's party, the National League for Democracy (NLD). Aung San Suu Kyi and the NLD have alternated between praising the country's all-powerful armed forces and battling their influence in politics by launching efforts to change the military-drafted 2008 Constitution, which enshrines the Tatmadaw's, or armed forces', control over important decision-making bodies.
According to the 2008 Constitution, the Union Parliament is composed of one-quarter active-duty military members. Additionally, the armed forces control three major government ministries: Home Affairs, Defense, and Border Affairs. Military MPs have objected to the NLD's efforts at constitutional reform, calling them undemocratic and warning of their potential destabilizing effect. But they have on the whole allowed the process to take its course without launching a coup (the constitution contains a clause allowing the commander-in-chief of the armed forces to take power from the civilian leaders in the event of a state of emergency).
While the Tatmadaw once held powerful ties with Beijing's rulers, the China-Myanmar relationship has a turbulent past. Beijing backed a communist insurgency in Myanmar's northern territory during the Cold War and has continued to support an offshoot group, the 20,000-strong narco-militia known as the United Wa State Army, Myanmar's largest ethnic insurgent army. Despite claims of "pauk phaw" friendship (the Burmese term used to describe the relationship between two brothers), today the military has strong reservations concerning its big brother's growing influence in the country. When I was doing research in Myanmar in 2019, interlocutors shared with me that the military was more reluctant toward specific Chinese projects, such as special economic zones and ports, than elected leaders.
How Myanmar Fits Into China's Grand Strategy
Of paramount focus during Xi Jinping's state visit was the Kyaukphyu special economic zone (SEZ) and deep-sea port. Originally agreed to during Xi's first visit to Myanmar in 2009, when he was vice president, the two sides reaffirmed their commitment to continue the development of Kyaukphyu, while avoiding specifics pertaining to financing and bidding. The agreements signed also included a railway linking Kunming in southern China to Kyaukphyu by way of Muse and Mandalay in northern and central Myanmar, as well as the New Yangon City project, an urban development zone being developed by China Communications Construction Company (CCCC) across the river from downtown Yangon, Myanmar's former capital and largest city. The projects are all linked to the China-Myanmar Economic Corridor (CMEC), part of Beijing's vast Belt and Road Initiative (BRI), stringing together a series of strategic ports, railways, and pipeline projects across the globe.
Myanmar is of special significance to Beijing's geostrategic plans. The country provides China with access to the Indian Ocean and offers a vital hub for containing its rival rising power India, with whom it has clashed on their shared border. The Indian Ocean provides major shipping lanes for China's imports of crude oil from the Middle East. Overland routes now in use (oil and gas pipelines in Kyaukphyu began pumping oil in 2017 and gas in 2013) across Myanmar and all the way to Kunming in southern China's Yunnan province allow Beijing to circumvent the South China Sea and strategically vulnerable Malacca Strait, which is susceptible to maritime frictions with other major powers including Japan and the United States.
Aung San Suu Kyi agreed to the China-Myanmar Economic Corridor, linking Kyaukphyu and Kunming, in a meeting with Xi Jinping on a trip to Beijing in 2017. Suu Kyi has ambitiously curried favor with the Chinese Communist Party and Chinese businesses in a bid to speed up her country's lagging economic growth and much-needed infrastructure development.
Lately, Myanmar's military commander-in-chief, Senior General Min Aung Hlaing, has also warmed to the strategic importance of Chinese investment and the vital role Beijing has played in supporting Naypyidaw in light of criticism over the Rohingya crisis. The senior general traveled to Beijing in April 2019, praising the positive state of bilateral relations. Min Aung Hlaing also declared that the Myanmar military would support China's Belt and Road projects in the country (the military controls the police, is responsible for internal security, and retains a significant stake in the economy via its conglomerate the Union of Myanmar Economic Holdings). In return for the Tatmadaw's cooperation, Xi pledged that his country would continue to support Myanmar.
The military has been wary of China's role in Myanmar's internal political and security affairs, in particular as it relates to China's influence over the country's peace process. Beijing has proven instrumental in facilitating multiple ceasefire negotiations with insurgent groups within Myanmar by sending observers to sessions of the 21st Century Panglong peace talks and even piloting representatives of different ethnic armed groups to various meetings. In recent years, China has gradually shifted away from supporting ethnic armed groups in their efforts to disrupt Myanmar's central government (presumably in order to maintain leverage over Naypyidaw) to playing a more proactive role in the peace process. It seems that Beijing now calculates that peace and stability within Myanmar are more conducive to its economic interests than maintaining the upper hand by prolonging instability.
Even the Arakan Army, the Myanmar military's latest cause for headache with its frequent attacks on the armed forces and capturing of politicians for blackmail, has declared it supports more Chinese investment in its home state of Rakhine, where the Kyaukphyu SEZ and deep-sea port are.
While the future of peace talks is uncertain, with an election year in Myanmar and Xi's visit freshly in the books, Myanmar-China relations appear to be firmly positive. The two countries have drawn closer together in light of Western condemnation of Suu Kyi and the military's handling of the humanitarian crisis in Rakhine state.
What Can the West Do?
Following Myanmar's partial democratization in 2011 following multiparty elections in 2010, relations with the West significantly improved (largely to Beijing's detriment). In 2012, Washington appointed Derek Mitchell as the first American ambassador in the country in 22 years. Those now seem like heady old days, when American influence was at its apex and Myanmar had tentatively begun to defy China's patronage by reaching out to the West. Ahead of sanctions relief, there was even talk of restoring military cooperation between the two countries (at an unclassified level). Aung San Suu Kyi would frequently visit the U.S. Embassy, and Ambassador Mitchell, a longtime human rights proponent and friend of Suu Kyi's, would regularly encourage Myanmar's former military officers and erstwhile civilian leaders to continue on the path of democratic consolidation it had embarked upon. Executives from Microsoft, Google, and Pepsi all flew in to Yangon in search of investment opportunities in "Asia's last frontier." These were encouraging times.
However, in 2012 intercommunal violence between Buddhists and Muslims sparked what would in coming years become an alarming crisis, affecting both communities but leading to disproportionate violence directed at the Rohingya Muslim minority in Rakhine state. The situation remains extremely tense, and international support for the Rohingya has alienated many Buddhists in Myanmar while rallying a nationalist outcry in defense of the military and Aung San Suu Kyi, who has defended the armed forces in light of accusations of genocidal intent.
Today, Western influence seems at an all-time low. Aung San Suu Kyi has defied her European and American critics by embracing autocrats like Hungary's Viktor Orban and China's Xi Jinping. But the United States still has important policy tools and untapped reserves of soft power that it can utilize if wielded skillfully. As I've written before, American companies and investors still enjoy major reputational advantage over Chinese counterparts. Young Burmese people still flock to the American Center in Yangon, the cultural and educational hub sponsored by the U.S. Department of State next to the American Embassy. In fact, Washington opened a gleaming new American Center in 2018 at a busy intersection just down the street from Aung San Suu Kyi's residence. There, Burmese can come to learn English, use computers, and access the library to study democracy and tools of civic engagement. It's a powerful outlet for the messaging of American values and can disseminate Washington's foreign policy goals among Myanmar society at a time when many Burmese resent U.S. criticism of Suu Kyi's government's refusal to condemn the military's crackdown on the Rohingya minority in Rakhine State.
The embassy can also facilitate important grassroots-level engagement between divided communities of Buddhists and Muslims by hosting interfaith dialogues and workshops for promoting mutual understanding and tolerance. While Chinese investment in Myanmar far outpaces that from the United States, Beijing has shown that donor-driven development is not a panacea to Myanmar's fractured society. To heal and build more lasting roots for democratic governance, the West still offers a stronger and more appealing model. Washington should continue to balance its carrots and sticks approach: rather than yielding on important values such as human rights, it should combine its principled stance with continued engagement and remain patient with Myanmar's elected leadership.
Xi Jinping's weekend visit may be indicative of Beijing's special relationship with Naypyidaw, but China remains broadly unpopular among Myanmar's citizenry for its past interference in the country's internal affairs and perpetuation of inequality through top-down investment. Washington retains deep wells of goodwill that the Chinese cannot simply buy their way to.
Hunter Marston (@hmarston4) is a Ph.D. candidate at the Australian National University and writes on Southeast Asian politics and U.S. foreign policy.