How Will the Chinese Navy Use Its 2 Aircraft Carriers?
As the PLA Navy adjusts to its growing carrier fleet, pay attention to the officers tasked to lead.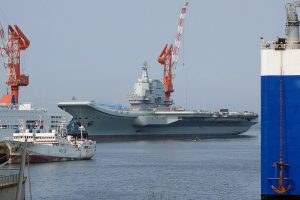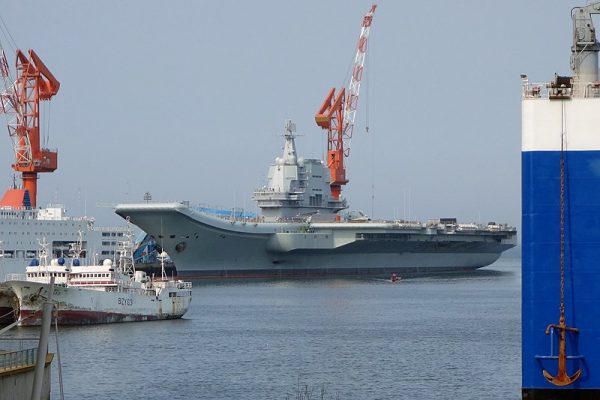 The recent commissioning of China's first domestically built aircraft carrier, the Shandong, means that the People's Liberation Army (PLA) has formally moved into an epoch of "two aircraft carrier formations." It marks the PLA Navy's growing strength and progressive transition to a "blue ocean" navy, which goes hand-in-hand with its expansion in recent years.
In early 2017, a plethora of open access research papers emerged in China discussing how to employ two aircraft carriers for escort missions, anti-submarine warfare, and training exercises. There were even discussions about the possibility that two aircraft carriers, both combat capable, could be pitted against each other in Red-Blue exercises. Theorization of this kind fits into a development model commonly seen in the PLA, consisting of four stages: theorization, development of relevant technologies, setting up organizations, and cultivation of human resources.
The successive commissioning of two aircraft carriers stands for the PLA's determination to establish a far seas presence. Whether the goal can be reached of course depends on technologies and technical capabilities, ranging from catapult aircraft launch systems on carriers and carrier-borne early warning aircraft to the anti-aircraft and anti-submarine operations capabilities of carrier escort ships. All are necessary for the PLAN carriers to bring their combat capabilities into play.
A huge defense expenditure is needed to build carriers in succession. Keeping them operational will cost even more money. Whether the Chinese leadership will take a different attitude toward carriers with the evolution of the war-fighting environment and war type is still unknown.
How to employ the two carriers is important, but so is the command and control mechanism for them. The management of the carriers should be the job of the PLAN Carrier Command Post, rather than theater command navies, in peacetime. In time of war, carriers are put under the control of theater commands. The arrangement complies with the principle that the Central Military Commission (CMC) takes charge of everything, theater commanders are responsible for operations, and the services are tasked with establishing combat strength.
As carriers become operational one after another, the promotion of officers to leadership positions on these carriers also becomes a focus of attention. Will the PLAN will appoint officers who have served as pilots (e.g. Dai Mingmeng and Zhang Gong), carrier commanding officers (e.g. Zhang Zheng and Liu Zhe) and carrier executive officers (Gao Zhaoduan), or who have received training in the aviation commanding officer class (e.g. Bai Yaoping and Wang Dazhong) as higher-level leaders in the command and management of carriers in the future? It's a question surely worthy of observation.
On the list of senior officers promoted at the end of December 2019, one stands out in this regard. Tohhen-Southern Theater Command Navy Aviation Deputy Commander Dai Mingmeng, who was on the grade of deputy corps commander, was raised to the rank of major general.
Dai, born in 1971, is a native of Chongqing city in Sichuan province. After graduating from a military academy, Dai served in the legendary Heroic Eagle Regiment. He was the first PLA pilot to successfully land on and take off from China's first carrier, the Liaoning, which requires arresting gear landings and takeoffs from ski ramps. In 2014, Dai was granted the title of "Heroic Test Pilot For Aircraft Carriers."
As of 2016, he had received a total of three merit citations class II and III and won a "gold medal for flying for the country" from the Aviation Industry Corporation of China (AVIC). Dai was also honored with an "award for great contribution to the aircraft carrier project," which was jointly conferred by the State Council and the CMC. He was cited as a "model serviceman who loves his country and excels at combat skills," one of the "navy's ten best youths" in 2014, the tenth edition of the navy's annual selection, and a pilot with meritorious service for the navy.
No longer serving on active duty as a fighter pilot, Dai became commander of a comprehensive test and training base of the PLAN for carrier-borne aircraft in 2018. The base is an integrated platform specifically designed for training the pilots of carrier-borne aircraft. In December 2018, the State Council conferred the title of "Reform Pioneer" on Dai and awarded him a "Reform Pioneer Medal." He was lauded as a "practical explorer in the establishment of aircraft carrier-based combat strength." Dai was appointed as Southern Theater Command Navy Aviation Deputy Commander in 2019. He was promoted to the rank of major general in December of the same year.
As has been discussed above, Dai possesses not only specialized skills as a commanding officer but also the dual quality of "redness and expertise" in political orientation and job competencies – making him just the right kind of person that President Xi Jinping would like to put in an important position. Meanwhile, considering that many important positions on U.S. aircraft carriers are held by officers with flying experience, Dai is very likely to return to the carrier command system, where he can serve as carrier formation commander or be assigned to the highest echelons of navy aviation.
Due to the fact that either of the two operational carriers alone does not carry enough fighter jets, the two carriers must work together to provide a fighter plane force equivalent to an airborne brigade. This means that above the aviation commanders of the two carriers, there may be a higher-level carrier command post commander, a position very likely to be taken by Dai. The Liaoning formation has been commanded by a deputy corps commander-grade rear admiral, who works together with commander of the Liaoning, a division commander-grade captain. Following the commissioning of the second carrier, the commander of the carrier command post controlling the two carrier formations must be differentiated from the commander of either carrier formation in both rank and grade. It offers a higher position up for grabs by the flag officers that have been mentioned earlier.
Given the newest developments in the South China Sea and former Liaoning Carrier Formation Commander Chen Yueqi's appointment as Guangxi Military District Commander, the Southern Theater Command stands to have its second logistics support base for carriers, which is worthy of note too.
Dr. Ying Yu Lin is Adjunct Assistant Professor at the Institute of Strategy and International Affairs, National Chung Cheng University, in Chiayi Taiwan. He holds a PhD from the Graduate Institute of International Affairs and Strategic Studies, Tamkang University. His research interests include PLA studies and cybersecurity.