Japan on the Offensive Following Ghosn's Escape to Lebanon
As more details emerge of Ghosn's daring flight to Lebanon to avoid trial, police are ramping up investigations around those close to the former Nissan chief.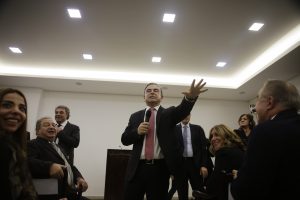 Former auto industry tycoon Carlos Ghosn's dramatic escape to Lebanon in violation of his bail conditions while under house arrest has stunned Japan's Justice Ministry, causing an embarrassing international scandal.
Japanese authorities are scrambling to determine the facts behind the covert escape operation while also putting pressure on police to explain how Ghosn was able to dodge detection en route to Lebanon in a Hollywood-style escape.
Ghosn was awaiting criminal trial on allegations of financial misconduct while chairman at Nissan. He was arrested on November 19 but freed on bail after paying 1 billion yen and an additional 500 million yen — the highest bail in Japan's history.
Ghosn's strict bail conditions in Japan have been subject to fierce international criticism. Ghosn was banned from mobile phone use, internet access, and even communication with his wife (he was allowed supervised computer use, excluding internet, at his defense lawyer's office). Despite Ghosn being under 24-hour surveillance while under house arrest in Tokyo, Japanese courts were only required to check camera surveillance footage once a month.
According to NHK, Ghosn, 65, simply walked out from his apartment building on December 29 and boarded a bullet train to Osaka before taking a private jet to Turkey and switching planes to continue on to Lebanon. He avoided airport security by hiding in an unscreened oversized black box with air holes used to carry music gear.
After arriving in Lebanon, Ghosn released a statement saying he fled "injustice and political persecution" from the "rigged Japanese criminal justice system," emphasizing that he believed he would not be given a fair trial. The prosecution commented that Ghosn's escape was "a blatant disregard for Japan's legal process" and "extremely regrettable."
In a highly anticipated press conference in Beirut on Wednesday, Ghosn spoke publicly for the first time after fleeing to Lebanon, giving reasons why he decided to escape Japan's criminal justice system. Ghosn's public relations team invited over 100 journalists from 50 media organizations — mostly from France and Lebanon — while rejecting the majority of requests from Japanese media outlets. A spokesperson said invitations were based on geographical balance, but many believe Ghosn selected media more likely to be sympathetic to his claims.
His defense team in Japan denied involvement in Ghosn's escape and were dumbfounded as to how he successfully jumped bail but continued to maintain his innocence. That included accusing Nissan, which has vowed to continue its own legal case against Ghosn, of a "gross perversion of truth." Ghosn's lawyer denied a police request to voluntarily hand over the computer Ghosn had access to and a warrant was issued allowing police to seize it on Wednesday morning.
Although Japan is pressing for Ghosn's extradition, they face an uphill battle since Lebanon does not have an extradition treaty with Japan. Authorities are working with Interpol to explore all avenues, including diplomatic persuasion. Japan's ambassador to Lebanon met with President Michel Aoun to ask for his cooperation in the case.
Japan's justice minister vowed to ensure criminal proceedings are not evaded by stepping up their international operation to extradite Ghosn back to Japan. Authorities have focused their efforts on Ghosn's wife, Carole, obtaining an arrest warrant against her for allegedly giving false testimony at a court hearing in April last year. But arrest appears unlikely as she also holds Lebanese citizenship.
Meanwhile, Turkey is also investigating Ghosn's escape. Turkish authorities have arrested the pilot who flew Ghosn's private jet from Japan to Turkey, alleging inflight records were falsified to exclude Ghosn's name.
In his ancestral homeland of Lebanon, Ghosn has friends in high places. An unofficial meeting with President Aoun fueled suspicions that Lebanese authorities may have known in advance of Ghosn's plan but Lebanon's defense minister stressed on a local television station that Lebanon "played no official role."
As a holder of French, Brazilian, and Lebanese passports, Ghosn was deemed a flight risk and was forced to relinquish his three passports to his defense lawyer. However, Ghosn may have had a spare French passport along with a Lebanese identity card, which allowed his smooth entry into Lebanon.
In response to the breach of border security, the Justice Ministry announced stricter immigration control with a review of bail conditions. It was revealed that the prosecution initially sought bail higher than the court approved 1.5 billion yen ($13 million) in order to reduce Ghosn's capacity to abscond from Japan due to his abundant wealth, estimated at $120 million.