Russia to Build 3 PAK DA Stealth Bomber Prototypes
Serial production of the new bomber is expected to kick off in 2027.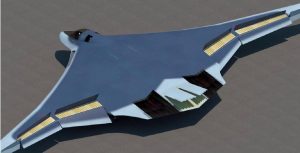 Russia will build three prototypes of its next-generation nuclear-capable strategic bomber, dubbed PAK DA (an acronym for "Prospective Aviation Complex for Long-Range Aviation"), for evaluation and testing, according to Russian media reports.
Citing a research and development contract between the Russian government and the Tupolev design bureau signed at the end of 2017, Izvestia newspaper offered a number of new details surrounding the Russian Air Force's next-generation strategic bomber.
Contrary to earlier speculations, the bomber will reportedly be manned by a crew of four. Preliminary tests of the three prototypes have been scheduled for April and are expected to be concluded by the fall of 2025. This will also include the bomber's maiden flight.
State trials are set to begin in February 2026, which are expected to last for around two years. Serial production might kick off as early as 2027 or 2028. As I noted elsewhere, other technical details regarding the PAK DA bomber are scarce:
It is estimated that the new aircraft will have an operational range of about 12,000 kilometers and travel at subsonic speed.  The plane's airframe will consist of radar-absorbent material.  (For a first look of the new bomber, check out this video here.)

Furthermore, it was reported that the new fifth generation PAK DA bomber will be able to carry a 30-ton weapons payload (…).
The new strategic bomber will reportedly carry nuclear-capable air-launched cruise missiles. In addition, the aircraft will reportedly be equipped with air-to-air missiles for self defense and air-launched hypersonic weapons.
Meanwhile, the Russian military aircraft industry is upgrading three bomber types, as I noted last May:
The Russian Air Force is expected to receive the first upgraded Tu-160M2 supersonic strategic bomber by 2021. The Russian MoD announced in January 2018 that it placed an order for the first batch of 10 Tupolev Tu-160M2s.

Delivery of Russia's entire new Tu-160M2 fleet of around 50 aircraft is estimated to be completed by 2030.

Additionally, Russia is also upgrading its fleet of Tu-22M3 long-range strategic and maritime strike bombers. The first new Tu-22M3M conducted its maiden flight in December 2018. Overall, Russia plans to upgrade 20 aircraft of the type.

Furthermore, the Russian defense industry is (..) working on upgrading Tu-95MS, designated Tu-95MSM. Last August, the Russian MoD and Tupolev signed a contract to upgrade 20 Tu-95MS to MSM standards.
Plans to replace all existing strategic bomber types in the Russian Air Force's arsenal with the new PAK DA were scrapped for the time being due to funding difficulties and technical issues. The PAK DA is also not expected to be manufactured in large quantities initially.