Sri Lanka's Role in Sino-Indian Competition in South Asia
The country continues to be a prime area of competition for both Asian powers in the South Asia region.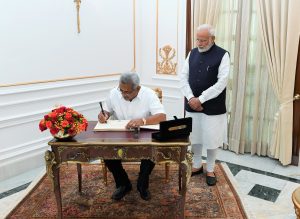 How China and India will manage their bilateral relations, even as their competition intensifies, remains a major question, with implications for their ties as well as the wider region. At the Raisina Dialogue earlier this month, India's external affairs minister, Dr. S Jaishankar, said that finding accommodation with China "is a must; it is not a choice… We have to get along with each other." Jaishankar recognized, as he put it, that "it is work-in-progress and it will continue to be work-in-progress because both powers are very dynamic."
Nowhere is this arguably more difficult than in the South Asian region, which has been so far dominated by India. China has tried hard to woo various neighbors of India including Sri Lanka, Mauritius, and Myanmar. These all are countries which have had closer ties with India but because of the proximity, have also felt dominated by New Delhi. Nevertheless, India has also tried hard to make sure that these countries did not fully fall under China's sway.
Sri Lanka is a prime area of competition. And we have seen this playing out over the past few weeks, particularly as senior officials from both countries made their way to Sri Lanka to woo the newly-elected government of Gotabaya Rajapaksa.
China's growing role in Sri Lanka has been widely documented, particularly its significant investment in Sri Lankan infrastructure. But these have also been controversial even within Sri Lanka because some of the terms of China's loans with which these infrastructure projects have been built has been quite unfavorable. Indeed, the Hambantota port has now become a prime example of the perils of what has come to be termed as China's debt-trap diplomacy.
More broadly, China's presence in Sri Lanka and the terms of its investments became a controversial issue in the last elections in Sri Lanka. Gotabaya campaigned that he would renegotiate the deal that allowed China to lease Hambantota for 99 years, a controversial deal that was made by the Sirisena Government, but one which had raised a lot of objections within the country. Despite such promises, once he was elected, Rajapaksa appears to have gone back in challenging China's hold on Hambantota. Instead, he called upon other important players including India, Singapore, Japan, Australia, and ASEAN countries to invest in Sri Lanka.
How the new government balances India and China is clearly of importance to both New Delhi and Beijing. As if to illustrate that, China's foreign minister Wang Yi visited Colombo last week. While it appears to have been more of a goodwill visit, Beijing will no doubt also continue to be concerned about Rajapaksa's rhetoric during the election campaign. Seen from that perspective, Wang Yi probably wanted to ensure that there would be no damage to China's political and financial investments under the new government.
If that is so, he has reasons to be satisfied. According to the Chinese foreign ministry statement, "China will continue to firmly support Sri Lanka in safeguarding its sovereignty and national dignity." But at the same time, the statement also noted that "China-Sri Lanka cooperation has never targeted at any third party and also it should not be affected by any third party." It doesn't take much to guess which third party that China is referring to here.
Not to be outdone, India's National Security Advisor Ajit Doval made a beeline for Colombo just a few days after Wang Yi left. The previously unannounced visit appears to have been cordial, with the two sides discussing strengthening bilateral cooperation on national security, intelligence sharing and regional cooperation. India and Sri Lanka have had several high-level exchanges even since Rajapaksa's election in November 2019. His first foreign visit was to India in November. His brother and now Prime Minister Mahinda Rajapaksa is to visit New Delhi in early February.
Both China and India are clearly attempting to ensure that they do not lose out to the other when it comes to currying favor with the new regime in Colombo. At the same time, is unlikely that Colombo will pick one side or the other because it makes more sense for it to get China and India continue to woo it with gifts and attention, which will stop if Sri Lanka makes a choice. Thus, even as India and China compete, Sri Lanka has every incentive to keep both parties in play so as to benefit from both.
China and India too certainly recognize the dynamic at play. But they will also recognize that they have little choice but to keep up the game given the broader geopolitical dynamics at play. Neither side can win unless they abandon the field, which of course neither side will do.