Taiwan's Relations with India: Partisan Divides
What do Taiwanese people think about burgeoning ties with India? To a large extent, it depends on their political affiliation.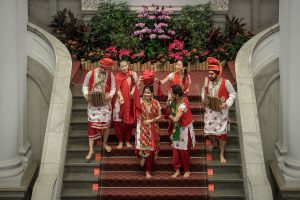 Taiwan's relations with India have increased in breadth — spanning trade, research and academia — as well depth — trade ties amounted to $7.5 billion in 2019, up from $1 billion in 2000. The Taiwanese government has a representative office, the Taipei Economic and Cultural Center in India (TECC), responsible for facilitating collaboration on education, tourism, culture, the media, and economic development. Taiwan's increased investments have occurred in the face of cultural challenges, bureaucratic hurdles, and pressure on India from domestic producers.
Enhancing Taiwan-India relations is consistent with the Taiwanese government's efforts to decrease economic reliance on China and with President Tsai Ing-wen's New Southbound Policy (NSP), which improves upon the efforts of several of her predecessors. Taiwanese businesses are increasingly interested in shifting business ties from China to India and policies that facilitate such cooperation could provide mutual benefits. Taiwan's goals are shared with those of successive Indian administrations, including that of current Prime Minister Narendra Modi, which seeks to increase ties with East Asian countries other than China. Modi has even suggested the possibility of a free trade agreement with Taiwan — through this decision is not without precedent as Taiwan maintains economic cooperation agreements (ECAs) with New Zealand and Singapore, both unofficial relationships.
Strengthening Taiwan-India ties within the rubric of the NSP also overlaps with Taiwan's relationships with Australia, United States, and Japan. Because these three countries, along with India, have formed an Indo-Pacific entente cordiale called the "Quad" to maintain a rules-based order in the region, Taiwan-India ties can benefit from the positive synergy of collaboration in areas of trade, research, and even defense.  Moreover, India and Taiwan may see a convergence of security interests that could be further developed through interactions between the strategic communities on both sides.
Although commentators frequently focus on China's opposition to such burgeoning ties, the role of Taiwanese public opinion remains ignored. However, broad support from the Taiwanese public is necessary for increasing trade and people-to-people contacts, as well as for pushing Taiwan's ruling parties to increase ties with India. Moreover, Taiwanese voters' preferences regarding Taiwan-India ties intersect with their preferences regarding Taiwan's relationship with China, thus making it a fraught issue.
To evaluate Taiwanese perceptions of India, we conducted an experimental web survey through PollcracyLab at National Chengchi University's (NCCU) Election Study Center from December 9-11, 2019. The 502 respondents were randomly assigned to receive one of two versions of a statement and asked to evaluate the statement on a five-point scale from strongly disagree to strongly agree. The versions were:
Version 1: Taiwan should increase ties with India.
Version 2: Taiwan should increase ties with India, even if it creates greater tension with China.
Our findings show that a slim majority supports increasing ties with India in version one, but there is a 7.2 percentage point decline in support when that relationship is framed as possibly increasing tensions with China. While the overweening concern of Taiwanese citizens regarding China's reactions is understandable, the partisan breakdown of preferences reveals a distinct divide.
In terms of partisan preferences, we note that supporters of the ruling Democratic People's Party overwhelmingly support better ties with India in and of itself (73.1 percent) and even when accounting for their worries regarding China (68 percent). However, only a minority of opposition National Party (KMT) supporters (44.6 percent) desired increasing ties with India at all, a figure that decreases further when accounting for their concerns about Taiwan-China relations (23 percent). This discrepancy perhaps is caused more by the KMT's desire for closer relations with China than their position on Taiwan-India ties specifically. The Indian government is cognizant of this partisan variation.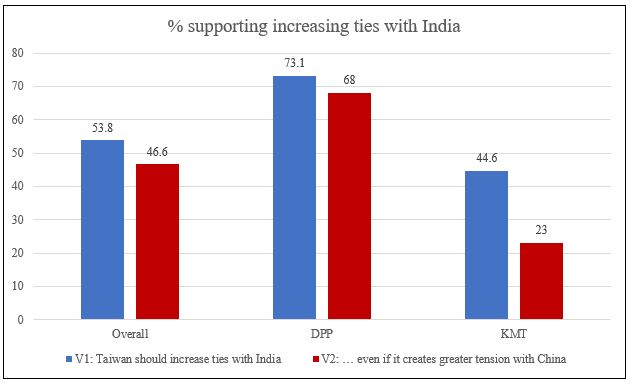 Regression analysis finds women less supportive of increasing ties, while older and wealthier Taiwanese were more supportive. Why women were less supportive is unclear, but the correlation between wealth and views may suggest that Taiwanese see increasing ties with India primarily through an economic lens. Unsurprisingly, one's position on the future of Taiwan — independence versus unification — both strongly corresponded with views on ties with India, but in opposite directions.
Tsai's landslide re-election victory in January, coupled with a continued legislative majority for the DPP, increases the likelihood that her administration will promote policies that decrease Taiwanese economic dependency on China. Such policies should have direct implications for Taiwan-India relations.
Multiple tentative policy implications can be drawn from the findings of the survey. First, while India will remain aware of China's preferences regarding Taiwan-India relations, it may pay increasing attention to soft diplomacy via Bollywood movies and shared links to Buddhism, in order shape Taiwanese public opinion about India.
Second, Taiwan-India relations would strengthen from being nested within both countries' economic and security-based ties with the United States, Australia, and Japan, which could reduce Taiwanese voters' concerns about repercussions from China.
Third, while India and Taiwan would both benefit economically from increased relations, especially with the possibility of an FTA, their relationship would likely never extend to formal diplomatic recognition. Further, India is extremely unlikely to advocate for Taiwan in other formal diplomatic spheres, including the UN, at the risk of aggravating tensions with China.
However, even without a formal partnership, both India and Taiwan mutually benefit from increased relations and citizen-to-citizen connections. As Taiwan continues to lose official diplomatic partners, unofficial Taiwanese relations with regionally significant countries, such as South Korea and Japan, fulfill an important role in maintaining Taiwan's independence. Due to India's economic and political importance within Asia, it could also serve as a powerful unofficial partner in fulfilling this goal.
A stronger relationship between India and Taiwan could increase tourism, improve research and development, and promote educational ties, all of which are mutually beneficial. Whether India would be able to avoid any negative ramifications from China is unclear, as Beijing typically does not retaliate against countries that engage economically with Taiwan. Such ties, while not enhancing Taiwan's formal diplomatic recognition, could reduce Taiwan's economic reliance on China.
Timothy S. Rich is an associate professor of political science at Western Kentucky University. His research focuses on public opinion and electoral politics in East Asian democracies.
Andi Dahmer, a 2018 Harry S. Truman Scholar, recently graduated from Western Kentucky University. Her primary research focuses on the diplomatic recognition of Taiwan as it relates to Central America, with broader research interests in Taiwan and the Koreas.
Madelynn Einhorn is an honors undergraduate researcher at Western Kentucky University, majoring in Political Science and Economics. 
Vasabjit Banerjee is an assistant professor of political science at Mississippi State University. His research focuses on domestic and foreign policy effects of collective action in developing countries.