China's Taiwan Strategy Could Impact India's Economy
Last year, India-Taiwan bilateral trade was worth an estimated $7 billion, with the two countries considering a free trade deal and working towards creating a semiconductor manufacturing hub in India.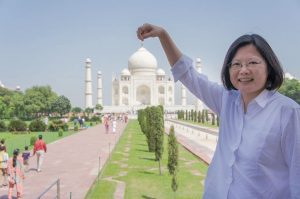 Even before U.S. House Speaker Nancy Pelosi went to Taiwan this month, Beijing had been aggressively pushing countries around the world to reiterate — or adopt — a pledge of allegiance to its One China policy. Since 2019, Kiribati, the Solomon Islands and Nicaragua have all switched recognition from Taipei to Beijing, driven in large part by the latter's political and economic support for their respective regimes.
In the wake of Pelosi's contentious visit, that effort has only intensified. Early this month, Beijing asked India to reiterate its One China policy. In his press briefing, Indian foreign ministry spokesperson Arindam Bagchi responded to that merely by saying: "India's relevant policies are well known and consistent. They do not require reiteration."
India's ambivalent and taciturn stance sets it slightly apart from the U.S. and its partners. A few days after Pelosi's visit, U.S. Secretary of State Antony Blinken went to the Philippines to strengthen military ties with that country. While he was in Manila, Philippines President Ferdinand Marcos backed Washington's assertion that Pelosi's visit to Taiwan was consistent with longstanding U.S. policy and that it did not shift the status quo.
In New Delhi, by contrast, the Indian government was unwilling to make any comments in support of Pelosi's visit. Instead, it merely urged "the exercise of restraint, avoidance of unilateral actions to change the status quo, de-escalation of tensions and efforts to maintain peace and stability in the region."
Despite the careful talk, for years, India has been ramping up its own ties with Taiwan, both politically and economically. When Taiwan's President Tsai Ing-wen first won elections in 2016, India's ruling Bharatiya Janata Party (BJP) sent an official to attend her inauguration. That year, New Delhi's Raisina Dialogue — a forum co-organized by the Indian foreign ministry — featured a former Taiwanese foreign minister as one of its speakers. This May, after Tsai Ing-wen was re-elected, two parliamentarians from the BJP attended her swearing-in ceremony virtually.
Arguably more important to New Delhi is the economic component of its engagement with Taiwan. Last year, bilateral trade between India and Taiwan was estimated to be worth over $7 billion. Taiwanese firms have also invested over $2.3 billion in India. The two countries are even talking about a free trade deal and working out ways to create a semiconductor manufacturing hub in India.
Notwithstanding India's cautious and non-committal diplomacy, much of this economic cooperation is now at stake as Taiwan remains on a knife's edge. In the aftermath of Pelosi's visit, China conducted several military drills that effectively encircled Taiwan, restricted access to civilian ships, and endangered its role in trade and the global supply chain.
Those drills were not an isolated instance and they were also not the first time Beijing has attempted strategic encirclement. In May, the Chinese state-run Global Times reported that Beijing had dispatched warplanes and ships, thereby "surrounding and enclosing the island."
These moves increasingly seem like a prelude to a potential future pressure tactic from Beijing. Short of an outright invasion — which could pull the U.S. into a war and bring serious costs to the mainland — Beijing may well seek to restrict and threaten Taiwan's economic ties with the outside world, thereby progressively weakening the island's position.
Such a strategy would also significantly threaten India's own long-term economic plans and partnership with Taiwan — and it appears likely to materialize. As he centralizes power in Beijing and grapples with economic distress both at home and abroad, China's President Xi Jinping may rely increasingly on militarism and warmongering. In doing so, Xi may be more willing to take on ever bigger economic risks in pursuit of a military advantage over Taiwan.
So far, India has been unwilling to engage with these dynamics officially, choosing instead to walk on eggshells around Beijing's sentiments while focusing on their troublesome bilateral border in the Himalayas. In New Delhi's assessment, wading into the Taiwan debate may elicit more Chinese aggression in the Himalayas. But if the Taiwan crisis boils over in the months ahead, New Delhi is unlikely to escape unscathed.