The Natuna Sea Incident: How Indonesia Is Managing Its Bilateral Relationship With China
Indonesia's pragmatic, even-handed approach to the recent Natuna Sea incident shows how China's rise can be managed.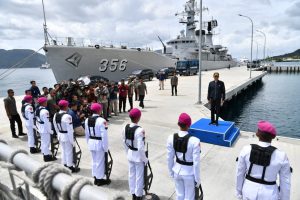 China's latest use of grey zone fishing operations in the North Natuna Sea to challenge Indonesia's sovereign right to fish and exploit the natural resources in its exclusive economic zone (EEZ) appeared to be a victory at first glance. At one point, about 50 Chinese fishing vessels accompanied by two oversized white hulls fished unimpeded in Indonesia's EEZ.
As a countermeasure, Indonesia's Maritime Security Agency (Bakamla), which was charged with law enforcement against illegal activities in Indonesia's maritime jurisdiction, could only observe the situation. This limited action was due to the Bakamla's limited resources.
Yet, the Chinese fishing vessels sailed away on January 9, 2020 having only strengthened Indonesia's resolve to safeguard its national interests. China also publicly executed a volte face to prioritize friendly bilateral relations and downplay differences in a statement by China's foreign ministry spokesperson Geng Shuang on January 10. The incident underscored the limitations of unilateral coercion and the overall success of Indonesia's public relations strategy.
Firm Diplomatic Signalling, Restrained Maritime Response
The latest Chinese attempt to probe for weaknesses in Indonesia's maritime jurisdiction started in late October 2019, according to the chief of the Lubuk Lumbang fishermen, when his group of fishermen were repelled by a Chinese coast guard vessel even though they were in Indonesian waters.
The chief's video was covered by online media on December 29, 2019, 6 days after a video of Vietnamese fishing vessels illegally fishing in Indonesia's EEZ went viral on social media, with Indonesians tagging their leaders' official Twitter accounts. On December 30, Bakamla confirmed that it had repelled Chinese ships on December 19, but they re-entered Indonesia's EEZ on the 24th.
Indonesia's Ministry of Foreign Affairs strongly voiced its opposition to China's illegal fishing operations through two protests on December 30, 2019 and January 2, 2020. The government asserted that China had violated its EEZ, pointing out that Indonesia's EEZ was established by international law through UNCLOS. The ministry added that China should respect the implementation of UNCLOS and rejected China's nine-dash line in the South China Sea.
This strong diplomatic response was coupled with a restrained maritime response. On January 3, a high-level ministerial meeting chaired by the Coordinating Minister for Political, Legal, and Security Affairs, Mahfud M.D., made the decision to avoid confrontation or arrest Chinese fishermen. Bakamla, as a civil maritime institution, took the lead, with naval warships supporting from the background.
Unlike the spate of bilateral incidents in 2016, where a warning shot from the Indonesian navy led to the injury of a Chinese sailor, having learned from experience the government prioritized peaceful diplomacy in handling the Natuna conflict. Responding vigorously yet proportionately was key to the resolution of this incident.
Managing Domestic Public Opinion
At the same time, the government responded strongly in its public statements and engagement with its domestic audience in order to show that it can respond firmly against China. At the same time, some Indonesians have publicly criticized ministers who sought to downplay the issue. Experts had criticized Minister of Defence Prabowo Subianto as too soft  for identifying China as a friendly nation and directly relating the current government's need for Chinese investment.
To address domestic criticism and signal its strong determination to safeguard its sovereign rights, the government responded by announcing plans to send fishermen from West Java to assert Indonesia's exclusive right to the North Natuna Sea. As a symbolic gesture, President Jokowi also took the opportunity to board the KRI Usman Harun at the Lampa Strait Naval Base.
Key officials also took the opportunity to disseminate the government's position through online media. For instance, the head of Bakamla, A. Taufiqoerrochman, and Mahfud M.D. appeared on Narasi TV (founded by a former journalist, Najwa Shihab) to explain the government's position.
To address domestic concerns that Indonesia had become too dependent on Chinese investments, Luhut Panjaitan, the coordinating minister for maritime affairs and investment, Jokowi's point man for foreign investments, reaffirmed that Indonesia would not trade its sovereignty for investments.
A Wary Indonesia Takes Further Precautions
Through a combination of peaceful diplomacy and domestic engagement, Indonesia was able to manage the Natuna issue without significant domestic or international controversy. Its national interests in the North Natuna Sea were protected without jeopardizing its burgeoning economic relations with China, nor poisoning domestic opinion of Chinese investments.
To avoid the recurrence of future incidents, we assess that Indonesia, already wary of China, will take further precautions to safeguard its national interests. Jakarta is already attempting to diversify support for maritime territorial sovereignty. Indonesia intends to work with Japan to further develop a fisheries facility and obtain technical support for Indonesia's coast guard, demonstrating their common interest in maintaining the regional status quo.
At the same time, Indonesia will seek to diversify sources of foreign investments to reduce its exposure to China. Although Indonesia's private debt to China tripled between 2014 to 2018 to $16.1 billion, this figure remains low compared to its long-term investors, Singapore and Japan. It is now seeking more investments from the UAE, Japan, and the United States.
Lenin once said, "Probe with bayonets: if you find mush, push. If you find steel, you withdraw." Both a combination of domestic public opinion and Indonesia's middle power complex will drive it to be firm yet flexible with China. The bottom line is that its engagement with China must be on its own terms.
Jefferson Ng is a Senior Analyst, Indonesia Programme, at the S. Rajaratnam School of International Studies (RSIS), Nanyang Technological University, Singapore.