A Third 2016 Natuna Stand-Off Highlights Growing Indonesia-China Tensions
A third stand-off between Indonesian authorities and Chinese fishermen highlights rising tensions in the Natuna Sea.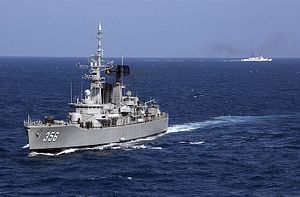 In what's quickly becoming a regular occurrence in Indonesia's Natuna Sea exclusive economic zone (EEZ), an Indonesia's Navy vessel recently faced off against a Chinese fishing boat that it claimed was fishing illegally. The incident occurred last Friday and is the third of its kind in the Natuna Sea in recent months involving Indonesian authorities at Chinese fishing boats. (The Diplomat covered the previous incidents in March and May.)
According to Indonesian press reports, an Indonesian Navy warship pursued and fired warning shots at a group of Chinese fishing trawlers operating within the 200-mile EEZ claimed by Indonesia around the Natuna Islands, which are part of Indonesia's Riau Province. China claims that one Chinese sailor was injured as a result of a warning shot fired by the Indonesian side.
The incident ended with the Indonesian Navy confiscating and impounding on Chinese fishing boat while also imprisoning the seven-member crew, in line with Jakarta's broader practice of cracking down on illegal fishing within its EEZ. The Chinese sailor who suffered injuries during the altercation was reportedly ferried back to China's Hainan Island for treatment.
While China's territorial claims in the South China Sea have drawn considerable attention in the media over the last two years—particularly as Beijing has built artificial islands in the Spratly Islands—Indonesia is not an active claimant in the South China Sea.
Beijing and Jakarta have seen flare-ups over the Natuna EEZ, which China regularly describes as a "historic fishing ground" for its fishermen. Indonesia has summoned Chinese diplomats and protested Chinese fishing trawler and coast guard activity in the Natuna EEZ, but the two sides have yet to arrive at an understanding.
Chinese Foreign Ministry spokesperson Hua Chunying, in remarks to the press, clarified that "China and Indonesia have overlapping claims for maritime rights and interests" in the area where the incident took place. She also noted that China had "lodged strong protest" with Indonesia over the incident.
Friday's incident underlines a growing frequency of Chinese incursions into Indonesia's EEZ that Jakarta can scarcely afford to ignore as a broader bilateral dispute with China. As my colleague Prashanth Parameswaran has outlined in greater detail, part of the problem is Indonesia's complicated position toward the South China Sea, which increasingly appears to be inadequate amid rising tensions with China.
A Looming South China Sea Shift for Jakarta?
Jakarta has long been aware of the uncomfortable EEZ overlap with China's ambiguous nine-dashed line claim in the South China Sea, but had largely been able to carry on both its bilateral diplomacy with Beijing and its regional diplomacy—within ASEAN and with Southeast Asian states individually—without precipitating a drastic shift in its approach.
The benefits for Indonesia were obvious. As Vietnam, the Philippines, Malaysia, and Brunei (the four Southeast Asian and ASEAN-member claimants) navigated stand-off after stand-off with China, Jakarta was positioned as an honest broker, able to leverage its primus inter pares stance within ASEAN in addition to its working relationship with Beijing.
Lately, however, with a verdict looming at The Hague in Philippines v. China, China has increased its assertiveness and Indonesia has discovered that it needs to update its South China Sea policy to match these new realities. Moreover, while Indonesia always has been sensitive to maritime security as an archipelagic state, since 2014, under President Joko "Jokowi" Widodo, Jakarta has doubled down, resulting in a more energetic defense of its lawful EEZ and deterrent policies like the 'Sink the Vessels' policy.
Fortunately, Jakarta has resolved to unveil a new policy ahead of the verdict, which is expected on July 7. In the meantime, Indonesia's Navy and maritime law enforcement authorities will continue to be on the lookout for illegal Chinese fishing trawlers in the Natuna EEZ. This isn't business as usual.