Try as It Might, Germany Isn't Warming to Huawei
Germany's domestic dispute about Huawei is growing increasingly heated – but U.S. pressure has little to do with it.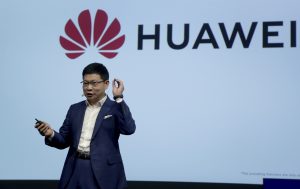 Few companies have elicited as much controversy in recent months as the Chinese electronics giant Huawei. Like many other states, Germany is presently faced with the choice of whether or not to involve Huawei in its rollout of the new fifth-generation (5G) mobile telecommunications networks – a critical infrastructure for future industrial and technological development. Due to its economic and political clout, Berlin's choice of companies to supply 5G network components will likely set an example for other European states to follow. But for more than a year, Germany has been locked in an increasingly fierce political debate about this issue that shows no signs of abating.
Why does the choice of Huawei as a 5G network supplier arouse so much controversy in Germany? For China's state-controlled media, the answer has been clear: a U.S.-led campaign of pressure and intimidation against its allies has sown distrust between Beijing and Berlin. Since early 2018, the United States has been investigating Huawei in connection with alleged sanctions violations. Citing security risks, Washington issued warnings to its allies – including Germany – to refrain from including Huawei equipment in their critical infrastructures, lest it would be compelled to curtail intelligence sharing with their governments. Consequently, leading Chinese media have observed that "Washington has done all it can to block Huawei equipment from entering European countries' 5G networks, even threatening to stop sharing intelligence with allies that reject the warning." They have consistently attributed Germany's qualms and hesitation regarding its choice of 5G vendors to the "mounting pressure and intimidation from the United States administration" and its attempts at "defaming Huawei in a coordinated smear campaign."
When scrutinizing the public debate in Germany, however, a different narrative emerges. Following a government announcement in mid-October that Huawei would in principle be permitted to supply components for Germany's 5G networks, senior representatives of virtually all German political parties have come forward to condemn these plans, with only the left-wing party "Die Linke" remaining mute about the issue. Party leaders and senior lawmakers across the political spectrum have published a steady stream of op-eds, position papers, and official statements warning against Huawei's involvement in 5G development. Among the multitude of prominent policymakers and officials in Germany who have spoken out against Huawei, some – especially in the Foreign Ministry and the German intelligence agencies – have indeed raised concerns about the U.S. stance and the future of transatlantic cooperation. But overall, these concerns have been less relevant than is often portrayed.
Prior to 2017, U.S. warnings of Chinese interference would likely have been a matter of highest priority for the German leadership. But since the onset of the Trump presidency, the rift between Berlin and Washington has grown wider than ever in the post-Cold War period. Germany's 70-year alliance with the United States still appears outwardly intact, but opinion polls in Germany have shown that public approval of the U.S. role in the world is now at a long-time low, with Donald Trump enjoying lower trust ratings than Xi Jinping. Washington's ambassador in Berlin, Richard Grenell, is scorned by German politicians across the political spectrum, following a string of undiplomatic intrusions in Germany's domestic politics and explicit threats against German businesses. Grenell has been described as being more isolated in Berlin than any U.S. ambassador before him.
Many Germans have reacted with cynicism to U.S. warnings that Huawei devices could be turned into espionage tools, since they remain keenly aware of Washington's own mass surveillance measures in Germany, revealed in 2013. At the time, many U.S. observers had dismissed German outrage as a fleeting emotion that would swiftly recede. In fact, more than six years later, anger about this episode has by no means subsided in Germany. As one of the consequences of the 2013 spying scandal, the German government ceased to employ any devices by U.S. network provider Verizon within its internal networks.
In the context of the current dispute about Huawei, many German policymakers have criticized Washington no less harshly than Beijing – even within Angela Merkel's conservative Christian Democratic Union (CDU), traditionally the most pro-American political party in Germany. CDU intelligence expert Patrick Sensburg stated in July that he "neither trusts [5G] vendors from China, nor from the U.S." because "in both countries, telecommunications companies need to cooperate closely with the security agencies." During a television debate in November, Germany's Minister of Economics Peter Altmaier – one of Merkel's closest associates and one of the most outspoken proponents of involving Huawei in 5G construction – recalled the 2013 surveillance scandal and pointed out that, not unlike China, "the U.S. also demands from its companies that they pass on certain information needed to fight terrorism." The comment drew an angry rebuke from U.S. Ambassador Grenell.
But for the vast majority of German policymakers who have spoken out against Huawei, the position of the United States has never been more than a secondary concern. Highest on their list of concerns has been the risk of exposing the future German 5G network to large-scale espionage and data theft on behalf of corporate and political actors in China. In recent years, Germany's intelligence agencies have reported a steady increase in Chinese government-directed espionage and hacking activities against German targets, primarily with the aim of acquiring corporate secrets. China is now considered the source of the majority of cyberattacks against Germany. In 2019, some of the largest German companies confirmed that they had been targeted by a new wave of cyberattacks that likely originated with the Chinese government. During a parliamentary hearing on the issue of Huawei in October, Thomas Halden­wang, the president of Germany's domestic intelligence agency (Bundesverfassungsschutz), claimed that Chinese espionage and cyberattacks have been expanding into more and more sectors of the economy and the state. According to Haldenwang, while Chinese cyberattacks in Germany were previously focused primarily on private corporations and technology, China is now increasingly interested in obtaining information on German foreign, economic, and defense policy as well.
Most critics of Huawei have pointed out that, based on China's National Intelligence Law of 2017, Chinese corporations – whether public or private – are legally obliged to "support, cooperate with, and collaborate in national intelligence work, and guard the secrecy of national intelligence work they are aware of." Many have expressed concerns that 5G hardware and software supplied by Huawei might contain hidden "backdoors" or "kill switches," which, in the event of a future political dispute between Germany and China, could be used to remotely manipulate data or even to disable critical portions of Germany's 5G networks altogether, potentially crippling entire sectors of the economy. 5G data transmissions are designed to permeate all fields of manufacturing and services, becoming indispensable for most future applications of artificial intelligence and machine-to-machine communication and running billions of connected devices and sensors in factories, offices, and homes. Including vulnerable components in 5G infrastructure could therefore have profound and long-lasting security repercussions.
While most critics of Huawei in Germany acknowledge that no concrete proof has been found to implicate the company in malicious activities, they have frequently pointed to disconcerting reports about Huawei's operations in a number of other countries. In Ethiopia, from 2012 to 2017, Huawei computer systems supplied free of charge to the African Union headquarters were allegedly used to clandestinely transfer confidential data to China. In the Czech Republic, Huawei was suspected of having spied on business partners and state officials and feeding the information it collected to the Chinese embassy, and neighboring Poland arrested a Huawei employee on charges of spying. In the United States Huawei employees were accused of having tried to steal confidential research from T-Mobile USA, a subsidiary of Germany's largest telecommunications company.
In light of these security concerns, even the representatives of German business and industrial associations have now begun to counsel caution with regard to Huawei. The major business associations have long been among the strongest proponents of including Huawei in 5G network construction, citing the need to build state-of-the-art 5G networks fast, efficiently, and economically, in order to secure the future competitiveness of German companies. But in recent months, support from business representatives has diminished. The powerful Federation of German Industries (BDI), the leading organization of German industry providers, had previously spoken out in favor of Huawei: In a parliamentary hearing in March 2019, BDI executive board member Iris Plöger claimed that an exclusion of individual providers such as Huawei from 5G network construction was counterproductive, since "Germany's industry needs powerful networks now, and not just in a few years." But following the government's announcement in mid-October that it would not bar Huawei from 5G networks, Plöger and the BDI reacted with explicit criticism, claiming that the new, loose rules were insufficient to ensure network security. Representatives of the Association of Family-Owned Enterprises, which represents 180,000 small and medium enterprises in Germany, criticized the government's plans even more harshly and demanded that the data security and technological independence of 5G networks be prioritized over cheap and speedy construction, while arguments regarding time- and cost-saving measures should take a back seat.
Beijing has continuously made assurances that Huawei, as a private enterprise, is not beholden to the Chinese state, but few German officials appear to find this account convincing, and Huawei is widely perceived to be operating as a de facto agent of the Chinese government. Despite long-standing, lucrative business ties with China, there is a deep-seated and profound distrust of China's Communist Party-led government in German political circles, which has been aggravated in recent years by reports of Beijing's prolific use of new surveillance mechanisms and methods of domestic repression. Critics of Huawei have been alarmed by the company's apparent involvement in various types of government-directed mass surveillance campaigns in China (and elsewhere) that have caused great consternation in Germany in recent months, including the extensive use of facial recognition software and the repression of the Uyghur minority in Xinjiang.
As a demonstration of the tight links between Huawei and the Chinese state, German analysts have pointed to Beijing's reaction to the arrest of Meng Wanzhou, the daughter of Huawei founder Ren Zhengfei, in Canada last year, following a U.S. extradition request. Within a few days of Meng's arrest and in apparent retaliation for it, two prominent Canadians were arrested in China on unrelated espionage charges. Critics of Huawei have claimed that Beijing's immediate and harsh reaction to Meng's arrest serves as a further demonstration of how closely the interests of Huawei and the Chinese government are intertwined, while simultaneously showcasing Beijing's disregard for the rule of law and principles of due legal process.
In light of this, Huawei's critics in Germany have repeatedly stated that any promise or written guarantee by the company that it will never engage in espionage or sabotage in Germany is ultimately meaningless, since Huawei – like all other Chinese firms – will have no choice but to follow the orders of the Chinese government, whatever these may be. The former co-leader of the Green Party, Reinhard Bütikofer, summarized this view in an op-ed in late October:
The Chinese leadership can always make Huawei their instrument. Some claim that Huawei is a private company. I would say that in reality, such a thing does not exist in China. According to the constitution and its own aspirations, the Communist Party claims leadership over everything; courts do not provide any independent protection in China. The leadership can take any measure it wants, whenever it wants, also towards formally private companies. At the same time, the actual ownership structure of Huawei remains opaque, and there is some evidence to suggest that it is state property in disguise. Furthermore, in all important business enterprises, organizational units of the Communist Party ensure that the Party's wishes are fulfilled.
One additional factor that has contributed to the widespread resistance against Huawei's inclusion in 5G development is the fact that Germany's trade and economic relations with China – while still being extremely lucrative for both states – have gradually soured and become more adversarial in recent years. In mid-November, the German Chamber of Commerce in China published the results of an annual opinion poll among managers of German companies in China who complained about severe market access barriers, persistent legal uncertainty, forced technology transfers, complex regulatory conditions, and indirect restrictions, among other problems. It is within the wider context of growing competition between Chinese and European enterprises that German officials have increasingly warned of the dangers of becoming overly dependent on non-European technology companies. China has in the past demonstrated that it will not shy away from using relations of structural dependence and control to its economic advantage, as was the case during its sudden reduction of export quotas for rare earth elements in 2010.
Many German critics of Huawei have advocated a pan-European approach that involves promoting the growth of the existing European manufacturers of 5G technology (Sweden's Ericsson and Finland's Nokia) by providing them with a sufficiently large market and preventing them from falling behind technologically in the coming years. Such demands are premised on the conviction that Huawei's ability to become a technological leader in 5G technology has largely been due to a campaign by the Chinese government to boost the company's growth through massive state support, including billions of dollars' worth of state subsidies – benefits that EU-based companies did not enjoy, due to stringent EU laws regulating competition and restricting subsidies. In an op-ed published in late October, six senior CDU lawmakers, including the chairman of the German parliament's Committee on Foreign Affairs, Norbert Röttgen, stated that a decision to include Huawei in 5G development would be "an existential threat to the European manufacturers Ericsson and Nokia." China itself "reserves the right for its own critical infrastructure to be developed exclusively by Chinese companies," he pointed out, leading to "the question whether we, as Europeans, want to preserve our technological capabilities in this field in the long term."
Many of Huawei's critics in Germany suspect that one of the company's greatest selling points – its extremely low prices for state-of-the-art technology – is a result of Beijing having systematically subsidized Huawei with the aim of undercutting its 5G competitors and creating long-term structural dependencies on the Chinese vendor. CDU lawmaker Mark Hauptmann, for instance, asserted that Huawei is partly offering prices for 5G network components that are below their purchase price: "This is not a market price, but a political price to push competitors out of the market." Hauptmann claimed that China had largely shut European 5G providers out of its own network tenders, and he proposed that Germany offer markets for those companies instead. Senior members of other German political parties have made similar assertions.
The question of whether and to what extent Huawei should be involved in 5G development will likely remain on the agenda of German policymakers for some time to come. Rather than a reaction to U.S. pressure, however, the dispute about Huawei primarily reflects a deepening dichotomy between Beijing and Berlin that is linked to the circumstances of China's rise, the extent of state control over all major Chinese corporations (whether private or not), and the methods Beijing has been using to position these companies on the global market. Resolving this dispute will prove a major challenge – not just for Germany, but for many other European states as well.
Björn Alexander Düben is an assistant professor at the School of International and Public Affairs, Jilin University. He holds a Ph.D. in International Relations from LSE and an MPhil in International Relations from the University of Oxford. His research has been published by Reuters, The National Interest, The Diplomat, the Lowy Institute and the Royal United Services Institute (RUSI), among others.