US Secretary of State Pompeo's Trip to Central Asia Back on
This weekend Pompeo will make stops in Kazakhstan and Uzbekistan.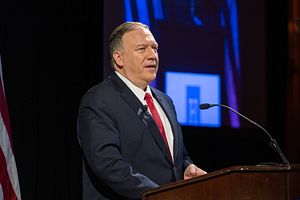 U.S. Secretary of State Mike Pompeo will finally make it to Central Asia this weekend on a trip rescheduled from earlier this month. The trip comes amid a bevy of ongoing battles back in Washington and heavy criticism of Pompeo for, first, swearing at esteemed NPR reporter Mary Louise Kelly following a tough interview and then issuing a jaw-dropping statement calling her a liar.
Pompeo is unlikely to escape tough questions abroad.
The trip was originally planned for January 3-7 with stops in Ukraine, Belarus, Kazakhstan, Uzbekistan, and Cyprus but was rescheduled on January 1 on account of trouble in the Middle East. Violent protests in Baghdad threatened the U.S. embassy there. In the press release announcing the postponement, the State Department said the delay was "due to the need for the Secretary to be in Washington, D.C., to continue monitoring the ongoing situation in Iraq and ensure the safety and security of Americans in the Middle East."
Two days later, Qassem Soleimani — commander of Iran's Quds Force — was killed in a U.S. drone strike near the Baghdad airport. The controversial decision to kill the leader of another country's military forces was reportedly made by Trump "at the urging of Pompeo and Vice President Pence" according to officials who spoke to the Washington Post.
Needless to say, Pompeo had more than Central Asia on his mind in early January and arguably still does. 
Now underway, Pompeo's trip has a new itinerary starting in London just ahead of the U.K.'s departure from the European Union. On Thursday, Pompeo will head to Ukraine, itself at the epicenter of U.S. President Donald Trump's ongoing impeachment trial. He'll then stop in Belarus and Kazakhstan on February 1 and then onward to Uzbekistan on February 2-3 before heading back to Washington.
In Kazakhstan, Pompeo will meet with President Kassym-Jomart Tokayev and First President Nursultan Nazarbayev as well as Foreign Minister Mukhtar Tleuberdi "to reaffirm our shared commitment to peace, prosperity, and security in Central Asia," according to a State Department press release.
In Uzbekistan, Pompeo is scheduled to meet with President Shavkat Mirziyoyev and Foreign Minister Abdulaziz Kamilov " to underscore U.S. support for Uzbekistan's reforms and the country's sovereignty, independence, and territorial integrity."
Pomepo will then participate in a C5+1 Ministerial with the foreign ministers of Kazakhstan, Kyrgyzstan, Tajikistan, Turkmenistan, and Uzbekistan. This part, in particular, illustrates regional interest in the format and in maintaining relations with the United States. The C5+1 format, launched in 2015 under the Obama administration, has served as a solid forum for the region to gather together with the United States. If all five foreign ministers show up to the rescheduled meeting it underscores the format's success at the very least in being able to draw them all in — they would have all had to reschedule their own trips to Tashkent to coincide with Pompeo's.
U.S. secretaries of state rarely travel to Central Asia. Most recent secretaries have made at least one foray to the region, rarely more than a single visit per state during their term. When they do, it tends to be a big deal in the region, even if it's barely remarked upon in Washington. This will be Pompeo's first visit to Central Asia (not including Afghanistan, that is) since becoming secretary of state in April 2018. Rex Tillerson, during his tenure at state from February 2017 to March 2018, never made it to the region despite his history as an oilman with connections via Exxon to Kazakhstan. 
John Kerry, secretary of state from February 2013 to January 2017, traveled to Central Asia in 2015 — hitting all five states in an unprecedented flurry between October 31 and November 3 that year. His predecessor, Hillary Clinton, visited Kazakhstan, Kyrgyzstan, and Uzbekistan in late 2010 and Tajikistan and Uzbekistan (again) in 2011.
Pompeo's trip is expected to include the unveiling of a new U.S. strategy for the Central Asian region.