US State Department Approves F-35B Sale to Singapore
Singapore is slated to procure 12 new F-35B Joint Strike Fighters for its air force.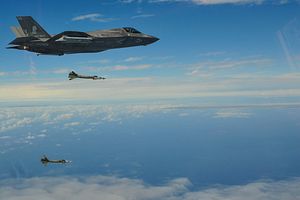 The U.S. Department of State on January 9 approved the possible sale of 12 F-35Bs to Singapore for service in the Republic of Singapore Air Force (RSAF) at a cost of about $2.75 billion.
The Pentagon's Defense Security Cooperation Agency (DSCA) notified U.S. Congress of the possible sales, which is still subject to congressional approval. 
Singapore will procure an initial batch of four F35Bs–the U.S. Marine Corps variant of the supersonic fifth-generation F-35B Lightning II Joint Strike Fighter, capable of vertical or short takeoffs and vertical landings (STOVL) without requiring a catapult launcher–with the intention to procure eight additional aircraft in the future. 
Singapore also has the option to purchase a further eight F-35B under the current contract. Included in the sale are 13 Pratt & Whitney F135 engines, electronic warfare systems, the Autonomic Logistics Information System, training systems, software development, and  personnel training, among others.
In early 2019, Singaporean Defense Minister, Ng Eng Hen, announced that the RSAF and the Defense Science and Technology Agency (DSTA) had completed a thorough technical evaluation and identified the F-35 as the most suitable replacement for the air force's fleet of F-16 fighters. 
Singapore's defense minister also noted at the time that that the evaluation had concluded that the RSAF should purchase only a "small number" of F-35s to evaluate their capabilities and suitability before deciding whether to procure the fighter aircraft in larger quantities. 
The RSAF is looking to replace its entire fleet of 60 F-16 C/D Block 52 and Advanced Block 52 fighter jets with fifth-generation fighters in the medium term. The service's F-16s are currently undergoing a modernization program spearheaded by U.S. defense contractor Lockheed Martin. 
"This proposed sale will support the foreign policy and national security objectives of the United States. Singapore is a strategic friend and Major Security Cooperation Partner and an important force for political stability and economic progress in the Asia Pacific region," DSCA stated in the January 9 release.
"This proposed sale of F-35s will augment Singapore's operational aircraft inventory and enhance its air-to-air and air-to-ground self-defense capability, adding to an effective deterrence to defend its borders and contribute to coalition operations with other allied and partner forces."
The F-35B has been specifically developed by the United States  to replace the U.S. Marine Corps' F/A-18 Hornet, AV-8B Harrier and EA- 6B Prowler aircraft.
The stealth fighter conducted its first combat mission in 2018 in Afghanistan, as I reported. It marked the combat debut of the F-35B as a close-support aircraft.
Singapore will be the second Asian country after Japan to operate the F-35B variant.