What Do Rising US-Iran Tensions Mean for Trump's Asia Policy?
Irrespective of its actual fallout, the killing of Qassem Suleimani will increase scrutiny on the administration's foreign policy, its prioritization of Asia, and its ties with regional states.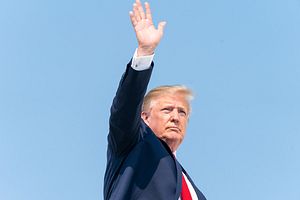 The killing of Qassem Suleimani, the head of Iran's Islamic Revolutionary Guard Corps (IRGC) Quds Force, is a notable development for its own sake, and its impact remains to be seen with respect to U.S.-Iran relations and Washington's approach to the Middle East. But more broadly, irrespective of its actual results, this will also place increased scrutiny on longstanding questions about Trump's foreign policy, the administration's approach to Asia, and U.S. alignments with key regional states.
The tension between the United States being a superpower with global interests, including in the Middle East, and the need to focus more on Asia amid its rising influence and its impact on U.S. foreign policy is not unique to the Trump administration. Both the George W. Bush and Barack Obama administrations dealt with a similar dilemma, with the Bush administration criticized for "overcommitting" to the Middle East through the Iraq War, which affected the shape of aspects of its Asia engagement, and the Obama administration faulted for "underommitting" in seeking to correct that perceived overcommitment with the so-called "pivot" or "rebalance" to Asia even in the face of developments such as the Syria crisis.
Under the Trump administration, we have seen this tension play out as well, albeit to a greater degree and in different ways. While the Trump administration has signaled its commitment to an Asia-first foreign policy with its Free and Open Indo-Pacific (FOIP) vision and the focus on great power competition, this has always coexisted amid priorities in other parts of the world such as combating hostile regimes like Iran and Venezuela as well as uncertainties about the foreign policymaking process given Trump's unorthodox tendencies, which have only intensified with the departures of high-level officials. And as we headed into 2020 with a U.S. presidential election approaching, one of the key questions to watch was how the Trump administration's approach to Asia would shape up within its wider foreign policy amid broader potentially unforeseen crises and challenges, as my colleague Ankit Panda and I discussed on our Asia Geopolitics podcast last month.
Seen from that perspective, while the impact of Suleimani's death is likely to be fully felt only with time once we get a better sense of the fallout, Iran's potential response, and the impact on the wider Middle East, it will nonetheless intensify the doubts and uncertainties in the Trump administration's foreign policy, its commitment to an Asia-first approach to the world, as well as its alignments with key Asian states.
Regarding Trump foreign policy more generally, the administration's response during such a high-profile, unexpected development will be watched carefully in Asian capitals. The uncertainties we have seen in Trump foreign policy in recent years – on aspects including personnel, policy, and even communications – have all raised the question of how such an approach would fare in a crisis. Suleimani's death increases the likelihood that we may see an escalation in U.S.-Iran tensions that could test that proposition, with broader implications for U.S. strategy in the Middle East for years to come as well.
With respect to Asia policy, this development will be scrutinized to assess to what extent the Trump administration can keep an Asia-first foreign policy approach in the face of competing priorities. To be sure, big issues such as North Korea and China policy will continue to demand Washington's attention. But we can nonetheless expect more scrutiny around the issue of whether the Middle East may once again divert U.S. efforts to focus on Asia in general and U.S.-China competition in particular, with an emphasis on tangible metrics such as high-level time and attention as opposed to rhetoric and effects on other, usually relatively less prioritized regions in U.S. policy such as Southeast Asia and Central Asia.
More specifically, this may affect the Trump administration's ties with key Asian states as well. We have already seen some instances where aspects of the administration's Iran policy have diverged from the approaches of Asian countries, be it allies such as Japan or partners such as India or Malaysia, as I have observed separately. Rising U.S.-Iran tensions increase the risk that these divergences will come under further scrutiny if the focus on Iran increases during the Trump administration and regional tensions more generally make it more difficult for these countries to calibrate their own approaches as they would ideally desire.
To be sure, as mentioned earlier, one should be wary of attributing too much significance to any single event in affecting any administration's wider foreign policy as a whole, especially so early on. And, similarly, one should not underestimate the ability of Asian states to be able to manage their disagreements with Washington on Iran and related Middle East issues under Trump – indeed, some of these countries have proven adept at doing so since Trump entered office. Nonetheless, in Asia, where there is almost always a degree of uncertainty on commitment from a distant and distracted United States and where question marks have remained about the sustainability of Trump's Asia policy since the outset, we can expect Suleimani's death to increase the scrutiny already evident on the U.S. approach to the world in the current context and its future evolution.