Trump and Southeast Asia: What Would a US-ASEAN Special Summit Do?
A closer look at the potential significance of the development for US Southeast Asia policy under the Trump administration and beyond.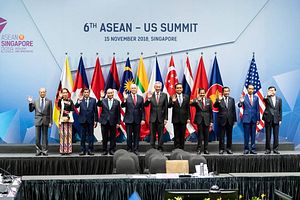 On November 4, White House national security adviser Robert O'Brien relayed U.S. President Donald Trump's invitation to Southeast Asian leaders to attend a special U.S.-ASEAN summit in the United States next year. While this constitutes the first public disclosure of a previously considered idea and it is still early days in its consideration, it is nonetheless worth taking a closer look at what a U.S.-ASEAN Special Summit would mean for the development of the Trump administration's Southeast Asia policy.
The idea of a U.S.-ASEAN Special Summit is not new. A similar summit was held under administration of then-U.S. President Barack Obama back in 2016 at Sunnylands to cap a series of moves that had raised Southeast Asia's profile in U.S. Asia policy. U.S. officials had also previously considered a repetition of this under the Trump administration, both in recognition of the subregion's importance as well as the difficulty of getting the president to maintain the annual attendance at ASEAN summitry that Washington had committed to when the Obama administration joined the East Asia Summit starting in 2011. While Trump attended in 2017, Vice President Mike Pence attended in his stead in 2018, and this year saw the lowest-ranking U.S. delegation to Asian summitry since Washington had joined the EAS. In turn, most Southeast Asian states correspondingly downgraded their level of representation at the U.S.-ASEAN Summit as well, which attracted headlines thereafter.
Earlier this week, the idea was in the spotlight again with O'Brien's public conveying of Trump's invitation to Southeast Asian leaders. Per O'Brien's reading of the letter, Trump offered Southeast Asian leaders an opportunity to join him in the United States for a special summit at a mutually convenient time "in the first quarter of 2020," adding that the summit would provide "an excellent opportunity" for leaders to "broaden and deepen our cooperation on matters of great importance." The invitation was one of a series of items the United States had brought to the table to this year's ASEAN summitry, with another notable one being a progress report on the development of the FOIP vision released by the State Department.
Nonetheless, if held, a new special U.S.-ASEAN summit would not be without significance. For the United States, it would provide an opportunity for the Trump administration to reinforce the importance given to Southeast Asia in general and specific Southeast Asian states in particular within its broader Free and Open Indo-Pacific (FOIP) vision after this year's summit performance, and also showcase that importance to the wider U.S. public domestically given the fact that the subregion is less of a focus in the American mind relative to big Asian powers such as China or Japan. For Southeast Asian states, irrespective of concerns they have about the Trump administration, it would be both a vivid demonstration of U.S. commitment to the region, which is facing a more assertive China amid uncertainty about Washington's role, as well as a useful outlet to deepen ties with various U.S. stakeholders – which include nongovernmental actors that relate to their interests including businesses, educational institutions, and Southeast Asian diaspora communities.
At the same time, the summit would not be without its challenges. Getting all 10 ASEAN leaders to the United States during a U.S. election year would in and of itself not be an easy task. Of course there will be administrative issues such as coordinating schedules amid other priorities on all sides. But also there will be substantive issues raised by some U.S. domestic stakeholders such as the U.S. Congress and rights groups about the presence of certain ASEAN leaders in the United States amid issues in bilateral ties, be it Cambodian Prime Minister Hun Sen's drift toward China, Philippine President Rodrigo Duterte's drug war, or Myanmar's Aung San Suu Kyi's approach to the Rohingya. Carrying out this summit during a U.S. election year could also be an additional complicating factor: such an environment can heighten the risk of aspects of the summit being politicized and also intensify "America First" tendencies within the administration that can shape the summit's conduct and its outcomes.
Even if these challenges were to be successfully managed, there are limits to what a summit can do for the Trump administration's Southeast Asia policy. A single summit cannot be expected to fully address the substantive policy concerns that Southeast Asian states have about the United States, many of which go beyond summit scorekeeping and extend to other considerations such as the changing balance of power in the region and Trump's own personal "America First" tendencies on issues such as trade and alliances. And relative to the Sunnylands Summit, this would be less a celebration of the heightened emphasis on diplomatic engagement and more of an opportunity for the United States to recover lost ground in this area of its approach to Southeast Asia in spite of gains in other realms.
All this is not to detract from the potential upsides of a special U.S.-ASEAN Summit for either the United States or Southeast Asian states, whether it be on symbolic or more substantive grounds. But it does reinforce the fact that the consideration of the potential significance of the engagement needs to be viewed in the context of the Trump administration's broader approach to the region thus far, and that any perceived opportunities need to be weighed against the challenges and limitations that exist.