Australia and Indonesia: Close Friends At Last? 
In a speech at the Australian parliament, Jokowi called Australia Indonesia's closest friend.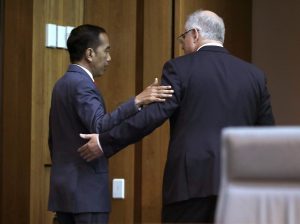 On Monday, Indonesian President Joko "Jokowi" Widodo addressed the Australian Parliament. The speech was the central feature of his three-day state visit to the country. Despite the two countries' proximity Jokowi's speech was only the second time an Indonesian president had performed the honor in the 70-year history of their diplomatic relations, with President Susilo Bambang Yudhoyono being the first a decade ago. Fourteen heads of state or government have now addressed the Australian parliament in total. 
Jokowi's visit to Australia came in the wake of the Indonesian Parliament ratifying the Indonesia-Australia Comprehensive Economic Partnership Agreement (IA-CEPA), an agreement that had begun negotiations in 2012, last week. Kyle Springer from the USAsia Centre at the University of Western Australia provided an analysis of the importance of this free trade agreement for The Diplomat last week. The agreement is set to come into effect as early as April. 
The ratification of the IA-CEPA, and the state visit by Jokowi, are the latest events in a period of heighted engagement between the two countries. In December, Indonesia hosted a 2+2 Foreign and Defense Ministers meeting that sought to consolidate the vision of the two countries' Comprehensive Strategic Partnership that was established in 2018. For Australia there is a strong desire to create cooperative habits between Canberra and Jakarta, with the hope that as Indonesia's economy rises to reflect its population, and its capabilities develop alongside its wealth, that Australia's opportunities and its interests are facilitated, not threatened. 
There is now a broad recognition of a number of shared interests between the two countries, with both looking for similar norms to be upheld in the Indo-Pacific region. Indonesia has become concerned about China's activity within its Exclusive Economic Zone (EEZ) emanating from the Natuna Islands, aligning with Australia's wariness toward China's activity in the South China Sea. But also there is also a mutual unease at U.S. President Donald Trump's suspicions toward multilateral institutions and his general protectionist instincts. Jokowi highlighted this concern in his speech when he said "Indonesia and Australia must enforce open, free and fair economic principles. Whilst protectionism is rising, we must continue to advocate economic openness and fairness."
While multilateralism has been a central pillar of Indonesia's approach to its global affairs, a commitment to free trade hasn't had the same historical institutional commitment in Jakarta. If Jokowi is signalling his desire to shift this perspective and embrace a more open economic posture then he will have strong support from Australia, which will see Indonesia as providing considerable (and growing) weight to the advancement of a system that has served its interests very well. Australia's desire to find new emerging markets to diversify its economy away from a dependence on China is also a driver of Canberra's desire for Indonesia to seek greater engagement in international trade. 
Jokowi began his speech by noting that last week a platoon from the Indonesian Army Corps of Engineers, along with personnel of the Indonesian National Agency for Disaster Management had come to Australia to assist with bushfire recovery efforts. He said that the Indonesian government hasn't forgotten the assistance Australia provided after the 2004 tsunami in Aceh, and that "Australia is Indonesia's closest friend." This is a statement that shouldn't be overlooked, as it represents an extraordinary elevation of Australia in the perception of the Indonesia government, and a significant turnaround from just two decades ago when relations were strained due to Australia's involvement in the independence of Timor-Leste. 
Jokowi highlighted that Indonesia is entering a phase of demographic dividend, with around 63 million people between the ages of 16 and 30, and that "most of them have a global outlook and are keen to collaborate and to innovate." This reality converges with two provisions within the IA-CEPA that could prove fruitful for the two countries. The first being that Melbourne's Monash University will be the first foreign university allowed to establish a campus in Indonesia, giving Australia an in-country advantage in facilitating the fulfillment of Indonesia's education requirements. And the second is the increase in the number of working holiday visas for young Indonesians from 1,000 to 4,100 each year, providing young Indonesians the opportunity to live and work in Australia and create meaningful personal links. 
These initiatives will go some way to helping build a bottom up approach to another major theme of Jokowi's speech; "strategic trust."  Citing the ASEAN Outlook on the Indo-Pacific, Jokowi emphasized that Indonesia and Australia must become the anchors for cooperation in the Indo-Pacific region, and made note to extend this cooperation toward development assistance throughout the Pacific Island states. The Pacific Island states are a region where Australia is heavily invested, and one that Indonesia is beginning to take a serious interest in. Jokowi's visit seems to have demonstrated that the the trust between the two countries is being cemented, with the hope being that the interaction between them beyond official level can now follow.