Coronavirus: The Threat to the Global Economy
From border closures to factory shutdowns, the epidemic threatens a heavy economic cost.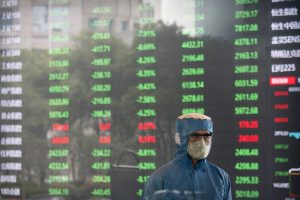 The coronavirus crisis is exacting a terrible toll on human lives across Asia, with the number of deaths and infections continuing to climb. But along with the tragic human impact, analysts warn the economic cost could threaten the global economy after an otherwise bright start to Asia's Year of the Rat.
As of Monday, Chinese authorities put the death toll at 361, with 17,302 confirmed cases. Experts predict more than 100,000 could become infected worldwide, however, with the virus having already spread to 26 countries, including other major population centers in Asia such as India.
With schools and factories shut in China, air travel curtailed, and major cities resembling ghost towns, the economic effects of the world's worst health crisis in decades are becoming more damaging by the day.
Australia joined the United States and Singapore on Saturday in blocking entry to noncitizens traveling from China, with more than 60 nations imposing entry restrictions on Chinese nationals.
Chinese tourists spent some $277 billion worldwide in 2018 and the curtailing of this lucrative travel market could erase up to 3 percentage points of gross domestic product (GDP) from the most exposed economies such as Hong Kong, Cambodia, and Thailand.
Chinese industry is also facing major disruptions, with at least 25 provinces and major cities including Beijing and Shanghai ordering companies to keep workers at home well beyond the Chinese New Year holidays, up until February 13. Protracted factory shutdowns threaten the global supply of personal computers, smartphones and other electronics, including Apple's latest iPhone model.
These disruptions also set to hit other Asian nations, with Vietnam, Taiwan, Malaysia, South Korea, and Thailand particularly exposed due to their supply chain linkages. And while a Chinese demand shock would have the biggest impact on emerging markets, Germany and Japan are considered vulnerable too due to reduced exports.
Investors have felt the impact too, with Asian currencies, stocks, and bond yields all retreating in the rush for safe havens such as gold and U.S. dollars. Global equity prices have dropped by around 3 percent, with Hong Kong's bourse down over 7 percent in a month, Indian stocks down over 3 percent, and Japanese and Korean stocks losing around 2 percent.
Chinese markets were also expected to face selling pressures Monday when they reopened from their extended Lunar New Year holiday. The Shanghai Composite Index dropped by almost 8 percent on Monday, the first day of trading after the break.
The crisis could yet get worse, with Capital Economics warning of a potential global slowdown.
"The extensive efforts to contain the coronavirus will cause GDP growth in China and emerging Asia to slow sharply in [the first quarter]," global economist Simon MacAdam said in a research note Friday.
"We still hope the economic and market disruption will prove temporary. But, given China's prominent position in global supply chains and some financial assets' stretched valuations, there could be global economic fallout if factory closures are extended further and the market sell-off deepens."
For financial markets, the new virus could be a "plausible catalyst for a market correction" given that valuations of some financial assets are already stretched, according to Capital Economics.
Sri Lanka's central bank has already attributed an interest rate cut partly due to fears over the virus' impact, with policymakers in Thailand and the Philippines seen following suit.
Compared to the SARS outbreak in 2003, which caused 8,096 infections, the impact of the coronavirus is expected to be far greater due to China's current position as the world's second-largest economy and biggest resources consumer.
ANZ Research has estimated that China's GDP growth could be dragged 0.9 percentage points lower by the coronavirus crisis, resulting in headline growth of 5 percent – its slowest pace since 1990.
"Industrial production and exports will decline, based on a loss of 3.5 working days in the quarter, while a plunge in tourism will trim the services sector's GDP growth by 0.9 percent," the bank's economists said in a January 30 report.
Outside China and India, the bank's economists expect Asia to lose as much as 0.5 percentage points in the first quarter, with the impact dependent on how quickly the outbreak can be contained.
The already recession-hit Hong Kong could lose up to 1.4 percentage points of GDP growth from reduced Chinese tourism and trade, followed by Vietnam (down 0.8 percentage points), Thailand (0.7 percentage points) and Taiwan (around 0.6 percentage points lower).
Already hit by a bushfire crisis that has caused a slump in overseas tourists, Australia could lose another 0.2 percentage points of GDP in 2020 as a result of the coronavirus, ANZ Research predicts.
Facing a A$4.5 billion (US$3 billion) hit to international tourist spending, Tourism Australia has quickly launched a "Holiday Here This Year" campaign encouraging Australians to travel domestically in 2020, particularly to bushfire-hit areas.
The predicted downturn follows an otherwise bright start to Asia's Year of the Rat, partly thanks to the U.S.-China "phase one" trade deal that saw analysts upgrade their forecasts for China's GDP growth.
IMF: Trade 'Bottoming Out'
In its "World Economic Outlook" report released on January 20, the International Monetary Fund predicted an increase in global growth, from 2.9 percent in 2019 to 3.3 percent this year and 3.4 percent in 2021, amid signs that manufacturing activity and global trade are "bottoming out."
The report, released before the coronavirus crisis erupted, had projected China would expand by 6 percent in 2020 and 5.8 percent in 2021, with this year's forecast upgraded by 0.2 percentage points thanks to the U.S.-China trade deal.
The "ASEAN-5" economies comprising Indonesia, Malaysia, the Philippines, Singapore, and Thailand were projected to expand by 4.8 percent in 2020 and 5.1 percent in 2021.
However, Japan, the world's third-largest economy, is seen decelerating from 1 percent GDP growth in 2019 to just 0.7 percent this year and 0.5 percent in 2021, as the impact of recent fiscal stimulus fades.
India, which until recently was the fastest growing major economy, is expected to post a 5.8 percent GDP gain this year and 6.5 percent in 2021, due to "stress in the nonbank financial sector and weak rural income growth."
With its own forecasts projecting its weakest growth rate since the global financial crisis of just 5 percent, the Modi government responded Saturday with a spending boost.
The new budget includes increased spending in agriculture, water, and infrastructure projects as well as income tax cuts, including a 3.6 trillion rupee ($50 billion) project to provide piped water to all households by 2024.
Financial markets reacted negatively however, with the benchmark Sensex index dropping by 2.4 percent in Saturday trading after the budget failed to meet investors' reform expectations.
With both China and India facing economic challenges and Japan cooling, the Asia-Pacific region suddenly is facing a much harsher outlook after its bright start to the Year of the Rat. As authorities scramble to contain the coronavirus, the jury is out on whether the Chinese zodiac animal will bring hardship or prosperity in 2020.