Delhi: The Anatomy of a Riot
Communal violence killed 25 in New Delhi. How did it come to this?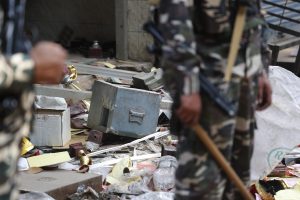 Riots, the deadliest the Indian capital of New Delhi has seen in a decade, have claimed 25 lives, including a policeman and an intelligence officer.
Over 200 civilians were injured. At least two mosques were vandalized and torched by supporters of the ruling Bhartiya Janta Party (BJP); houses and shops of Muslims were gutted; and petrol pumps, tire markets, and innumerable vehicles were set afire during the three days of violence. Ironically, U.S. President Donald Trump, who was in India for his maiden visit, praised Indian Prime Minister Narendra Modi for "religious tolerance" even as the chaos unspooled.
Several journalists who were covering the riots were beaten or heckled, their mobile phones and cameras snatched away. Some were asked to prove if they were Hindus and were let off only if they agreed not to write anything against the rioters.
The arson went on for three days before a shoot-at-sight order by the police was given in the riot-hit areas. However, according to eyewitnesses, despite the order, supporters of the BJP continued to gather and chant inflammatory slogans.
From Clashes to a Pogrom
The violence broke out in Jaffrabad, Babarpur, Brahmapuri, Gorakh Park, Maujpur, Bhajanpura, Kabir Nagar, Chand Bag, Gokulpuri, Karawal Nagar, Khajoori Khas, and Kardam Puri areas after BJP leader Kapil Mishra issued a "three-day ultimatum" to police to clear a protest against the Citizenship Amendment Act (CAA) by women at the Jaffrabad Metro Station.
Mishra said, "We are giving Delhi Police three days to clear the roads in Jaffrabad and Chand Bagh. We won't listen to you [police] after this." The video of his speech went viral on social media; in the footage, a police officer could be seen standing beside Mishra and smiling while Mishra made the threat.
Women protesters had blocked the road at Jaffarabad on Saturday night to protest the controversial CAA and to support a strike called by Bhim Army chief Chandrashekhar Azad on Sunday. The protest at Jaffrabad was meant to replicate the women-led protest against the CAA, which has been going on for two months at Shaheen Bagh.
Just before the New Delhi elections, several BJP leaders had given incendiary speeches against the anti-CAA protesters, calling them "traitors" and "terrorists." A majority of the protesters are Muslims.
Union Minister of State for Finance Anurag Thakur, from the ruling BJP, raised the slogan of "Desh ke gaddaro ko, goli maaro s***o ko (shoot the traitors of India)" at a crowded election rally in Delhi. A few days later, BJP member of parliament Parvesh Verma addressed an election gathering by saying, "Lakhs of people gather there [Shaheen Bagh]. They will enter your houses, rape your sisters and daughters, kill them. There's time today… Modi-Ji and Amit Shah won't come to save you tomorrow." In terms of repercussions, the MPs merely had their names dropped from the "star campaigners" list at the order of the Election Commission of India.
During the Delhi elections, the main poll plank of the BJP was to create a divide between the two religious communities, pitting Hindus and Muslims against one another. The party's social media campaign strategy focused on projecting the BJP as the protector of Hindus; as a corollary, anybody who opposes the CAA was painted as a traitor who should be driven out of the country. Union Minister of Home Affairs Amit Shah went on to say, "When you press the button on February 8 [the polling day], do so with such anger that its current is felt at Shaheen Bagh."
The BJP lost the elections to the incumbent Aam Aadmi Party (AAP) but managed to retain eight seats out of 70. The recent riots broke out in the constituencies that the BJP had won in the Delhi elections.
Hours after his "ultimatum," the BJP's Mishra, infamous for his provocative speeches, tweeted asking people to assemble at Maujpur at 3 p.m. to "give an answer to Jaffrabad" just a kilometer away.
Supporters of the BJP gathered in large numbers with saffron flags (a symbol of Hinduism). They started raising slogans such as "Jai Shree Ram (Hail Lord Ram)," "Har Has Mahadev (Hail the Shiva)," "shoot the traitors," and "Jo Hindu hit ki baat karega wahi desh par raaj karega (Only those who talk of Hindu wellbeing will rule this country)."
The harassment of Muslim residents of the locality, who had nothing to do with the CAA protests, started long before the actual stone-pelting began. Nobody knows who threw the first stone but soon, stone pelting started between both the groups from different communities. Police fired teargas but the violence did not stop.
Policing During the Riots 
For three nights, BJP supporters, wearing saffron headgear or carrying saffron flags, continued their rampage — with police officials abetting them. Residents said these rioters did not belong to their locality and had come from bordering areas of Delhi.
Several videos circulating on social media show the rioters claiming police officers were "with them," while others show how police officers helped the saffron goons collect stones to be thrown during the clashes.
Another video, fact-checked by AltNews, an independent platform that uses data forensics to verify viral content, showed police officers beating a group of injured men lying on the road and forcing them to sing the national anthem. One of the officers who was recording a video egged a man, hardly conscious, to sing the national anthem "properly."
The Delhi Police comes under the jurisdiction of the Indian Ministry of Home Affairs (MHA), headed by the BJP's Amit Shah..
Several journalists reporting from the ground reported that the police did not stop the rioting BJP supporters and even provided them with cover while they continued to pelt stones, burn property, and attack people.
Amit Mishra, a member of AAP, tweeted a video from Mustafabad where rioters were seen barging into homes chanting "Jai Shree Ram" even when shoot-at-sight orders were in force. In several localities, police were also seen breaking the CCTV cameras installed at street squares.
At least two mosques in Mustafabad were vandalized and attacked with stones. There were several children inside one of the mosques and they were rescued by the residents. Even the children had been beaten with rods and had serious injuries.
Of those who lost their lives, a few could be identified, including police head constable Rattan Lal, who died of a bullet injury. Two policemen have received grievous injuries.
Intelligence bureau officer Ankit Sharma's body was found in a drain. His father accused Tahir Hussain, an AAP councilor, of kidnaping and killing his son.
The father of Rahul Solanki, another victim, blamed BJP leader Kapil Mishra for instigating violence in the area that claimed his son's life.
Supporters of the BJP blocked the main road, cutting the localities off, and did not let ambulances reach the riot-hit areas. Several local Hindu residents helped their Muslim neighbors by taking them to hospitals since the rioters only let Hindus pass.
A minor boy who had gone out to get food for his family was shot in the crossfire and had to wait for an ambulance for six hours with a bullet still in his body. A police vehicle finally took him to the hospital, where he had to wait again for treatment.
In several other localities, people were either locked inside their homes or were not able to return. In Gamri extension, near Khajoori Khas, an 85-year-old woman burned to death when a mob of 100 rioters torched her house. Her family members managed to escape just in time but she was bedridden and could not be rescued.
Even as barbarity played out on the streets, there were hardly any steps taken by the leaders of AAP and the Congress to help people in the riot-hit areas. When members of the Jamia Coordination Committee gathered in front of the residence of Delhi Chief Minister Arvind Kejriwal, police dispersed them with water cannons.
Journalists Shot at, Beaten
Over a dozen journalists were attacked and intimidated while they were covering the Delhi riots. Akash Napa of JK 24 was shot at by a mob at Maujpur and was admitted to the GTB Hospital with a bullet lodged in his body.
Saurabh Shukla, Arvind Gunasekar, and Runjhun Sharma of NDTV were surrounded by BJP supporters while they were filming a mosque being vandalized and burnt at Gokulpuri. Both Shukla and Gunasekar were beaten badly. Sharma was asked to leave but she refused and pleaded with the mob to let her colleagues go. It was only after the mob saw the Hindu names on the journalists' identity cards that they were let go – and even then Gunasekar was forced to delete the videos first.
"Hindu ho? Bach gaye (You are saved because you are Hindu)," was what a rioter told Shivnarayan Rajpurohit of Indian Express after he was attacked by a mob. His diary and phone were taken away, his glasses were broken, and he was slapped twice for reporting from a Hindu-dominated area.
"I was attacked by pro CAA protestors for reporting facts. A group of men armed with sticks and bricks cornered me to hit me, I pleaded them and ran for my life," tweeted Parvina Purkayastha of Times Now.
Sreya Chatterjee, a freelance journalist, tweeted: "Yes! I was on the ground where Pro-CAA protestors burned houses. Broke shops. Started pelting stones towards Anti-CAA protestors. This was before Anti-CAA protestors reacted."
Anindya Chattopadhyay, a photojournalist with Times of India, wrote a first-person account in which he narrated how he was attacked by the rioters, who threatened to take off his pants to check if he was a Muslim.
Several other journalists were abused and intimidated and were asked to prove their religion. They reported extensively on how a clash turned into a riot and then a pogrom.
Trump Praises Modi for Religious Tolerance 
Even as the violence raged in Delhi, U.S. President Trump was basking in the warm welcome from Prime Minister Modi.
The tryst of two political behemoths was meant to be a spectacle. Modi reciprocated the validation he received at the "Howdy Modi" event in September last year with "Namaste Trump," which ate away approximately $13 million from Gujarat's annual budget.
For the event, Trump was welcomed at the world's largest cricket stadium, Motera, in Ahmedabad. While the two recounted their friendship during "Namaste Trump," a swathe of the northeastern side of India's capital burned.
The Trump welcome party continued unabated, despite the widespread violence.
"I don't want to say anything on CAA. It is up to India. I hope it will take the right decision for its people," Trump said in a press conference at the end of his two-day visit. When asked about the Delhi violence, he said he "didn't discuss individual attacks."
The Morning After 
It was only after Trump's departure that the social media-savvy prime minister tweeted: "Peace and harmony are central to our ethos. I appeal to my sisters and brothers of Delhi to maintain peace and brotherhood at all times. It is important that there is calm and normalcy is restored at the earliest."
The delay is not as odd as it might seem. Modi likes to finish the task at hand before paying attention to other issues. After all, he made sure to complete shooting on the "Man vs Wild" television special with the team of the Discovery Channel even on the day 48 Central Reserve Police Force personnel lost their lives in Pulwama.
On Tuesday night, however, Home Minister Shah convened a "high-level" meeting with his political opponent chief minister Arvind Kejriwal and Modi's national security adviser, Ajit Doval, was sent to the riot-hit areas to assess the situation.
Doval came back to say "the situation was under control," even when people kept reporting attacks and life in northeast Delhi was at a complete standstill. On Tuesday night, rumors of stone-pelting emerged from Laxmi Nagar area, a densely packed market area in east Delhi. BJP member of the legislative assembly Abhay Verma claimed he reached the spot to "diffuse tensions" but he along with his supports were seen marching in the area raising provocative slogans such as "shoot the traitors."
Rays of Hope 
At a time when the riot-hit citizens have nowhere to go, several Gurdwaras in north Delhi, including the prominent Majnu Ka Tila Gurdwawa, opened to their door to people fleeing the violence.
In other localities, Hindu and Muslim residents stood up for each other. In Seelampur, Dalits blocked the roads against mobs and sheltered their Muslim neighbors.
In Bhajanpura, Chandbag, Hindu residents narrated how their Muslim neighbors saved a temple from being vandalized by outsiders. Rajendra Kumar Mishra, a resident of the area, told BBC that Chandbag is 70 percent Muslim households. Residents, both Hindus and Muslims, formed watch parties to save each other from violence.
In Brijpuri area, Hindu and Muslim residents took out a unity march condemning the violence and chanting slogans that they will not let their locality be destroyed.
As violent riots tore through the northeastern part of the city, several individuals came forward to provide shelter and medical assistance to injured people.
After all the government machinery had failed, it was Delhi High Court that convened a midnight hearing at 12:30 a.m. on Wednesday and ordered the police to ensure the safe passage of injured victims to the hospitals.
The court convened at the residence of Justice Murlidhar after advocate Suroor Mander explained that 22 people were trapped in Al-Hind Hospital.
On Wednesday morning, the court convened again and pulled up the Delhi police for their failure during the riots. The court also registered first information reports (FIRs) against the three BJP leaders, Kapil Mishra, Anurag Thakur, and Parvesh Verma, for inciting violence.
The court said it cannot "allow another 1984," referring to the anti-Sikh riots after former Prime Minister Indira Gandhi was killed. It ordered authorities to scale up efforts to help riot victims.
Soma Basu is an investigative journalist and a research scholar based in New Delhi, India.