Did Trump's India Visit Keep the US-India Relationship on Track?
Trump is the fourth consecutive U.S. president to visit India. Does his visit mark a turning point in the relationship or continuity?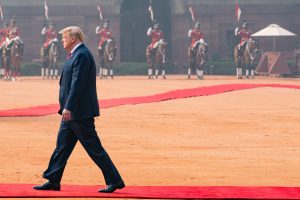 Aman Thakker, a South Asia writer for The Diplomat, joins Ankit Panda (@nktpnd) to discuss U.S. President Donald J. Trump's inaugural visit to India and the state of U.S.-India relations.
Click the play button to the right to listen. If you're an iOS or Mac user, you can also subscribe to The Diplomat's Asia Geopolitics podcast on iTunes here; if you use Windows or Android, you can subscribe on Google Play here, or on Spotify here.
If you like the podcast and have suggestions for content, please leave a review and rating on iTunes and TuneIn. You can contact the host, Ankit Panda, here.