How Does Asia Think About Taiwan and Its New Southbound Policy?
Attempting to gauge public sentiments in Asian countries toward Taiwan and its outreach attempts.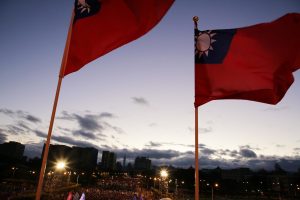 After President Tsai Ing-wen's re-election victory last month, analysts have already started to ponder the future of her signature foreign policy: The New Southbound Policy (NSP). As Taiwan's regional strategy for Asia, the NSP aims to expand Taiwan's comprehensive relations with countries in South and Southeast Asia, and has so far continued to achieve results in multiple realms. Outbound investment toward NSP countries rose 16.16 percent from a year earlier to US$2.79 billion, while visitors from NSP countries to Taiwan also increased by 6 percent last year. With a majority in the legislature and a clear landslide win, Tsai now has a clear mandate to level up her policy agenda.
Seeking Feedback for Taiwan's Regional Efforts
But while this is a time to look forward for the NSP, it most certainly is also a time to look back, to re-evaluate policy goals and see if Taiwan's regional counterparts see eye-to-eye with the NSP's current progression. A recent small-scale survey in Vietnam conducted by the Taiwan-Asia Exchange Foundation (TAEF) shows that among local business sector professionals who have interactions with Taiwan businesses, Taiwan and Taiwanese businesses have a positive image that ranks second in the top 10 foreign investor countries of Vietnam, just behind Japan. But one survey result is not enough. One of the downsides for Taiwan's NSP is that many important surveys that touch upon perceptions between regional countries, such as recently published "The State of SEA Survey Report 2020" by Singapore-based ISEAS and other ones by Pew Research Center, don't include Taiwan, making it difficult to see a general trend in how other countries are responding to Taiwan's ramped up efforts in Asia.
As an alternative method of gathering feedback, besides informal and formal exchange with counterparts, Taiwan has to rely on published commentary by regional policy professionals and officials who give us a glimpse (albeit a limited one) into how Taiwan and the New Southbound Policy are being perceived. We can see three general themes in these writings: On the positive side, Taiwan is viewed as a progressive democracy and open society as well as a trade and industry partner; and on the negative side, the highly influential China factor complicates potential relationships.
Taiwan Success in Its Democracy and Economy
Taiwan's status as Asia's leading democracy is highlighted in many articles. As Thitinan Pongsudhirak, director of the Institute of Security and International Studies at Chulalongkorn University, stated, "Taiwan is a living and thriving example of being Asian, democratic and economically successful at the same time." The people-centered vision of the NSP resonates with that existing narrative toward Taiwan. For supporters of democracy and civil society activities in the region, Taiwan's success is an affirmation of their beliefs and a vision of Asia beyond so-called "Asian Values" or a "China Model." As a result of Taiwan being a leader in government transparency efforts and the first to legalize same-sex marriage in Asia, many in the region also look toward the country as a beacon of progressive values.
But what draws people's interest toward Taiwan is also mostly the economic potential. Make no mistake, no one thinks that Taiwan can substitute for Chinese infrastructure investment, but many point out how Taiwan's advanced technology and expertise in certain industry areas could assist in sustaining economic development in South and Southeast Asia. Mark Manantan, a research associate of the Manila-based think tank Asia Pacific Pathways to Progress, shows how Taiwan and the Philippines have been moving forward cooperation in areas such as electronics, artificial intelligence, and blockchain technology, even working to establish a "Taiwan-Philippines Digital Corridor." Veteran Thai journalist Kavi Chongkittavorn also argues in the Bangkok Post that the NSP provides "impetus for the island's efforts to promote… health care, technology, small and medium enterprises… with the region." Taiwan's experiences in these areas are of great value for Asian countries seeking to move up the value chain and promote business development.
Interestingly, some of the keenest supporters of economic cooperation with Taiwan's New Southbound Policy have come from India, one of China's geopolitical competitors in Asia. Renowned Indian scholar Dr. Harsh V. Pant, head of the Strategic Studies Program at the India-based Observer Research Foundation recently wrote that Taiwan and India are "natural partners in more ways than one." He highlighted Taiwan's recent efforts in opening up trade offices in India, and advocated for more India-Taiwan cooperation in areas such as technology, renewable energy, electric vehicles, and agriculture, closer interactions which "are now the need of the hour" in the midst of U.S.-China trade tensions. Vice Admiral (Retd) Shekhar Sinha, who is now chairman of the India Foundation's Board of Trustees, also commended these enhanced economic collaborations, claiming clear complementarity between Taiwan's NSP and India's Act East Policy. He has also called for bilateral collaboration in the maritime realm to secure regional trade.
The China Factor
But what concerns South and Southeast Asian analysts the most, understandably, is still the potential implications of cooperation with Taiwan for their relations with China. It is not that regional analysts disagree with Taiwan's insistence toward continued independence. For example, Philippine analyst Richard Heydarian has argued that President Rodrigo Duterte should learn from Taiwan's presidents the "courage of leadership, unconditional patriotism, geopolitical savvy and belief in the youth as the guardians of our democratic republic." Dr. Pant has also said, after last month's elections, that "Taiwan has made [its] choice clear that it won't budge on the question of its independence even if it has to stand mostly alone in the world. There is much to cherish and respect in that approach." In a region where most countries only became independent after World War II, they understand all too well the precious worth of autonomy, something at the very core of their interests in this U.S.-China strategic competition.
But despite that understanding, regional analysts also acknowledge that South and Southeast Asian governments need to manage cooperation with Taiwan in ways that advance mutual interests but also limit pressure from China. For example, Tu Lai, a research fellow at the Diplomatic Academy of Vietnam, acknowledges that while Vietnam has much to gain from cooperating with Taiwan's NSP, "China is currently Vietnam's largest trading partner and import market… as a result, it is not an easy task for Vietnam and Taiwan to progress with a beneficial economic relationship while not antagonizing China." For Tu Lai, how far Taiwan-Vietnam cooperation can go depends on the "resilience of Vietnam's policy and the determination of the Tsai administration."
But people also understand that there still exist clever ways to push ties forward, and that China is not able of dictating everything. Nyo Ohn Myint, former spokesperson for Myanmar State Counsellor Aung San Suu Kyi, has claimed in an interview that while the Myanmar government has been strictly sticking to their "One China Policy," Taiwan's interactions and investment relations with the country at the local level are still strong. Nyo Ohn Myint also referenced Vietnam's case in arguing Myanmar can be more flexible on the "One China Policy," as Vietnam has shown that you can "be able to play a fair game" and enjoy benefits from both Taiwan and China.
The Way Forward in Tsai's Second Term
After understanding the performance of Taiwan's NSP in Tsai's first term alongside views from regional counterparts, one of the areas where Taiwan should expand efforts is engagement with civil society and youth leaders in the region. While there are already existing efforts — such as the "Asia Young Leaders for Democracy" program (hosted by Taiwan Foundation for Democracy), "AIT-SEASAT Youth Camp" (hosted by AIT and TAEF) and several other government and NGO-initiated programs — the depth and breadth of Taiwan's activities in this regard can still be improved. Teaming up with third parties from other like-minded democracies could also be a useful way forward. The government should also support NGO efforts to collaborate with South and Southeast Asian counterparts, especially encouraging areas in which clear synergy and long-term cooperation can be found.
On the economic front, Taiwan needs to continue to identify the needs of individual countries and how its strengths can play into their developmental agendas. As South and Southeast Asian economies transform, industrial cooperation should not just be limited to labor-intensive manufacturing but also include the most cutting-edge technologies. As highlighted in a recent Carnegie Endowment for International Peace report, digital connectivity and cybersecurity are areas where Taiwan can cooperate with the United States in the Asian region. Another report from the Center for Strategic and International Studies titled "Charting Convergence: Exploring the Intersection of the U.S. Free and Open Indo-Pacific Strategy and Taiwan's New Southbound Policy" also shares this view. Deepened collaboration with U.S. and Japanese counterparts in these regards are of benefit to Taiwan's NSP, but they also help strengthen Taiwan's broader relationships with the United States and Japan. On another note, better marketing strategies and national branding are also needed to remind Asian counterparts that Taiwanese businesses are worthy and active partners.
And finally, Taiwan's relations with China will still heavily influence its successes in the region. This is not to say that Taiwan should compromise, but that Taiwan and regional counterparts need to set priorities (deciding where to spend their political capital) and also improve policy resilience in the face of Chinese pressure. Creative channels and models of bilateral cooperation should also continue to be developed. A strong and dynamic Taiwan is in the economic, social, and security interest of regional countries, while manageable relations between China and Taiwan are also vital to the region's development. Thus, as South and Southeast Asia countries grow in influence, they should also actively work to encourage peaceful dialogue and discourage hostile behavior across the Taiwan Strait, a goal that Taiwan also dearly shares.
Jeremy Huai-Che Chiang is a Non-Resident Research Associate at the Taiwan-Asia Exchange Foundation and MPhil Candidate at the University of Cambridge, U.K.