US Transits as Part of Taiwan's Gray Zone Diplomacy
Taiwanese politicians' "transits" through the United States have a 30-year history spanning both DPP and KMT administrations.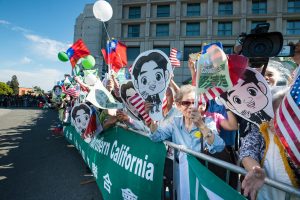 As Taiwan's campaign season heats up ahead of the January 2024 national elections, foreign policy is once again front and center. As per usual, the Democratic Progressive Party (DPP) candidate, sitting Vice President William Lai, must contend with not only his Taiwanese competitors but also election interference from the Chinese Communist Party (CCP).
Earlier this month, on either side of a seven-day diplomatic excursion to attend inauguration ceremonies in Paraguay, Lai made stopovers in New York City and San Francisco where he met with Taiwanese expats and campaign supporters. In response, the Chinese Foreign Ministry demanded that the United States "refuse to let William Lai 'transit' the U.S.," as CCP-owned media named Lai a "die-hard secessionist" and "outright troublemaker" whose transit  "significantly damaged China's sovereignty and territory." 
When China complains about such transits, the U.S. defense is that it is "routine" and "common practice." Indeed, the normalization of travel to the United States by Taiwanese leaders and presidential candidates is the result of a 30-year history of unofficial visits. The origin of this trend dates back thirty years to the 1990s when President Lee Teng-hui of the Kuomintang (KMT) pursued a strategy of "flexible diplomacy" to expand Taiwan's international footprint without provoking cross-strait hostilities. 
Aspects of Lee's foreign policy were unsuccessful: Taiwan was not admitted to any U.N. organizations, even as an observer, and China has continued to poach from Taiwan's dwindling number of diplomatic allies. Yet with its unofficial strategic partners, especially the United States, Lee Teng-hui's "transit diplomacy" played a groundbreaking role in strengthening Taiwanese security. 
Transits, Trips, and Electioneering
In 1979, the United States cut official ties with the Republic of China (ROC) government in Taiwan in favor of the People's Republic of China (PRC) and agreed to "acknowledge" Beijing's one-China principle. For 15 years after that, no Taiwanese leader set foot on U.S. soil. Amid warming relations between the U.S. and Lee Teng-hui, sitting president and pioneer of democratic reforms in Taiwan, the Clinton State Department updated its rules against official travel. In 1994, Lee was denied a visa but allowed a refueling stopover at Hickam Air Force Base in Hawaiʻi during a worldwide tour of Taiwan's allies on three continents. 
Lee aimed to initiate closer coordination between the United States and Taiwan on cross-strait issues and was unsatisfied with the Hawai'i stopover, during which he stayed cooped up in his plane. The following year, Lee lobbied the U.S. Congress to allow him to attend a reunion hosted by his alma mater, Cornell University, where he would deliver a brief lecture on his democratization efforts. Expanding upon the 1979 Taiwan Relations Act, Congress passed Public Law 103-416 in October 1994 to clarify that ROC presidents and high-level officials "shall be admitted" for business, security, environmental, or humanitarian purposes. The Clinton administration ultimately approved the Taiwanese president's visa, accepting the argument by Lee's supporters that his visa was for a personal trip, meaning the administration's verdict could not be construed as a change to the United States' one-China policy.
China responded to Lee's five-day trip by initiating the so-called "Third Taiwan Crisis": an onslaught of missile tests and live-fire exercises designed to oppose Lee's foreign policy efforts and to promote accommodationist candidates in the upcoming 1996 presidential contest. Since the Third Taiwan Crisis, Beijing has expanded its use of "gray zone warfare," or coercion tactics that fall below the threshold of war, using unprofessional behavior, coordinated civilian action, and new domains of conflict to punish Taiwanese leaders for strengthening the island's democratic system or international profile. Superficially, the United States has effectively been cowed by these threats, as no Taiwanese president since Lee has been granted a visa for travel with the express purpose of visiting the United States. 
Yet as with all things related to Taiwan, things are complicated. Beneath the letter of U.S. policy, two major loopholes have allowed visits by Taiwanese leaders to be normalized over the ensuing decades.
First, while the United States has not approved travel by a Taiwanese president whose final destination was U.S. territory, presidents since 1997 have "refueled" or "transferred" on their way to visit diplomatic allies nearly 30 times, completing stopovers in 12 cities spread over nine states and Guam. According to an analysis by the Center for Strategic and International Studies, the average length of such transit visits since 1994 has increased from 1.3 nights to 2.4 nights. While no Taiwanese president has made more than two stopovers in the U.S. on a single trip, the locations selected for stopovers have increasingly varied. It is now customary for Taiwanese presidents transiting through the United States to meet with allies in Congress, local government officials, and members of the Taiwanese expat community. 
Second, Washington allows much freer rein to Taiwanese not currently holding office, which generally includes presidential candidates. After all, Lee Teng-hui's 1995 visit to Cornell, the first and last of its kind, functioned both as a foreign policy maneuver and a campaign tactic. By demonstrating his commitment to relations with the United States, Lee won respect for the KMT among native Taiwanese, many of whom feared unification would lead to a renewed crackdown on their culture, language, and civil liberties. 
Unlike Taiwanese officials, presidential candidates without official capacities can freely traverse the United States, canvassing support and donations among America's large Taiwanese population. All serious presidential candidates are now expected to visit the U.S. during election season, seeking an understanding with Washington and expat support. Lai's trip received the most headlines, given he concurrently holds office as vice president, but his rival candidates are also making the trek. Ko Wen-je of the Taiwan People's Party spent three weeks touring the United States in April, and Hou Yu-ih of the KMT will spend eight days in the U.S. in September.
Taiwan's Gray Zone Diplomacy
Since 1994, an explosion of visits by Taiwanese presidents and candidates in the form of transits and trips has greatly expanded the international profile of Taiwan without constituting a formal challenge to Beijing's one-China principle. President Ma Ying-jeou of the KMT, elected in 2008 with a mandate to improve cross-strait relations, continued to make transits of the U.S. despite negotiating a "diplomatic truce" with Beijing. During Ma's eight-year tenure, Taiwan neither gained nor lost a single diplomatic ally to China; yet unofficially, Taiwan's international influence continued to grow.
In addition to transits by Taiwanese presidents, the incorporation of campaign trips abroad into Taiwanese political culture has greatly expanded Taiwan-U.S. understanding. Of the 200 days Taiwanese presidents and hopefuls have spent in the United States, transit diplomacy comprised less than half that total. In 1999, a year after losing the Taipei mayorship to a young Ma Ying-jeou, Chen Shui-bian of the DPP flew to New York City to rub shoulders with important figures in the Taiwanese diaspora. According to an estimate by the Taiwanese American Association of New York, the Chen campaign convinced over 2,000 Taiwanese nationals in North America to fly home and vote in the March 2000 election (Taiwan does not allow absentee voting), which Chen won.
While Taiwan is ill-equipped to compete with China when it comes to official state-to-state relations, trips, transits, and other "gray-zone" diplomatic efforts have substantially expanded Taiwan's international support. China has successfully picked off several formal allies since it resumed "diplomatic war" with Taiwan during the Tsai Ing-wen administration, yet these official relationships pale in strategic importance compared to Taiwan's "business, security, environmental, and humanitarian" ties with the United States, Europe, Japan, South Korea, and the Philippines – none of which officially recognize the ROC.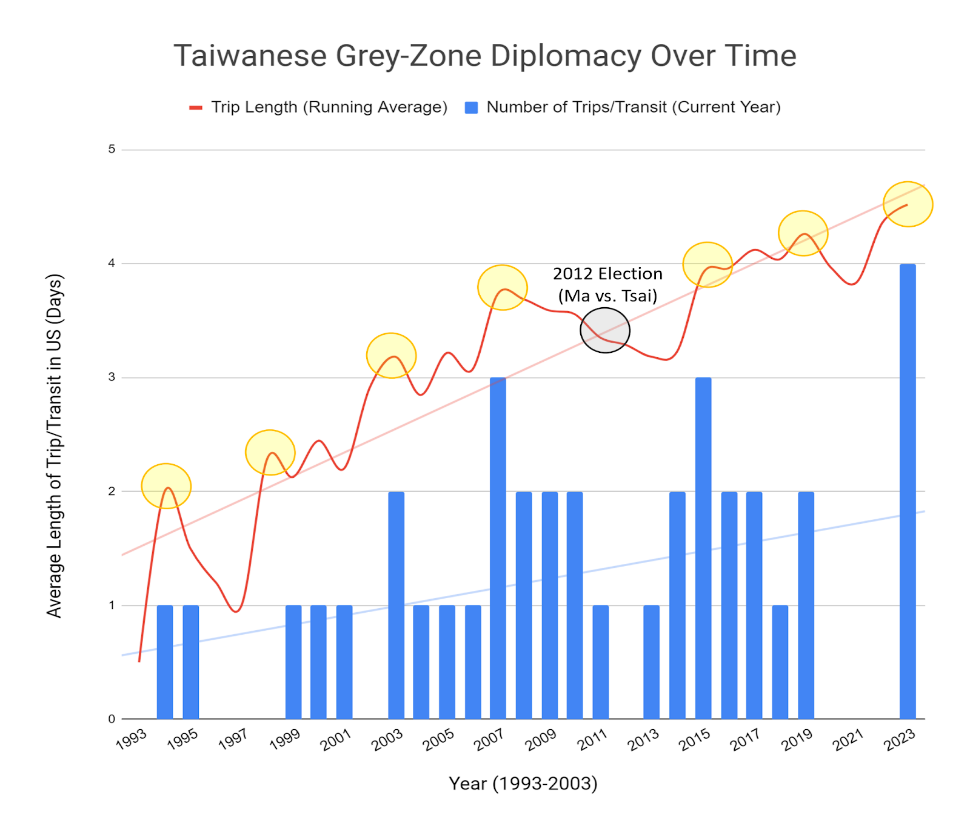 The chart above captures how such unofficial relations have changed with Taiwan's most important strategic partner, the United States, as measured by transits. The trend is clear: between the relationship's nadir in 1979 and today, the Taiwanese have made steady soft power gains. It took six years (1995-2001) before any transiting president was allowed to meet with an American congressperson. Then, during the Chen administration, the president met with several U.S. representatives, Secretary of State Colin Powell (in Panama), former President Bill Clinton (in Taiwan), and was decorated by the Congressional Human Rights Caucus. As the itineraries of transiting presidents grew longer, meetings extended to include business and tech leaders, academics, governors, and activists. In 2016, Donald Trump, then the U.S. president-elect, took a phone call from President Tsai Ing-wen.
The effect of Taiwan's gray-zone diplomacy is evident. A Global Taiwan brief demonstrated a trend of increasing U.S. support, particularly among those familiar with Taiwan. Taiwanese gray zone diplomacy further helps to "set conditions" for official diplomatic advances later on, such as its bids for inclusion into the World Health Assembly, INTERPOL, and U.N. working groups. Under the cover of tacit agreement by its main strategic partners, Taiwan has built itself into a network of semi-official organizations, including 40 intergovernmental bodies, and today its passport is twice as strong as that of PRC citizens per the Henley & Partners ranking.
Part of effective gray zone tactics is knowing when to de-escalate. The only election season in which the average time in the U.S. spent by Taiwanese leaders and hopefuls did not increase was 2012, during the first four years of Ma's "diplomatic truce." After the Chen administration was accused of moving too fast and dragging the United States into provocations against China, lower-key trips and transits helped rebuild trust on all sides. Despite taking a harder line against Chinese coercion than Ma, Tsai also maintained a low profile on her first campaign trip to Washington. Yet in 2016, with relations on an upswing, Tsai returned to the United States for a trip four times longer than in 2012. As the name "flexible diplomacy" suggests, unofficial exchanges proved to be more adaptable to cross-strait conditions given a general lack of set timetables, fixed responsibilities, and diplomatic protocol. 
Most importantly, Taiwan's gray zone diplomacy has been bipartisan. Even KMT leaders like Ma, who recently completed a tour of China and has met with Chinese leader Xi Jinping, exhibit typical transit and trip behavior. Ma may have criticized Chen's eye-grabbing U.S. transit itineraries, but Ma's 10 transits through the United States were as numerous or more numerous than every other modern Taiwanese president, and he spent eight days in 2006 on a campaign trip through the United States, meeting with officials to burnish his policy chops. 
When KMT officials are involved, however, China seems willing to swallow its tongue. KMT candidate Hou Yu-ih departs on September 14 for his campaign trip through the U.S.; expect the apparatchiks in Beijing who vociferously criticized Lai to be silent.  
Conclusion
Taiwan has a long and successful history of building its international space. By conceptualizing the diplomatic domain as a three-dimensional "space," rather than a zero-sum tug-of-war with China over a limited number of official allies, Taiwanese leaders since Lee Teng-hui have pursued a "flexible diplomacy" incorporating various degrees of unofficial visits, including presidential transits and campaign trips abroad by candidates. Exploiting the "gray zone" of unofficial and people-to-people exchanges in the "business, security, environmental, and humanitarian" arenas has allowed Taiwan to enhance its strategic partnerships without crossing Beijing's "red lines." 
The second point to highlight is that the trend in Taiwan's increasing international influence over the last 30 years is clear and sustained, stretching beyond any individual president. Under Tsai, Taiwan's gray zone diplomacy opened up new swaths of international space; in 2021 Tsai hosted a first-of-its-kind delegation from the EU and presided over the upgrade of diplomatic offices in Lithuania to a "de facto embassy." Yet even Ma, despite his "diplomatic truce" with China, opened up more space to Taiwan on the international stage. During visits to diplomatic allies in Africa, Ma made history with unprecedented transits through India (Mumbai) and Germany (Frankfurt). These trends have continued through both KMT and DPP leadership, reflecting a sustained interest on the part of Taiwanese voters in strengthening international ties. 
Unofficial diplomacy extends beyond the president's office, extending to a variety of public and private foundations for international exchange and development. (For example, the Taiwan International Cooperation and Development Fund handed out 11.6 billion Taiwanese dollars in ODA grants in 2020 alone). Yet transit and trip diplomacy remain one of the most high-profile mechanisms to stimulate international exchange. Such efforts have allowed Taiwan to shift the "Overton window" on acceptable unofficial relations. This historical process has helped inoculate transited countries from China's pressure campaigns intended to isolate Taiwan. It has also internationalized political culture, habituating voters to prioritize international expertise from their candidates, and inured the Taiwanese to increasingly ineffective scare tactics from China.
As China accelerates its gray zone warfare toward Taiwan, Beijing must recognize that Taipei has many options to increase its gray zone diplomacy in response. Whereas official transits have fallen into a restrained and predictable rhythm since the Lee's Cornell trip and the ensuing crisis, campaign trips have broken most assumed "red lines" and may break new paths for future presidential activity. Future transits, for instance, could see Taiwanese presidents stopping at three or more cities in the U.S. and delivering public speeches to an American audience. 
Despite China's vociferous opposition to the recent visit of William Lai, transit and trip diplomacy has become ingrained in Taiwanese political culture. If past is prologue, we can expect a continued trend of lengthened transits and trips. As such visits become increasingly visible, Beijing will be hard-pressed to effectively stem waves of new gray zone diplomacy.