Jamia Millia Shooting: Making of a Hindutva Terrorist 
A look at the toxic social media circle inhabited by the young man who shot at a crowd gathered to mark the 72nd anniversary of Gandhi's assassination.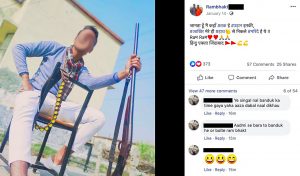 The shooting at Jamia Millia Islamia on January 30 highlights a worrisome trend in India at a time of high political and religious polarization. A 17-year-old, still a minor according to Indian law, was motivated to pick up a loaded weapon and attack a crowd in the presence of a platoon of police officers. 
A section of the mainstream media, known to pander government propaganda in the name of journalism, called him a "protester" and right-wing websites like OpIndia, whose partisanship has been called out by the International Fact-Checking Network (IFCN), claimed he was planted to stage the attack. Another section of the mainstream media is debating whether he should be called a "Hindu terrorist." 
This reporter managed to view and save information posted on the young man's Facebook page, from which he live broadcast the minutes before creating mayhem at Jamia Millia Islamia, before it was taken down.
The Facebook network the shooter inhabited presents a scary picture. The shooter, who cannot be named because he is a minor, is one among thousands of youths, school or college dropouts living in semi-urban or rural areas, who are being groomed by the ruling party affiliates in India. He used the prefix "Rambhakt" (meaning a worshipper of the Hindu god Ram) before his name on Facebook. He will be referred to in this story by that moniker.
Rambhakt went live several times and was active on Facebook for almost an hour before he opened fire at a peaceful march to Rajghat to commemorate the 72nd death anniversary of Mahatma Gandhi, who was shot by right-wing extremist Nathuram Godse. Before the attack, Rambhakt posted a series of messages on Facebook. In one message he wrote, "Shaheen Bagh, game over," referring to a largely Muslim locality in Delhi currently famous for hosting a lengthy sit-in protest against the government.

Videos of the shooting at Jamia Millia Islamia went viral on various social media sites. In them Rambhakt is seen walking and shouting "Jai Shree Ram [a Hindu religious chant], Delhi Police Zindabad [long live Delhi police], I will give you Azaadi [freedom]. Here is your freedom." About 20 policemen stood watching him, mute spectators. The video also captures the voice of a panicked protester asking why are the policemen are not stopping Rambhakt's approach. 
A student of mass communication, Shadab Farooq, was injured in the attack and was rushed to a hospital. The role of Delhi Police, under the control of the central government, in various attacks at Indian universities, including Jamia Millia Islamia, Aligarh Muslim University and Jawaharlal Nehru University, has been questioned in the past. The injured student had to climb over three barricades to reach the hospital since the Delhi police refused to remove them. 
The Shaheen Baghs of India
Thousands of women have been engaged in a sit-in for over a month in Delhi's Shaheen Bagh, a neighborhood that borders New Delhi and Noida, protesting against the recently passed Citizenship Amendment Act (CAA). 
The Shaheen Bagh protests began with just 10-15 local women on the afternoon of December 14. On December 15, police attacked a demonstration at Jamia Millia Islamia, a public university. They entered the campus without permission, beat up students, and vandalized the central library. Several universities in India and across the world extended solidarity to the students of Jamia Millia Islamia, condemning the police brutalities and the CAA.
Shaheen Bagh kept growing and similar protests popped up across India. According to protest monitor, a live protest tracking website, there have been a total of 426 anti-CAA protests in India so far and mini-Shaheen Baghs have emerged in several cities with women at the forefront.
These protesters have been dubbed "anti-nationals," "terrorists," and "urban Naxals" not just by right-wing social media platforms but also by several elected members of the BJP and party functionaries, as well as in propaganda on several television news channels. 
The fringe is increasingly moving into the mainstream in the Indian political sphere. A week ago, Union Minister of State for Finance Anurag Thakur, from the ruling Bharatiya Janata Party (BJP), raised the slogan of "Desh ke gaddaro ko, goli maaro s***o ko (shoot the traitors of India)" at a crowded election rally in Delhi. A few days later, BJP member of parliament Parvesh Verma addressed an election gathering by saying, "Lakhs of people gather there [Shaheen Bagh]. They will enter your houses, rape your sisters and daughters, kill them. There's time today… Modi-Ji and Amit Shah won't come to save you tomorrow." The MPs merely had their names dropped from the "star campaigners" list at the order of the Election Commission of India.
Prima facie, it seems that Rambhakt, a resident of the national capital region of Greater Noida, took Union Minister Anurag Thakur's slogan to heart. Rambhakt's Facebook profile illustrated just how embedded he had become over a long time in a network of hate.
Social Media Hate Network 
In his Facebook cover photo, Rambhakt holds a machete; he carries guns in several pictures. Some of his more than 3,500 Facebook friends have similar photos where they pose with weapons and call themselves "protectors of Hindutva."
In his profile photo, Rambhakt poses with Deepak Sharma, the founder of Rashtriya Swabhiman Dal (RSD), an organization to protect Hindu interests, and known face in right-wing social media networks. Sharma claims he lives in Jaipur but according to police, he is based in the Hathras district of Uttar Pradesh. 
Sharma gained popularity on social media because of his Islamophobic posts and YouTube rants. He was called a "social media weirdo" when he first started but his popularity catapulted after a viral video of him beating up a boy over a meme.
He soon became a Hindutva influencer and left a trail of incidents that includes inciting a clash at Sharda University in Greater Noida. He now has a Facebook page called "Deepak Sharma – An Ideology" where he identifies himself as a motivational speaker. The page, with 12,000 followers, is full of Islamophobic, inflammatory content and videos that encourage violence against "enemies of Hindutva and Hindu nation." There are several other Facebook pages run by his fans. In one of the videos on his YouTube channel, posted on January 7, Sharma is seen delivering a charged speech at a BJP gathering in Nampally Constituency of Hyderabad as party leaders look on. 
In one of the posts on his Facebook timeline, Rambhakt wrote: "I will show soon. Updesh Rana and Okendra Rana, I don't just talk." 
This post comes after several other messages posted in support of Updesh and Okendra Rana. Okendra Rana identifies himself as a motivational speaker too on Facebook and his timeline is full of photos and videos where he or the leaders he follows brandish weapons. His timeline is also full of Islamophobic hate posts. He seems to own a brand of T-shirts and other merchandise called "Hukum's."
Updesh Rana is the national secretary of a right-wing fringe group called Vishwa Sanatan Dharma. He was arrested with 19 others for protesting against reality TV show "Bigg Boss" in front of Bollywood star Salman Khan's house in Mumbai. He also walked into the Tipu Sultan mosque in Kolkata and slapped Imam Maulana Barkati.
Rambhakt posted a message of solidarity: a photo of Updesh in a police lockup in Rajasthan on January 10 with a message that the state government was carrying out atrocities on the protectors of Hindutva. 
Updesh Rana has several Facebook pages and a Twitter account. One of his pages has 66,000 followers; another has 120,000 followers and has several photographs with BJP members of parliament like Sakshi Mahajan and Giriraj Singh.
In one of the photographs, Updesh Rana is seen with T. Raja Singh, the BJP's only member in the Telangana Legislative Assembly. Singh has a number of police cases registered on his name for inflammatory speeches and hurting religious sentiments. In a video Singh tweeted, he is seen practicing with a lathi (heavy wooden stick and a sword). The comment in Hindi roughly translates to: "Learn to die if you want to live, learn to fight at every step."
Both Okendra and Updesh Rana have some association with Ajaz Khan, a TV actor and former "Bigg Boss" participant. Ajaz's fallout with the host of the show, Salman Khan, is well known. Okendra posted a photograph of himself with Ajaz Khan and was bitterly criticized by Hindutva brigade fans since Ajaz is Muslim. Updesh seems to follow Ajaz too and posts his video with messages like "the time to go to jail has come again." Rambhakt also followed Ajaz, not because he admired him but because of the strange apparent chemistry between Okendra, Updesh, and Eijaz. The TV actor's connection is explained here because right-wing propaganda website OpIndia ran a story in which it argued that a Hindutva supporter would be unlikely to follow Ajaz Khan. 
Rambhakt also expressed his impatience on Facebook when Updesh Rana wrote a post giving Shaheen Bagh protestors a week's ultimatum to vacate the protest site. Perhaps BJP's Anurag Thakur, much higher in the hierarchy than Updesh and Okendra, gave Rambhakt the courage to go out on the streets and do what he believed was a noble act to protect his religion and country.  
Rambhakt was a member of Updesh Rana's youth brigade. He was a member of several other youth brigades, one of them run by another right-wing fringe group, Karni Sena, called the Sukhdev Singh Gogamedi Youth Brigade. He used to accompany leaders of these fringe groups, including the Bajrang Dal, to various demonstrations and sit-ins.
In his friend list, this reporter found Kattar Hindu Army, Rashtriya Hindu Raksha Dal (a registered right-wing group in Haryana), Anup Pradhan (a BJP member of the Aligarh legislative assembly), Akhand Bharat Hindu Sena (another registered right-wing group), Parshuram Sena, and various other people associated either with right-wing fringe groups or BJP state and district level committees. 
In several Facebook videos and linked YouTube accounts, the leaders call Hindu youths to not only participate in their conferences, where they brainstorm ideas to build a Hindu Rashtra ("Hindu Nation"), but also get arms training. The call for arms training is generally circulated on WhatsApp groups that these organizations run in thousands.
Youths hardly out of their teens posing with guns and machetes and flaunting the photographs on social media suggest a deep network with a degree of formal support. 
All these youths are also seen posting photographs of their participation in various rallies by the Akhil Bharatiya Vidyarthi Parishad (ABVP), the student wing of BJP, and various other rallies by the ruling party. 
On Rambhakt's other Facebook profile (an archived version), which he didn't use after May 2018, there are several photos with a group of at least 25 young men of his age at a Bajrang Dal meeting at Dauji Temple of Jewar. His photo album in that profile has several photos of him with guns and swords. In a video posted on March 30, 2018, he is seen with other young men raising swords and chanting "Jai Shree Ram." The caption reads: "Bajrang Dal rally in Jewar, Jai Shree Ram at the time of Namaz [Islamic prayer] at the masjid [mosque]." The photos and the posts in this profile suggest Rambhakt received arms training in one such camp along with several others boys.

An hour after Rambhakt shot at the Jamia Millia Islamia peace march and was arrested by the police, a man called Pankaj Pandit Tippal posted a message on Facebook congratulating Rambhakt. 
"My salute to the younger brother, Brahmin tiger. Entered the CAA protest near Jamia University with a gun, fired a bullet and said, take your freedom. Great, my tiger," his message read. 
The post had 226 likes, 52 comments and six shares when this reporter viewed it. Eight other people were tagged in the post: Harishankar Gaur, Akhand Bharat Hindu Sena, Deepak Sharma Azad, Shivkumar Sharma, Ashu Pandit and Manish Dixit. 
Pankaj Pandit's Facebook bio states that he is the state gauraksha (cow protection) chief, organization head at the Akhand Bharat Hindu Sena, sector in charge of BJP, and belongs to Tappal, Uttar Pradesh. 
Harishankar Gaur has "Young Leaders at Bharatiya Janata Party (BJP)" written in his Facebook intro and has a photograph with Prime Minister Narendra Modi as his cover photo. 
The Facebook page of Akhand Bharat Hindu Sena leads to their YouTube channel, which includes one video where the leader, Deepak Azad, is seen celebrating the birthday of Aligarh commissioner Ajaydeep Singh. In the video, Singh cuts the birthday cake and offers Azad the first piece. The YouTube channel also has video of Azad with a group of protesters raising slogans of "Will give Azaadi (freedom) to Aligarh Muslim University." Police had cracked down on the students of Aligarh Muslim University protesting against CAA shortly after the Jamia attack last December. 
"According to papers, Rambhakt's date of birth is 8 May 2002, says Delhi police. So he is a minor and minors can commit mistakes. #ISupportRambhakt and #ISupportHindutva," Deepak Azad posted on his Facebook page. 
Shivkumar Sharma of Jahangarh, Aligarh was the in charge of social media for BJP's IT cell two years ago according to a Facebook memory shared recently. Though he has several photographs with BJP leaders and on stages with the BJP emblem, his current association could not be seen from his Facebook page due to his privacy settings. 
Ashu Pandit claims on his Facebook that he is the president of the BJP's farmers front in Lodha; district general secretary of the BJP's Information and Technology (IT) Cell, Aligarh; treasurer of the Narendra Modi (NaMo) Army youth front, Uttar Pradesh; secretary of the Saraswat Foundation, Uttar Pradesh; Aligarh district general secretary of Parshuram Sena (another fringe group); and block president of the Hindu Yuva Vahini (yet another fringe group). He is from Aligarh but lives in New Delhi. Ashu has several photographs where he is seen hobnobbing with BJP leaders, including BJP member of parliament from Hathras Rajvir Singh Diler, the son of four-time MP Kishan Lal Diler. 
Let's return to Pankaj Pandit. By 11 p.m. on January 30, Pankaj Pandit was tagged in four posts by people who supported the shooter's act: Chaudhary Chandraveer Atri, Umang Jikarpur, Neeraj Sharma, Jaat Chaudhary. Whether these are their real names or not is not known. The names mentioned above are their Facebook display name, so they may have names of cities or titles or affiliation attached to their names. 
Chandraveer Atri's post supporting the shooter has 70 likes. He looks young, probably of a similar age as the shooter and mentions no affiliation with the BJP or the fringe groups in his bio. His friend list could not be accessed due to privacy settings, but the people who liked and reacted on his post are from the same network of fringe parties.
The post supporting the shooter by Umang Jikarpur (or Umang Atri as seen in the Facebook URL of his page) has 172 likes, 11 comments, and five shares. His profile description shows no affiliation to the BJP or fringe groups but, again, the connections are all the same. 
Neeraj Sharma writes "BJP" with his name and identifies himself as in charge of BJP's IT cell in Tappal, Aligarh. His post has 12 likes. Not much more could be found because of his privacy settings. 
Jaat Chaudhary has 5,000 friends on Facebook. He lives in Gurgaon but is in the same network. There are photos of country-made guns and cartridges in his Facebook albums. On Friday, Chaudhary posted a message on his Facebook that said he is going to follow the path Rambhakt has taken. "Like brother Rambhakt, I am also going to wipe them (traitors) off," the message read. 
All these people are connected to Pankaj Pandit, who has a second account on Facebook where he claims he lives in Greater Noida and identifies himself as the district president of cow protection committee. 
On this Facebook profile, he has several videos of a Yagya (a Hindu religious ritual) and the caption reads: "This Yagya is for the wellbeing and safety of Senior Superintendent of Police (SSP) Akash Kulhari and his family for taking strict actions against the Jihadis of Aligarh Muslim University (AMU). The office-bearers of Akhand Bhartiya Hindu Sena and Karni Sena also sought strict action against people who instigate others [against the Citizenship Amendment Act]."
Most of the people traced in this network belong to Jewar, Maur, Tappal, Jattari, and other villages on the border of Gautam Buddha Nagar and Aligarh district of Uttar Pradesh. 
Always the Second Men
The reporter traced back all the people who had liked and commented on the posts calling Rambhakt a hero. From a cursory glance at the profiles of these people, most of them appeared to be in their late teens. Their Facebook biographies and descriptions attest to their belief in holding the moral high ground through participation in fringe groups claiming to fight the great injustices enacted against their religion and country. "Liberal" and "secular" are cuss words for them. To this community, one who is secular is "anti-national" and a "terrorist." In these circles they roam looking for validation and respect. 
Without the support of these groups, life is bleak for many of these youth, who have no means to escape their circumstances.
Most of the people in these networks have cover photos in which someone in a position of power is in the center while they stand by their side, in the shadow of the camera with just a rub of a shoulder, a hand on their head, or a smile of approval from that powerful man they look up to. 
There are different kinds of perks to staying in these networks. All of them are very active on Facebook and WhatsApp on which they share right-wing propaganda. Thousands of these youths are recruited by leaders through the fringe groups and are an informal extension of the ruling party's IT Cell. 
"Real or fake, we can make any message go viral," former BJP President Amit Shah claimed in September 2018 while addressing social media volunteers in Kota, Rajasthan. "We have already made a WhatsApp group with 32 lakh [3.2 million] people in Uttar Pradesh; every morning they are sent a message at 8 a.m.," Shah was quoted by the Dainik Bhaskar, a Hindi newspaper. In a study of right-wing WhatsApp groups this reporter conducted from November 14, 2018 to February 13, 2019 she found 23.84 percent of messages shared in the groups were anti-Muslim, Islamophobic, and deeply inflammatory with an intent to create disharmony or feelings of enmity, hatred, or ill-will between Hindus and Muslims and had the potential to incite violence. 
During the study, this reporter joined more than 140 pro-BJP WhatsApp groups and collected over 60,000 messages over a period of five months. Several WhatsApp groups she came across were run by some of these fringe groups that also rallied for votes in favor of the BJP and ran massive disinformation campaigns. She also came across over 40 right-wing YouTube channels that spread disinformation and Islamophobic hate speech. 
With ample resources, a large number of armed Hindutva armies are built in the BJP heartlands where youths such as Rambhakt are recruited and groomed. 
Rambhakt took up his gun on the same day a man named Nathuram Godse, a Hindu fanatic, shot Mahatma Gandhi dead 72 years ago. The Rashtriya Swayamsevak Sangh (RSS) denied its link with Godse for years. The VHP and Bajrang Dal are members of the Sangh Parivar group, an umbrella of Hindu nationalist organizations led by the RSS, the political ideologue of the BJP. 
Even as the BJP denies a link with Rambhakt, just as RSS had done with Godse, Uttar Pradesh President of Akhil Bhartiya Hindu Mahasabha, Gajendra Pal Singh Arya, announced they will honor Rambhakt but the president of the organization, Swami Chakrapani Maharaj, later backtracked. When their hero was shooting at a peace march for Gandhi, the Hindu Mahasabha celebrated the day as Shaurya Divas (Bravery Day) in memory of Nathuram Godse and Narayan Apte, a conspirator in Gandhi assassination. 
Rambhakt has been sent to a 28-day protective custody in a correctional home by the Juvenile Justice Board and was recommended for a psychiatric session. The police officer who interrogated him said he showed no remorse for what he did. 
Soma Basu is an investigative journalist and a research scholar based in New Delhi, India.