North Korea's Kim Jong Un Oversees 'Joint Strike' Military Exercise Amid Coronavirus Fears
Kim Jong Un oversaw a "joint strike" military exercise amid concerns about the novel coronavirus.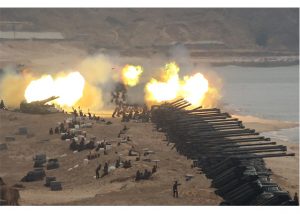 Early on Saturday, North Korea's state media reported that leader Kim Jong Un oversaw a military drill on Friday, coinciding with the one-year anniversary of the collapse of the Hanoi U.S.-North Korea summit between him and U.S. President Donald J. Trump. The exercise was described as a "joint strike" military drill.
"The purpose of the drill was to judge the mobility and the fire power strike ability of the defense units on the front and in the eastern area and offer them an occasion to get proficiency in the command of the combined strike by the services of the KPA," the Korean Central News Agency reported, referring to the Korean People's Army. Friday's exercise was the first major military activity reported on by North Korean state media since the country entered a broader lockdown over concerns about the novel coronavirus, or COVID-19.
Imagery released by the North Korean side showed more than a dozen multiple launch rocket systems, accompanied by several self-propelled artillery guns, participating in the exercises. The imagery suggested a coastal strike exercise against a target island. Kim was photographed observing the firing drills through binoculars.
In images release by state media, Kim Jong Un was seen surrounded by military personnel wearing face masks, though the North Korean leader himself was mask-less. The exercise occurred shortly after the United States and South Korea announced that their springtime computerized command post exercises would be called off amid COVID-19 fears; South Korea experienced a rapid uptick in confirmed cases of the fast-spreading virus in the latter half of February.
The February 2019 Hanoi summit, the second between Kim and Trump, fell apart after the two sides were unable to come to an agreement on sanctions relief and nuclear disarmament. The North Korean side sought capacious sanctions relief in exchange for the dismantlement of a limited portion of its fissile material production, something the U.S. side was unwilling to accept. The summit was the second meeting between Trump and Kim. The two leaders met a third time for a brief meeting at the inter-Korean Demilitarized Zone on June 30, 2019, but have not had another formal summit to discuss sanctions relief or the North's nuclear program.
In December 2019, Kim, at a high-level plenum of the Workers' Party of Korea, indicated that he would pursue a hard line and formally announced an end to a moratorium on nuclear and long-range missile testing that he had first codified in April 2018, at the beginning of inter-Korean and U.S.-North Korea diplomacy after a tense 2017.