Strengthening Myanmar-Sri Lanka Bilateral Relations: A Primer
From shared security concerns to their struggles with great power rivalries, Myanmar and Sri Lanka have a lot in common.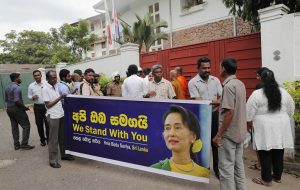 Sri Lanka-Myanmar relations date back to the 4th century through religious ties in the form of Buddhist monks visiting each other's countries to explore Buddhist orthodox traditions. In the modern era, diplomatic relations have extended to trade, diplomatic visits, and cultural tourism. Myanmar is becoming increasingly important to Sri Lanka as both countries face common security issues and share membership in various regional and international organizations such as Bay of Bengal Initiative for Multi-Sectoral Technical and Economic Cooperation (BIMSTEC). Sri Lanka-Myanmar relations under new President Gotabhaya Rajapaksa can be extended to security cooperation and enhanced military ties to tackle a wide range of issues, including nontraditional security threats.
Myanmar, situated along the Bay of Bengal in the Indian Ocean, shares borders with Bangladesh, India, China, Laos, and Thailand. As a result, the country is engulfed in a geopolitical dilemma owing to regional power rivalries and international instability, requiring its leaders to work toward national interests with shrewd pragmatism. Sri Lanka is no stranger to this dilemma.
Sri Lanka-Myanmar relations are underpinned through culture and tradition. Religious ties date back to the 4th century, and in the 11th century King Vijayabahu of Sri Lanka sent Buddhist scriptures (Thripitaka) to King Anawrahta Minsaw, the first king of Burma. Thanks to these strong cultural ties, Myanmar was one of the first few diplomatic missions to be established in Sri Lanka soon after independence. The first official visit was recorded in 1966 when President Ne Win visited Sri Lanka and in 1976 Sri Lankan Prime Minister Sirimao Bandaranaika paid an official visit to Myanmar.
Sri Lanka-Myanmar trade ties have been established since 1999, with Myanmar exporting rice, wood, pulses and beans, gems, jewelry, natural rubber, and fisheries products. Sri Lanka exports rice, maize, apparel, paints, rubber, porcelain products etc. Although the total numbers remain small, bilateral trade has grown rapidly, from $2.8 million in 2009 to $82 million in 2017. Some key government-to-government deals that were negotiated in the past 15 years include MOUs between the Union of Myanmar Federation of Chamber of Commerce and Industry (UMFCCI) and the Ceylon Chamber of Commerce in 2006; between the UMFCCI and Sri Lanka Gem and Jewelry Association; and a Ministry of Industry and Commerce MOU to import 30,000 MT of white raw rice from Myanmar. There have been delegation visits in both 2012 and 2018 to discuss the garment manufacturing trade and to find new openings for business development between the two countries.
Myanmar is vulnerable to nontraditional security issues and natural disasters spanning refugee crisis, illegal and irregular migration, trafficking of people and contraband, violent extremism, terrorism, droughts, landslides, floods, cyclones, and earthquakes. In 2019, Myanmar was ranked as the third most vulnerable to long-term climate risks in Global Climate Risk Index and 12th in the INFORM Index for Risk Management. Sri Lanka's threat landscape is quite similar to that of Myanmar, with both facing issues related to transnational organized crime, trafficking, and maritime border security. Likewise, Sri Lanka ranked second in the Global Climate Risk Index's one-year risk index. Maritime security is quintessential to countries with access to the sea, and pertinent issues such as illegal, unreported, and unregulated (IUU) fishing and illegal migration have cautioned coast guards to be more vigilant.
In addition, both Sri Lanka and Myanmar are geopolitically subjected to a triple sphere of influence: China, the United States, and India. Navigating ways to balance these three powers is nothing new.
According to Ambassador Saurabh Kumar, "Myanmar is the only country where India's Act East Policy and Neighborhood First policy converge." Strategic Indian investments include the $484 million Kaladan multi-modal transit transport project of seaport and Inland water terminal. Meanwhile, China is Myanmar's largest investor and trading partner with six BRI projects in the country, including Kyaukpyu Port, the New Yangon Development project, and the now-stalled Myitsone Hydropower Project. In addition, the United States is also investing heavily in Myanmar. 130 U.S. firms are already registered in Myanmar, with total investment scaling up to $250 million.
Meanwhile, Chinese investments in Sri Lanka span Colombo Port City, Mattala Airport, Hambantota Harbor, Colombo Lotus Tower, and building Sri Lanka's highways. Despite insurmountable debt, the BRI is a source of pride in Sri Lanka and also an opportunity for growth. This has also been the case for Myanmar, with the China-Myanmar economic corridor shortening the route for oil and gas imports from the Persian Gulf to mainland China. The United States is also a strong influencer in Sri Lanka, which is currently negotiating development assistance and defense agreements including an Acquisition and Cross Services Agreement, a Status of Forces Agreement, a $480 million Millennium Challenge Corporation Compact, and $39 million in Foreign Military Financing to enhance Sri Lanka's maritime domain awareness.
The Indian coast guard is currently in the process of negotiating an MOU with both the Myanmar and Sri Lanka coast guards on this front. India gearing up defense cooperation with both countries does not come as a surprise due to the Chinese footprint in both states, especially as New Delhi continues to see Beijing's String of Pearls Strategy as strategically encircling India. Analysts have speculated that Chinese investments in the Indian Ocean region, including in Sri Lanka and Myanmar, could be intended for both civilian and military use. For instance, Keith Johnson, writing for Foreign Policy, argued that "Chinese legal directives ordering state-owned shipping companies to offer logistics support to the Chinese navy could turn China's huge shipping fleet and port operations into a potential adjunct of its growing navy."
Amid their common interests and shared struggles, there are positive signs that suggest Myanmar and Sri Lanka could venture into new areas of cooperation. They already have a bilateral Agreement on Tourism Cooperation and are exploring youth-led business opportunities, which was discussed by the Chamber of Young Lankan Entrepreneurs (COYLE) of Sri Lanka in 2019. The Memorandum of Understanding for establishment of the BIMSTEC Grid Interconnection is another great opportunity for subregional cross-border power exchanges and researching meaningful ways for sustainable use of energy resources.
Another area of cooperation is to conduct joint research or comparative city studies on improving public and commercial transportation. Myanmar's railroad and highway development is limited but public transport is improving in big cities. For example, the Yangon bus service recently announced that around 1,500 buses will get e-ticketing machines, replacing cash boxes with a card payment system. In addition, since both countries have similar economies and are developing nations, pilot studies on transportation and how best to yield economic return from Sri Lanka's inland-waterways would be highly useful in the future. Myanmar uses both ocean shipping and Inland waterways for commercial purposes; 25 percent of the country's inland waterways are navigable for commercial purposes.
Finally, Sri Lanka has an important lesson to learn from Myanmar: how to gain the most from foreign assistance irrespective of threat perceptions. The best example to draw from is the India-led construction of a seaport and the inland water terminal in Sittwe in Myanmar's Rakhine state, which has experienced attacks by the Arakan Rohingya Salvation Army (ARSA) and the Arakan Army as well as a controversial military crackdown. Sri Lanka is still yet to mature in terms of receiving foreign assistance to develop its North and Eastern Provinces, which were once in the clutches of a separatist terrorist movement led by the Liberation Tigers of Tamil Ealam (LTTE). Although India assisted in the construction of the Palaly airport in Jaffna, more development is needed. Myanmar is committed to improve the Rakhine state economy and Sri Lanka should be similarly committed to improve the economy of war-torn areas in the country.
Nathasha Fernando is currently a Program Officer at the Regional Center for Strategic Studies in Colombo, Sri Lanka and Regional Liaison Officer for South Asia at Global Partnership for the Prevention of Armed Conflict (GPPAC). She holds an LLB honors from the University of London and a BA honors in International Studies from the University of Kelaniya. She was previously a Research Assistant at the Institute of National Security Studies Sri Lanka, the think-tank of the Ministry of Defense.