Sri Lanka to Move Away From China and Toward Economic Integration With India
In a recent address, President Wickremesinghe defended the Chinese-built Hambantota port but pledged to address India's security concerns.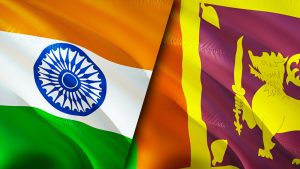 Sri Lankan President Ranil Wickremesinghe has clearly signaled that he plans to move away from China and integrate his island nation's economy with India's. And even as he asserted that the Chinese-built and operated Hambantota port is a purely commercial one and that India and the West need have no fear of its being used for military purposes, Wickremesinghe took care to tell India specifically that Sri Lanka will be mindful of India's security concerns.
Wickremesinghe made these pronouncements in his keynote addresses at the National Defense College and the India-Sri Lanka Society last week.
With the long-ruling Rajapaksas pushed into the political background following the economic crisis, Wickremesinghe is using the powers of the executive presidency to take his island nation closer to India and away from China by promoting economic, investment, and national security ties with its immediate neighbor. Ironically, China paved the way for this by being a passive spectator when Sri Lanka was desperately crying out for financial and material aid to overcome an unprecedented forex shortage, while India, with alacrity, rushed aid to the tune of $4 billion in six months.
Wickremesinghe's predecessor, Gotabaya Rajapaksa, was closer to India than China, but the pro-China Rajapaksa clan, which provided him a political base, did not allow him to cultivate ties with India. Many Memoranda of Understanding (MoU) on development projects signed in 2017 were gathering dust in ministerial shelves in Colombo when Gotabaya Rajapaksa was in power. The deal for India to construct and run the Eastern Container Terminal at Colombo port was not kept. Giving construction of the West Container Terminal to Adani ports was mooted as compensation, but the flip-flop still soured relations with India considerably.
Under the Rajapaksas, Sri Lanka showed scant regard for India's anxious desire to have a foothold in Colombo port, given the fact that the port's main business is Indian transshipment. India was also concerned about China's presence in the port in the form of the Chinese-run Colombo International Container Terminal.
However, the COVID-19 pandemic in 2020-2021 gave India an opportunity to demonstrate its traditional relevance to Sri Lanka as the "first responder" in times of crises. India rushed vaccines to Sri Lanka and almost dominated the island's vaccination program in the earlier stages. Then came the 2022 economic crisis, marked by an acute forex shortage leading to a severe shortage of essentials like food, fuel, and medicines. Again, India became the "first responder" and opened lines of credit to the tune $4 billion. It also delivered enormous quantities of food, fuel, and medicines to Sri Lanka.
Wickremesinghe Augurs Well for India
With the exit of the Rajapaksas, Colombo and New Delhi see enormous scope for the expansion of India-Lanka ties.  The New Delhi-based Vivekananda International Foundation (VIF), which is close to Prime Minister Narendra Modi, has said that the presence of Wickremesinghe as president and Milinda Moragoda as high commissioner in New Delhi, augurs well for India. The VIF noted that Wickremesinghe, in his Throne Speech in Parliament, underscored the important role India has played in rescuing Sri Lanka from the depths of economic despair and added that no other Sri Lankan leader had done that before from such a platform.
India recognizes that Wickremesinghe has always stood for close economic ties with it, especially with the four South Indian states. It was he who proposed the construction of a bridge across the Palk Strait called "Hanuman Bridge." It was Wickremesinghe who handed over the 99 giant oil tanks at Trincomalee to the Indian Oil Corporation for joint development with the Ceylon Petroleum Corporation and gave the Indian company 300 outlets for distribution of fuel in the island.
The Yuan Wang 5 Visit
But the smooth sailing Indo-Lankan boat was rocked by Colombo allowing the Chinese survey ship Yuan Wang 5 to dock at Hambantota port for a week in August without informing India. India expected Sri Lanka to give it advance notice as per the 2013 and 2020 understanding on Indian Ocean Maritime Domain Awareness. India protested strongly as, in its view, the Chinese vessel was on a spying mission affecting Indian interests.
The docking of the Yuan Wang 5 this year, recalling the two Chinese submarines that docked at Colombo in 2014, made the influential VIF say that New Delhi must make it clear to Colombo that some "redlines" should not be crossed.
China had also upped the ante by suggesting that Sri Lanka and China were both being subjected to bullying by outside powers and that it was time the two countries jointly resisted such external threats.
Wickremesinghe mentioned the Yuan Wang 5 incident on September 14 and said that Sri Lanka should not become a theater of superpower confrontations. Addressing graduates of the Sri Lanka National Defense College, Wickremesinghe said that there are 17 Chinese-run ports in the region and other countries are running naval bases in the Horn of Africa. These are not considered a threat, he pointed out, yet Hambantota is identified as a threat when nothing military is going on there except routine visits by naval vessels from various countries.
However, Sri Lanka would always keep India's security in mind, the president said: "In looking after the security of Sri Lanka we must also ensure that nothing adverse happens to the security of India. That we have been committed to, and we will go ahead with it. There will be no movement out of it. That's why we work with India on the Colombo conclave."
Vast Scope for Cooperation
Neither India nor Wickremesinghe believes that India-Sri Lanka relations should be held hostage to Hambantota. The port has been leased to a Chinese state-owned company for 99 years, and that cannot be reversed. Therefore, both India and Sri Lanka are making efforts to build bilateral ties using trade, connectivity, investment, and security arrangements. While India is keen on seeing movement in projects for which for MOUs had already been signed, Wickremesinghe has announced his own plans.
The president told the Sri Lanka-India Society on September 15 that he plans to transform the existing Indo-Lanka Free Trade Agreement into a Comprehensive Economic and Technological Partnership Agreement, a development mooted strongly by India earlier but not pursued by the Rajapaksas. Wickremesinghe pleaded for the removal of trade barriers, including non-tariff barriers, which are a major problem for Sri Lankan exporters.
Speaking of the barriers to economic integration in South Asia, Wickremesinghe said: "Our view is that India and neighboring countries Nepal, Sri Lanka, [and] Bangladesh, should integrate. We look forward to that. We look forward to trade integration in many areas with the RCEP and the EU. But the cornerstone of this is to achieve trade integration with India."
He stressed that there is scope for Sri Lanka and India to get together and look at different areas including logistics, renewable energy, tourism, trade, and IT. The president also spoke of cooperation for long-term energy security. He said the power grid connection between India and Sri Lanka, offshore wind energy, a solar power plant at Sampur, and renewable energy projects on three islands of Jaffna will help strengthen cooperation with India.
The Trincomalee tank farm development, as well the development of the Trincomalee Port and the investment zones around it, are being pursued, Wickremesinghe said. He recalled that Singapore's Surbana Jurong had given Sri Lanka a plan for the layout of Trincomalee. He expressed happiness that the Lanka IOC has agreed to buy more filling stations from the Ceylon Petroleum Corporation
Another Wickremesinghe move is to let the Indian rupee be used in Sri Lanka as a means to woo Indian tourists, who are the single largest group of visitors to Sri Lanka. He also wants Indian higher education institutes to come into Sri Lanka, especially to Jaffna.
He noted that Sri Lanka and India are cooperating in developing logistics. "We are one of the main ports for India and Bangladesh."
The Yuan Wang 5 incident, while concerning for New Delhi, was far from the end of the line for India-Sri Lanka relations. Wickremesinghe is sending strong signals that India is his top foreign policy priority as he seeks to rebuild his country's battered economy.