US Navy To Retire First 4 Littoral Combat Ships
The short-lived and troubled class of ships begins its sunset.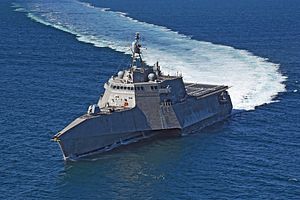 Last week, the U.S. Navy formally announced that it will soon begin to retire the first four of its Littoral Combat Ships, two of the Freedom class and two of the Independence class. The vessels have long faced technical, operational, and logistical hurdles to fulfilling their originally envisaged role. The retirement of the four LCS vessels amounts to a tacit acknowledgement by the Navy that the Freedom and Independence class vessels are effectively a failed concept. The downsizing will come even as the U.S. Navy continues to work toward a nominal 355-ship fleet.
The announcement of the Freedom and Independence class LCS retirement came in the U.S. Navy's fiscal year 2021 budget request. "These ships have been test articles and training assets, and were key in developing the operational concepts leading to the current deployment of LCS ships today," the Navy's budget preview noted. "But cancelling their modernization allows us to prioritize lethality and survivability where we need it and in the mission packages assigned ships that will fill the roles of Surface Warfare (SUW), Anti-Submarine Warfare (ASW), and Mine Countermeasures (MCM) going forward," the budget added.
The LCS program was conceived roughly two decades ago and was meant to the give the U.S. Navy a low-tonnage, responsive option that would be capable of operating in shallow seas off coastal areas and in dense archipelagic settings, like in Southeast Asia, as the name implied. The final production Freedom- and Independence-class vessels ended up being underarmed and oversized compared to their original conception, effectively hamstringing their value for the Navy day-to-day.
To make matters worse, the operational history of the four LCS vessels that are slated to be retired (USS Freedom and USS Fort Worth from the Freedom class; USS Independence and USS Coronado of the Independence class) left much to be desired. USS Coronado was commissioned in April 2014, meaning that its announced retirement comes less than six years into its life. Freedom, Fort Worth, and Coronado all have suffered notable breakdowns while forward-deployed.
The LCS will eventually be replaced by the U.S. Navy's next-generation multi-mission guided-missile frigate, which will operationally be able to play the role the LCS was originally envisaged to.
The LCS vessels have been a mainstay of the U.S. Pacific Fleet's operations in the Asia-Pacific in recent years. Over the last year, LCS vessels undertook freedom of navigation operations in the South China Sea. In January 2020, USS Montgomery, one of the LCS ships not slated for retirement, conducted an operation near Fiery Cross Reef. Montgomery, along with USS Gabrielle Giffords, another LCS, conducted another FONOP — the first by LCS ships in the South China Sea — in November 2019.