COVID-19 Hits Italy: A Test for China Ties
Insights from Giuseppe Gabusi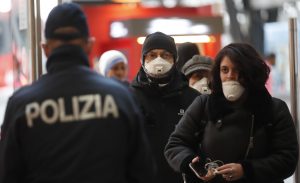 Diplomat author Mercy Kuo regularly engages subject-matter experts, policy practitioners, and strategic thinkers across the globe for their diverse insights into Asia policy.  This conversation with Dr. Giuseppe Gabusi – assistant professor of International Political Economy, Department of Cultures, Politics and Society at University of Torino; head of the "Asia Prospects" program at T.wai, Torino World Affairs Institute; and the editor of RISE, a journal on contemporary Southeast Asia – explores the implications of Italy's COVID-19 outbreak for relations with China, where the novel coronavirus originated.
Describe the scope of COVID-19's spread in Italy.  
The COVID-19 outbreak in Italy spread mostly from Codogno, a small town in southern Lombardy, at the border with the Emilia-Romagna region, with a second localized outbreak in Veneto. Since Lombardy is one of the wealthiest, most densely populated, and most globalized areas in Europe, the coronavirus circulated very fast and easily, and now all 20 regions in Italy register cases of infected people. It did not help that the Codogno economic district hosts large companies and multinationals – making it a hub for production and international trade. Workers, salesmen, managers, and consultants of all sorts travel daily to their workplace, many of them commuting to nearby cities. International partners visit from abroad. And of course, Milan – the sprawling and thriving capital of Lombardy, and a crucial railway node – is a mere 70 kilometer drive from Codogno. Although "patient zero" has not been found yet, it looks increasingly likely that the virus had been circulating in Europe weeks before "patient one" was identified in late February.
Assess the response of the Italian government – national and local – to containing COVID-19.  
The response has been swift and firm. At first, the way the government communicated – all of a sudden and over the weekend, on all sorts of media – the decisions to quarantine the Codogno "red zone" and to close schools, universities, cinemas, bars etc. in the affected area (including to a certain degree in the region of Piedmont), probably contributed to generate panic in the population. There have been hoarding episodes in supermarkets. Then the government – probably realizing the mistake and talking to media editors – managed somehow to find a balance between extreme caution (expecting the worst) and a business-as-usual approach (hoping for the best), also centralizing decisions in a country where health services are responsibilities of the regions. But again the management of the latest decision to lock up almost all of northern Italy was a total disaster. The draft decree was leaked to the media before any official communication, and panic was widespread, as people could not understand if they could go back home to Lombardy or Veneto or leave the new red zones. Many people rushed to the station in Milan to get on the night train to their home in the south. The prime minister then gave a night press conference to present the final version of the decree and reassure the public. How the decree will be implemented in a democratic, decentralized, globalized, and open society is anybody's guess.
What is the potential economic impact of COVID-19 on Italy-China trade relations?
At first, the impact was political. In the year that marks the 50th anniversary of the establishment of diplomatic relations between Beijing and Rome, and that celebrates the year of Chinese culture and tourism in Italy, the Italian government was the first in Europe to suspend all direct flights to mainland China, Hong Kong, and Taiwan. This infuriated the Chinese government, which made it clear that loyalty is expected from friends in times of difficulty. Italy in 2019 was the first-ever G-7 country to sign a Belt and Road Initiative memorandum of understanding, and for the Chinese that means that Italy should always side with them.  Apparently, there was a lack of coordination between the minister of foreign affairs, the prime minister, and minister of health, and the president of the republic had to mend fences with the Chinese.
In the short term, Italy-China trade relations will suffer, especially due to consumers' health concerns, sometimes accompanied by racist narratives and behaviors. In the long term though, trade relations will recover – global production networks are simply too embedded in China's "ecosystem" to think that we can live without China, even though I suspect that this coronavirus will accelerate the end of a cycle of globalization, with many companies shifting production to Southeast Asia or simply reshoring.
As COVID-19 spreads across Europe, what is the impact on EU-China relations?
From the economic point of view, we can apply the same logic I have just outlined for Italy, with the aggravating aspect that now the peak of the outbreak is reaching Europe. While China will soon start to recover, Europe's economy will be seriously contracting and this means that Europe-China trade and tourism will suffer for months, rather than for weeks. At the political level though, this tragedy – which shows that we have really become a global village – could also be an opportunity. While President Trump has never had any interest in collective goods management, the EU and China have remained the only two global actors to be interested in multilateralism, even if they might interpret the term differently. Environment and health issues could become indeed poles of convergence between the EU and China to deal with common challenges, if Beijing seriously believe in a "shared destiny of mankind."
Why should U.S. policymakers and business leaders be concerned about COVID-19's impact on transatlantic relations?
First of all, because it is impacting negatively on the world economy, as the outbreak is now global. Second, because it is a game-changer. Many businesses and business models will have to adapt to the new situation and will also require new technologies. For instance: our university had already e-learning platforms in operation, but relatively few of us were using them. And then suddenly we were obliged to learn how to teach online: this is innovation suddenly jumping – like it or not – in old academic institutions. Could we see a new transatlantic joint effort in technological innovation?
And finally, COVID-19 is deepening even more the cultural divide between Europeans and Americans on health policies. To Europeans, the idea that you may die because you cannot afford to pay for your treatment is simply inconceivable. In Europe, health policies advocated by people like Elizabeth Warren and Bernie Sanders that are regarded as too leftish or extreme in the U.S. would be just considered mainstream by Europeans.