China, Italy, and Coronavirus: Geopolitics and Propaganda 
In Italy, China is no longer thought of as the origin of COVID-19, but as a friend in a time of dire need.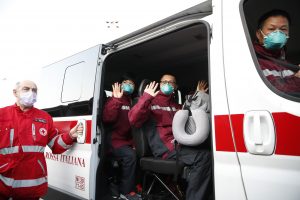 Italy has been an alluring geopolitical prize throughout the ages because of its strategic location in the middle of the Mediterranean, its wealth, and the useful skills of its people. Now it's the turn of today's rising power, China, to seek to extend its influence there.
Last year, Italy signed a Memorandum of Understanding with China on participation in China's Belt and Road Initiative. Italy was the first and so far the only G-7 country to do so. Laboring under many years of economic stagnation, Italy hoped to bring about a much-needed stimulus to growth thanks to business with China. The move was sneered at by Italy's Western allies and was also contentious domestically, with one part of the government coalition of the time (Matteo Salvini's right-wing Lega) opposing it. At the end of the day, however signing the MoU did not bring Italy more contracts from China compared to other countries that had not done so — for instance, France.
Fast-forward to March 2020. Italy is in the grip of the coronavirus crisis. As of March 20, the disease has killed more than 3,400 Italians – more than the death toll registered in China, where the pandemic began in late 2019. At the beginning of March, Italy asked for help from its European Union partners though the EU Civil Protection Mechanism. No EU member state responded. In addition, France and Germany imposed a ban on the export of face masks. Many Italians feel deceived and humiliated by their European partners.
Beijing, however, responded bilaterally and promptly airlifted 30 tons of medical supplies to Rome. Italy's Foreign Minister Luigi Di Maio posted a video of the arrival of the supply-laden aircraft on his Facebook page. It was an information and public diplomacy triumph for China — when Italy needed help, Europe dithered while the PRC was portrayed as Italy's savior. Germany subsequently pledged to provide face masks to Italy, but it was too late. The simple narrative in social media had already been shaped: the European Union deserted Italy and China saved the day. Di Maio took credit for China's help, which he linked to his China policy and to his phone call with China's Foreign Minister Wang Yi on March 10, two days before the delivery of supplies from China.
In reality the supplies had been sent by agreement between the Chinese and the Italian Red Cross. As is customary between branches of the Red Cross in different countries, the Chinese Red Cross reciprocated for the help received from the Italian Red Cross only one month earlier, when Italy sent 18 tons of supplies to Wuhan. The call between Di Maio and Wang Yi concerned not the Red Cross donation, but the purchase by Italy of a large quantity of much-needed ventilators (artificial respiratory devices) for intensive care units. Several European countries were competing with each other to receive this equipment first, and Di Maio pleaded with Wang Yi to put Italy at the top of the list. The ventilators have not yet been delivered to date.
The Chinese propaganda machine was quick to seize the opportunity and posted videos of grateful Italians praising China for its generosity. One video even showed Italians singing China's national anthem from their balconies (it was, however, a fake). These videos have Chinese subtitles and were probably made with a Chinese audience in mind. It has been reported that the inhabitants of Wuhan refused to express their gratitude to China's leader Xi Jinping for handling the crisis successfully; now at least the authorities could show that they had worked well abroad and that foreigners were grateful.
In addition to the first shipment of medical supplies, which landed in Rome on March 12, China also sent a second shipment to Milan on March 18. This was sent by Chinese provinces including Zhejiang, which has a large immigrant community in Italy. Other donations by Chinese companies went to Italian regions and towns that host their Italian counterparts.
One of the companies in question is ZTE, which donated 2,000 face masks to the city of L'Aquila in central Italy, where ZTE runs a joint 5G innovation and technology center with the local university. In addition, Huawei offered to set up a cloud computing network to connect Italian hospitals among themselves and with hospitals in Wuhan — which raises serious issues for the control of critical infrastructure and data protection.
Thanks to this outreach, China in Italy is no longer associated with the origin of the pandemic or blamed because of its poor regulation of wet markets and suppression of information that could have helped eradicate the disease at an earlier stage. Chinese online propaganda has worked tirelessly to dissociate the novel coronavirus from Wuhan, where it first emerged, and from China, and in Italy that effort has largely succeeded. China in Italy is now seen as a country that provided concrete help when needed, while other, geographically closer partners behaved selfishly, despite the rhetoric of European solidarity, and did not provide any help.
In a recent telephone call with Italy's Prime Minister Giuseppe Conte, China's Xi Jinping seized the moment and proposed launching a new "Health Silk Road," to go together with the existing Belt and Road Initiative. Under this initiative, China would use the lessons learned in its successful fight against the virus and share them with its partners around the world. Since the pandemic is likely to last several more months worldwide and since a similar pandemic may happen again, many countries would be interested.
The perception among many in Italy is that China succeeded in conquering the virus in a short time thanks to the rigorous and decisive measures it adopted. Italy is compared unfavorably to China in this respect. Implicitly, China's governance is admired as a more effective system that helps save lives and reduce economic loss in case of an emergency.
China has plans for Italy: it is interested in Italy's ports and infrastructure in connection with the Belt and Road Initiative; in its quality food, design, and tourism potential; in its high-technology hubs like L'Aquila; and in the development of 5G in the country. It is also a good place to chip away at Western unity and U.S. influence. The help provided amid the coronavirus pandemic should help strengthen Sino-Italian relations and pave the ground for an appropriate celebration of 50 years of diplomatic relations in November.
Theresa Fallon is the founder and director of the Centre for Russia Europe Asia Studies (CREAS) in Brussels and a nonresident senior fellow of the Chicago Council on Global Affairs. In 2015-2016 she was a member of the Senior Advisors Group to the NATO Supreme Allied Commander in Europe (SACEUR). Her current research is on EU-Asia relations and great power competition.