How Afghanistan Failed to Contain COVID-19 
A combination of political rifts, lack of testing, extremely social lifestyles, and a war-torn health care system have Afghanistan on the brink of disaster.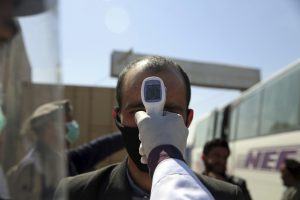 Long-suffering Afghanistan is increasingly facing an ever more severe threat: coronavirus amid political chaos. If serious action is not taken to prepare, the Afghan Public Health Ministry estimates that 25.6 million Afghans will be infected and 110,000 Afghans will die from COVID-19.
If that estimate is borne out, the casualties from the virus will be much higher than the total civilian causalities of the more than 18-year war.
Afghanistan recorded its first positive case of COVID-19 in late February. A combination of political rifts, lack of testing, extremely social lifestyles, and a war-torn health care system led to Afghanistan's failure to contain the novel coronavirus in the early stages. The country has struggled to diagnose COVID-19 cases, prevent an outbreak, and treat patients. Meanwhile, thousands of Afghans have been returning from Iran, where the pandemic has already hit especially hard.
The political dispute over the 2019 presidential election continues to drain attention away from battling the coronavirus. The dispute has turned into an ugly mess, forcing U.S. Secretary of State Mike Pompeo to fly from Washington D.C. to Kabul in hopes of brokering a deal between Ashraf Ghani and Abdullah Abdullah, both of whom claim the mantle of president. Pompeo flew back empty-handed, and soon followed up with an angrily-worded statement threatening to cut $1 billion in U.S. aid.
"When corona[virus] spread in China, we had time to prepare ourselves," said Najmusama Shefajo, a doctor based in Kabul. But the government didn't take advantage of that time. "Coronavirus is inside Afghanistan, and now we design strategy and set up commissions" to fight coronavirus, Shefajo lamented.
The consequences of political rifts appeared in western Herat province, the epicenter of COVID-19 in Afghanistan. Public Health Minister Ferozuddin Feroz of Afghanistan was seen in television ads urging Afghans to wash their hands and eat fruits that contain Vitamin C. But all the while, Afghans were flowing in from Iran, the epicenter of the pandemic in the Middle East, and carrying infection into Afghanistan.
Spokesperson for Health Ministry Wahidullah Mayar appeared in a news conference, saying the ministry was doing its job and political rifts should not affect a proposed decision to impose travel restrictions.
A daytime curfew was into place in western Herat and Nimruz province on Wednesday, March 25 — three days after the proposal was made.
"In one day, 10,000 Afghans return from Iran," said Omar Nasir Mujadadi, who represents Herat at the Afghan parliament. "The provincial directorate of public health lacked facilities to prevent the spread of coronavirus early, but now the problems are solved somehow."
Abdul Qayum Rahimi, governor of Herat province, appeared in a news conference on March 14 to criticize the central government's neglect. Rahimi was forced to borrow 14 million Afghanis (around $18,000) from private hospitals and received not a penny in aid to contain the virus in his hard-hit province in the early stage. He warned that the country would not able to even collect the dead if the government did not start acting.
Without much aid and lacking basic equipment, western Herat and Nimruz provinces welcomed at least 200,000 Afghans from Iran. The country failed to test or isolate a vast number of the returnees, allowing infection to cross into war-torn Afghanistan.
A handful of medical staff checked the temperatures of returnees, a procedure that has little effect. The rate of testing has remained low. The public health ministry introduced restrictive instructions on testing policy: only those who have high fever would be tested. Many of the returnees visited Afghan-Japan Communicable Disease Hospital, a designated hospital for COVID-19 patients in Kabul, asking to be tested, but they were dismissed. Out of some 200,000 returnees from Iran, only 600 had been tested as of March 27.
"I might be infected now," said a doctor who works at the Afghan-Japan Communicable Disease Hospital, a 100-bed hospital designated to quarantine COVID-19 patients in Kabul. "When a person is quarantined, it takes 72 hours — up to five days — to receive the test results."
In country with a population of 35 million, the central laboratory of the Afghan Public Health Ministry served as the sole test center for COVID-19 in the early stage. After a month, the country began working on a laboratory to test blood samples in Herat province.
According to the Public Health Ministry, 95 people, including four NATO service members and one foreign diplomat in Kabul, have tested positive for COVID-19, with four recovered patients and three dead. The infected Afghans live in 15 provinces of the country. Another three Afghans died in central Ghor province after returning home from Iran, although the health ministry did not pronounce COVID-19 as the cause of death.
The Public Health Ministry pleaded for people to avoid social gatherings in order to beat COVID-19. The ministry acknowledged that without the cooperation of ordinary Afghans, beating COVID-19 would be impossible. The government introduced restrictions on social gatherings, such as prayers or weddings, reduced the working hours of employees to five hours a day, and closed schools and universities.
But Afghans defied social isolation. While avoiding social gatherings is the best way to prevent the spread of coronavirus, Afghans have continued to attend social events such as weddings, and to visit restaurants and coffee houses across the country.
"In Afghanistan, people practice hardcore social norms and culture," said Noorullah Navayee, a researcher at National Center for Public Research in Kabul. "For people, it is very hard to leave these hardcore norms."
Navayee explains that people already witness death and unbearable sufferings in their day-to-day lives. People experience so much pain that they do not have the capacity to think of COVID-19 as a threat, Navayee argues.
"As long as people do not see a hard threat in front of their own eyes, they do not believe" in the threat of COVID-19, Navayee said. "If people do not lose a family member to coronavirus," they won't believe it is a pressing issue.
In Afghanistan, 50 percent of the population lives under the poverty line, with less than $1 in income every day and sometimes every week. Even if they want to follow medical advice and avoid social gatherings, they simply cannot afford it. When the country recorded the first positive case of COVID-19 in February, the price of face masks and soup increased significantly.
The failure of people to follow safety tips and avoid social gatherings is likely to overwhelm Afghanistan's already war-weary health care system. According to the WHO, in 2018, only a total of 3,135 health facilities were functional for nearly 35 million Afghans; 20 percent of Afghans have no access to medical services. The country has seen increasing rates of preventable diseases such as diarrhea and respiratory infections.
"Already, there are three patients for [every] one bed who suffer from respiratory infections [other than coronavirus] in Nimruz hospitals," said Gul Ahmad Noorzad, member of Afghan Parliament from western Nimruz province. "The hospitals barely meet 10 percent of the need."
The Public Health Ministry designated nearly 700 beds for patients of COVID-19 across the country. In Kabul, home to 6 million, two hospitals are designed for treating patients of COVID-19.  One, the Afghan-Japan Communicable Disease Hospital, is run by 12 doctors, 12 nurses, and four cleaners, according to a doctor in the hospital.
The doctor, who was not authorized to speak to the media, said that one night they wanted to prescribe medicine to patients who were suspected to have contracted COVID-19, but the medicine was unavailable. The hospital has only very limited number of basic medicines for treating influenza and does not have enough equipment such as ventilators and personal protection gear, said the doctor.
In Herat, a woman walked away from quarantine, saying that she was treated like a sheep in the hospital and describing the facilities as a medieval age prison. "Instead of offering support care, reassuring us, they even did not come close to us," said the patient in a video that went viral on social media. "They told us that the door is open and you can stay or you can go."
When it comes to Afghanistan's assurances on COVID-19, "Everything is a lie," said the anonymous doctor in Kabul. "There is no preparation."