Can India Keep up With COVID-19?
Poor infrastructure and a low testing rate for coronavirus threaten the world's most densely populated region.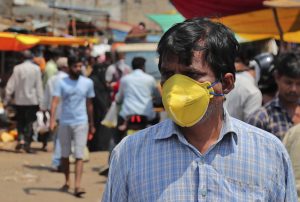 MUMBAI – India's financial hub and other cities like the capital, New Delhi, will remain shut after the partial lockdown on Sunday. Declared by Prime Minister Narendra Modi earlier this week, yesterday's 14-hour-long curfew aimed to prepare citizens for what lays ahead in their struggle against COVID-19. However, many argue that these stringent measures are at least one week late, given the threat of a severe outbreak looming over the world's most densely populated region. 
As early as March 15, at the behest of Modi himself, leaders of the South Asian Association for Regional Cooperation (SAARC) gathered in a extraordinary videoconference to tackle the coronavirus crisis. In the group's first meeting since 2014 — when political grievances stalled collaboration between members — New Delhi pledged $10 million to an emergency fund to deal with COVID-19, which the WHO declared a global pandemic earlier this month. 
Home to around 2 billion people or a fourth of the world's population, SAARC's member states — Afghanistan, Pakistan, India, Nepal, Bhutan, Bangladesh, Sri Lanka, and the Maldives — this weekend surpassed 1,300 cases among them, with about a dozen deaths. That the novel coronavirus, which originated in China, is just now beginning to spread in South Asia — only after earlier spikes in Europe and the United States — is surprising given that two major factors in the virus' spread are proximity and lack of hygiene. Overcrowded, insalubrious South Asia arguably is at serious risk.
As the world's second most populous, country with nearly 1.3 billion people, India has been lauded by the WHO for its "impressive" response to the outbreak. 
As of the morning of March 23, COVID-19 has infected 415 and killed eight in India since it was first detected in the southern state of Kerala in early February. But experts fear that the actual number of infections may be way higher as India ranks among countries running fewer tests and has mainly focused on a narrow cluster of people. The WHO recently stressed that extensive testing and quarantines are vital to fight COVID-19. India has changed its approach, though perhaps too late. 
Insufficient Testing May Mask the True Number of Cases
As of March 23, the Indian Council of Medical Research (ICMR) reported that 17,493 individuals had been tested for COVID-19 at 92 state-run labs across the country. In comparison to South Korea and Italy, India's testing rate is staggeringly low. South Korea and Italy had tested 295,647 and 148,657 people, respectively, as of March 18. As of March 17, South Korea had carried out more than 5,500 tests per million people, and Italy more than 2,500 per million. With an average of just over 10 tests per million people, India is vastly behind. 
The same day the WHO insisted "test, test, test," the Indian Ministry of Health and Family Welfare joint secretary, Lav Agrawal, replied in a press conference: "Testing will only happen as per guidelines, we don't want any unnecessary panic." Yet the WHO's advice was not solely addressed to countries already frightened because of the severe effects of the epidemic in Europe. Neighboring developing nations like Vietnam or Thailand were running, respectively, 40 and 140 tests per million people.
According to the Associated Press, Indian labs test 90 samples a day although they have capacity for 8,000. Even at such a slow pace, this would have provided over 180,000 samples, had the initial 52 labs reportedly provided by Health Ministry been running at their full potential in the last month. 
"India could be the next coronavirus hotspot," said the director of the Washington-based Center for Disease Dynamics, Economics and Policy, Dr. Ramanan Laxminarayan, in an interview on March 18, guessing that India has 10,000 or more undetected coronavirus cases.
Following the sudden outbreak of COVID-19, both South Korea and Italy imposed lockdowns as they had fully entered into stage 3 or community transmission — when infections are detected in people who had not traveled or been in contact with travelers to virus hotspots.
India's official stand is that the disease has not yet spread within the community. It considers itself still in stage 2 or local transmission — wherein only travellers and their direct contacts are regarded as potentially infected. On that assumption, the ICMR has only conducted one random test countrywide, so far, in the first half of March. Out of 1,020 samples of influenza-like and severe acute respiratory-like illness, 500 have already returned negative. Yet again, local experts think that the sample size may be too small and outdated to determine the actual level of transmission.
Nevertheless, India is working to scale up the pace of its testing, with a target of operating 116 government labs, in addition to private labs. India has also ordered a million test kits and may ask the WHO for a million more. But these efforts may come too late to take measures to flatten the curve of exponential spread of the virus within the community, threatening the collapse of India's under-resourced and uneven healthcare system.
Lack of Information and Poor Facilities
On March 19, more than a month and a half after India registered its first case of COVID-19 and a week after border restrictions were imposed, Modi finally addressed the threats of the epidemic to the citizens of the world's largest democracy. Urging people to follow social distancing practices and to isolate elders, Modi appealed for cooperation in what he termed a "Janata curfew" for Sunday, March 22. The curfew did not force people living in India to quarantine, but they were expected to stay home voluntarily between 7 a.m. and 9 p.m. on Sunday. 
However, Modi's speech didn't counter misleading medical advice dangerously spread by his party members. For example, in a public speech Yogi Adityanath, chief minister of the northern state of Uttar Pradesh, said that diseases like coronavirus could be eliminated by practicing yoga. An elected BJP member from the state of Assam said that cow urine could treat the virus.
Neither did Modi give a hint of financial support targeted to either sustain the Indian economy or help the country's poor health facilities cope with the emergency.
Before strengthening the control of movement across the country this weekend, some Indian state governments took precautionary measures, including shutting schools and banning public gatherings. Likewise, authorities and medical staff increased the screening of travelers at tourist hotspots, train stations, and airports. However, complaints of ill-treatment and scarce information have added to the distress experienced by many who were forced into quarantine centers upon their arrival to India. Those whose passports or travel history linked them to countries that have been severely affected by the coronavirus outbreak encountered the most difficulty.
"I wanted to quarantine because I was coming from Spain and I've seen how dangerous this virus can be. But this experience was horrifying," says 23-year-old Aastha Goal, who was taken to a drug rehab center in Amritsar (Punjab) for 72 hours after she landed in India. 
"They told us we were going to a hospital to conduct the test for coronavirus. Nothing was true. They only checked our temperature and I was actually concerned for my health under their supervision," Goal explained, bursting into tears recalling the ill-treatment she experienced. "Beds were so dirty that an old lady slept on the grass. I couldn't use the filthy bathroom and the staff replied that 'this is no Spain or Canada.' Facilities were only cleaned before an inspection came. They don't care for patients, they just fear their supervisors."
Likewise, Spain-based young Indian student Anoushka K. described how her passport was taken away upon arrival at Delhi International Airport and only returned after she was taken to a poorly equipped center on the western edge of the Indian capital for a COVID-19 test. The test never happened. "Senior citizens and even a baby were put inside dirty premises. They finally took us to a hotel but we left as they wanted us to pay for the stay."
A lack of information and awareness are common across the country but not universal. The experience of 38-year-old Spanish tourist Laia Matos is a stark contrast: "They provide food and good accommodation until the results of our test for COVID-19 are ready." Laia and her friend were decently treated after initial chaos when police officers stopped their bus in Kerala. Many tourists claim that guest houses have been ordered to deny accommodation to certain nationals after the coronavirus pandemic was declared.
The apparent lack of preparation on the part of the Indian authorities, to both test individuals and inform the public, is surprising given that India was among the first 15 countries to register a positive case outside China. The disparity in regional resources is appalling considering it's been a little more than a week since India invoked the Epidemic Diseases Act and allocated a state response fund to mitigate the spread of COVID-19 through the National Disaster Management Act. Although India is still in the early stage of the epidemic, travelers are already exposed to havoc and overcrowded facilities. Some fear that patients with COVID-19 will face mayhem in India's overburdened healthcare infrastructure if the country becomes the next coronavirus hotspot.
According to data from the World Bank, India doesn't have even one hospital bed per 1,000 people. With a meager expenditure of 1.28 percent of its GDP on healthcare, India only has eight doctors per 10,000 people — compared to 41 in Italy and 71 in South Korea — and one state-run hospital for over 55,000 people. As infections increased in the last couple of days, the government issued an advisory to both private and public hospitals and medical education institutions to mobilize additional manpower and to set aside beds, isolation facilities, ventilators, and high-flow oxygen masks. 
With a mere 8 percent of Indians older than 60, the country may not seen the deadly effects that the pandemic has caused in nations like Italy, where about 23 percent of the population is over 65, propelling higher death rates. Yet, the absolute number of elders in India amounts to 100 million people. Worryingly enough, with an under-resourced public healthcare system and unaffordable private hospitals, the fate of the 275 million Indians living under the poverty line (22 percent of the population) depends on how they fight a new virus by following unaccustomed social distancing and hygienic habits in overpopulated shantytowns, which are already breeding-grounds for well-known preventable diseases.
Angel L. Martínez Cantera is a Spanish freelance photojournalist based in Asia since 2013. He has an MA in international politics from City University of London (UK) and specializes in human rights and development.