Indian Army Prepares to Assist in Virus Response Measures
The Indian Army is training to assist in COVID–19 containment efforts, if needed.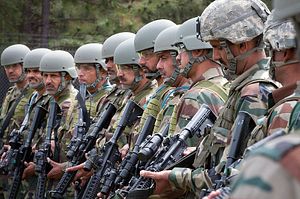 Amid a nationwide lockdown in response to the coronavirus disease (COVID–19) pandemic, the Indian Army has started training personnel to participate in assisting state authorities in enforcement efforts. India's lockdown, affecting some 1.3 billion people, is the largest national policy response of its type to the ongoing pandemic in the world.
According to the Economic Times, the Indian Army has started training troops on how they might collaborate with law enforcement authorities to make sure that lockdown rules are followed. "A major part of the training involves the type of equipment they need to carry, clothing to be worn and precautions to be taken for themselves and in treating and helping" citizens, the Economic Times reports.
As the training continues, no Indian states have formally requested the Indian Army's assistance in enforcing a lockdown. The Indian Army has been in contact with the state governments of Maharashtra, Delhi, Uttar Pradesh, Karnataka, Kerala and Rajasthan.
Last Friday, General Manoj Mukund Naravane, the Indian chief of army staff, launched what the Indian Army dubbed Operation Namaste — an effort to bring the country's 1.3 million-strong armed force to assist in pandemic response operations.
"I would request everyone to take care of themselves and their families. Your safety is my first responsibility," the Naravane said. "I want to assure all the soldiers posted on the border that we will take special care of your families. We will achieve success in the 'Operation Namaste'" he added.
Naravane also addressed concerns that COVID-19 could spread within the ranks of the Indian Army. Earlier in March, the Army recorded an initial confirmed case of the disease in a soldier assigned with the Ladakh Scouts. The soldier had family that had traveled recently to Iran, one of the worst-struck countries by the pandemic.
"As the Army Chief, it is my priority to protect my force. We all will have to stay away from this disease. We will be able to serve the nation when we are away from the disease," Naravane said on Friday.
Naravane took up his position as the 28th chief of army staff on December 31, 2019, replacing Gen. Bipin Rawat, who in turn became India's first-ever chief of defense staff, a newly created position. As of Monday, March 30, India had confirmed more than 1,250 cases of COVID–19 countrywide with more than 30 deaths attributable to the illness. Testing capacity in India remains limited.
Speaking on Monday, Indian Prime Minister Narendra Modi apologized to Indians for the "difficulties" caused by the nationwide lockdown. "I know some of you will be angry with me. But these tough measures were needed to win this battle," Modi said.