One Way to Look at the Overhaul in Russia? Putin Lacks a Dynastic Exit Strategy
Recent political moves reinforce the fact that Putin still lacks a well-placed family member to whom control could be handed, complicating his search for an exit strategy.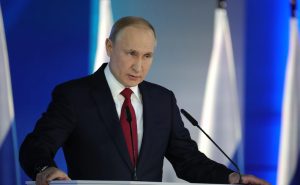 Months of speculation and frenzied preparations were thrown out the window on March 10, when Russia's Duma adopted an amendment that will allow Vladimir Putin to stay in power until 2036. Given Putin's earlier maneuvering, the move was perhaps unexpected, but certainly not without precedent — it represents the continuation of a recent trend in Eurasia over the past half-decade. 
Autocrats of all stripes from Central Asia to the Caucasus have been trying to solve the fundamental problem of retiring in the region: They want to retain the trappings of power without the burden of wielding it. With the amendments, Putin bought extra time for himself but hasn't answered the larger question looming on the horizon. He needs an exit strategy, and the examples from the region are not promising.
Most of Eurasia's autocrats have been in power for well over a decade and are likely looking toward the exit while still in good health. But while the history of transitions in Eurasia's autocratic countries is filled with valuable lessons, the vast majority of those lessons are from failed cases. Of the two "successful" (read: not involving revolution or betrayal of an ally) post-Soviet autocratic transitions, Kyrgyzstan and Turkmenistan, one was the result of an unforeseen death. 
As a result, today's Eurasian leaders are left to their own devices when coming up with a plan for retirement. One seemingly reasonable strategy that has gained popularity recently is dynastic succession, that is, placing well-positioned family members close to the fire and, when the time comes, transferring power to them under a veneer of constitutionality. 
This might be playing out in Kazakhstan in the long term. To the surprise of some, the first transition of post-Soviet Kazakhstan proceeded in an orderly fashion last year and did not directly involve family. After ruling the country for 29 years, 78-year-old Nursultan Nazarbayev resigned in March 2019, passing the presidency to his chosen successor and ally, Kassym-Jomart Tokayev. Yet, recent reports suggest a strained relationship between the de facto and de jure leaders of the country, and it looks like Nazarbayev might be reconsidering his decision, clawing back much of the control ceded to Tokayev. Fortunately for Nazarbayev, his daughter, Dariga Nazarbayeva, as Senate speaker, is next in line for the presidency in the constitutional order of succession. While Tokayev retains the presidency for the moment, Nazarbayev's tighter grip on the levers of control and his daughter's growing profile signals that a reshuffling of power might be in the offing.
Events in Azerbaijan reflect some similarities to the strategy employed in Kazakhstan. In recent years, long-time President Ilham Aliyev has reshaped the upper echelons of his power vertical, primarily to the benefit of his wife, First Vice President Mehriban Aliyeva, and her "Pashayev clan." As his own public support has waned amid a slowing economy and amid increasingly divisive clan politics, Aliyev has made an inter-elite revolt less likely by removing "old guard" officials who oppose or, at least have no allegiance to Aliyeva. Ultimately, an Aliyev resignation would see his wife, an ally of presumably unwavering loyalty, in charge of a power vertical composed of her own allies as well as a public perhaps happy to have a new face as president.
In Turkmenistan, Gurbanguly Berdimuhamedov's son Serdar has been steadily climbing the ladder over the last five years. Serving in roles in the state apparatus and as an elected deputy of the Mejlis (parliament), Serdar has acquired new positions with ever increasing responsibility. In 2019, he was appointed mayor of the important Ahal province, surrounding the capital Ashgabat, and in February he took over the new Ministry of Industry and Construction, which will oversee the construction of a new regional capital in Ahal. All of this points toward an incipient transfer of power to Serdar. 
Finally, discussions surrounding dynastic succession in Tajikistan have been going on for years, but have recently ramped up in anticipation of 2020 presidential election. President Emomali Rahmon's 32-year old son, Rustam, has held a number of government positions, including his current post as mayor of Dushanbe, a position some consider to be next in the line of succession. The possibility of Rustam's future presidency became more likely in 2018 when Tajikistan's parliament lowered the eligibility age from 35 to 30. 
Unlike these autocrats, Putin doesn't have offspring or a wife he is grooming to follow him in power, which is why he has turned to changing the constitution. Indeed, other authoritarian leaders, even outside Eurasia, are increasingly turning to reforming their constitutions to preserve their power. 
In the region, most recently, the former presidents of Armenia and Kyrgyzstan sought to cement their power by reforming their nation's constitutions in their favor and shifting the nucleus of power from the presidency to the parliament. These autocratic machinations were couched in language about a need for "stability" and for "bolster[ing] the democratic power of parliaments." 
Yet, three years later, both of these Eurasian autocratic leaders have fallen from power despite their attempts maintain control. In Kyrgyzstan, President Almazbek Atambayev failed to discern intra-party threats, and was ultimately ousted from control of his party by his chosen successor, current President Sooronbay Jeenbekov. Atambayev was even stripped of his presidential immunity and later arrested, following a violent stand-off between the authorities and his supporters. 
In Armenia, on the other hand, Serzh Sargsyan accurately recognized the threat to his power — widespread dissatisfaction with an emaciated economy and a transparently undemocratic political system — but the former president spectacularly failed in judging its magnitude. This ultimately lead to his resignation in 2018 and the ushering in of significant, democratic reforms.
These examples can serve as warnings for Putin. As both cases have shown, trust in allies can be misplaced and public discontent can overwhelm even the best-planned transition. Fearing reprisal from within, the leaders of many of Eurasia's consolidated autocracies are turning to those whose trust goes unquestioned – their families. 
Yet, as Vladimir Putin lacks a well-placed family member to whom control could be handed, his search for an exit strategy will continue. Fortunately for him, the recent constitutional amendments provide him additional time. Nevertheless, Putin's problem will not go away — he will have to find a way to relinquish control without losing his privileged status. 
Mike Smeltzer is a research analyst for Freedom House's Nations in Transit, an annual report on democracy from Central Europe to Central Asia. The above piece draws on research from the upcoming Nations in Transit 2020 report.