Kazakhstan Continues to Break Ranks With Russia
The not-so-subtle criticism of the Russian government regarding Ukraine in Kazakh President Tokayev's UNGA speech should not be overlooked.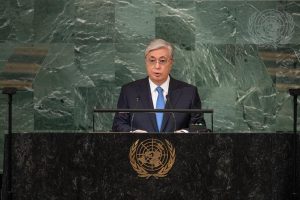 Kazakhstan is distancing itself from Russia – that was the unspoken message in President Kassym-Jomart Tokayev's remarks at the 2022 United Nations General Assembly. Russian President Vladimir Putin's speech announcing a partial mobilization aired a day later. The two speeches demonstrate how the two neighbors, close defense and trade allies, have vastly different views about global geopolitics and the war in Ukraine.
Tokayev devoted the first part of his September 20 speech to expressing his views about the current global situation. He argued, "[W]e must rethink the linkages between three primordial principles: the sovereign equality of states, the territorial integrity of states, and peaceful coexistence between states." He added that "the world is falling prey to a new set of military conflicts," without mentioning Ukraine by name. Regarding nuclear weapons, the Kazakhstani head of state argued, "we face the prospect of the use of nuclear weapons, and not even as a last resort," and "we are alarmed by the increased rivalry and rhetoric of Nuclear States," though he did not explicitly mention Russia.
A day later, on September 21, Putin announced a partial mobilization. To justify this extreme decision he argued, "the goal of that part of the West is to weaken, divide and ultimately destroy our country." Moreover, he said, the Russian government is ready and willing to utilize nuclear weapons to protect Russian territorial integrity. However, the idea of "territorial integrity" is vague and becomes even more complicated as Russian-held territories in Ukraine plan to organize referendums to be annexed into the Russian Federation. Should these controversial referendums occur, Moscow can argue that Ukrainian operations in these territories are attacks against Russia, which could take the conflict to a new, more dangerous level.
The dichotomy of both messages is self-evident.
Kazakhstan-Russia relations are complex. On the one hand, the countries maintain cordial diplomatic relations, with solid defense and economic ties. Tokayev participated in the St. Petersburg International Economic Forum in June, which included a public meeting with Putin, and also attended the Shanghai Cooperation Organization (SCO) summit in Samarkand, Uzbekistan, in mid-September. Regarding military affairs, Kazakhstani troops participated in the Russian-organized Army Games in August.
On the other hand, the Kazakhstani government has not expressed support for Russia's objectives and operations in Ukraine. Astana (no longer Nur-Sultan) has refused to recognize Ukraine's separatist regions – a fact that was also subtly highlighted by Tokayev at the UNGA, as previously noted. Kazakhstan has not sent troops to Ukraine and is against Kazakhstani civilians fighting for Russia. Moreover, during a meeting with President Ilham Aliyev of Azerbaijan in August, Tokayev and the Azerbaijani leader spoke to each other in their nation's respective mother tongues, not Russian, the lingua franca of the post-Soviet world. This is another example of regional countries looking to distance themselves from Russia and the Soviet legacy. 
More recently, on September 16, the U.N. General Assembly voted to have Ukrainian President Volodymyr Zelenskyy deliver a pre-recorded speech. The decision was adopted by a recorded vote of 101 in favor and seven against (including Russia and Belarus) with 19 abstentions. Kazakhstan did not vote, which can be interpreted as Astana seeking to not support or antagonize Moscow.
While the two governments generally enjoy cordial relations, it is evident that Kazakhstan's recent decisions have not pleased the Russian government. In July, the Russian government briefly shut down the Caspian Pipeline Consortium (CPC), which transports Kazakhstani oil through Russian territory. In early September, former Russian President Dmitry Medvedev posted on Vkontakte to his 2 million followers that Kazakhstan is an "artificial state" and accused Astana of a "genocide" against ethnic Russians living in northern Kazakhstan. (The post was deleted, and Medvedev's team argued that his account had been hacked.)
The irony of Medvedev's accusation is that many Russians will possibly migrate to Kazakhstan in the near future. Putin's partial mobilization order has caused Russian men to travel to Georgia, Turkey, the UAE, and other countries to avoid the draft. It is too early to tell how many Russians will move to Kazakhstan, but this issue should be monitored closely – recent videos shared via Kazakhstani groups in Telegram show long queues of cars at the Mashtakov border crossing between Samara (Russia) and Oral (Kazakhstan), though The Diplomat cannot independently verify when they were recorded.
While one presidential speech can easily be lost in the plethora of speeches, announcements and side-meetings at the U.N. General Assembly, not to mention Putin's announcement, Tokayev's comments are noteworthy. His not-so-subtle criticism of the Russian government regarding Ukraine should not be overlooked. While the Central Asian nation cannot erase its Soviet history (there is plenty of historical revisionism going on elsewhere), it is incorrect to continue viewing Kazakhstan as part of Russia's near abroad.