Press Freedom in Kashmir: Local and International Journalists Under Pressure
One local journalist alleges that he was "made a human shield" by Indian soldiers.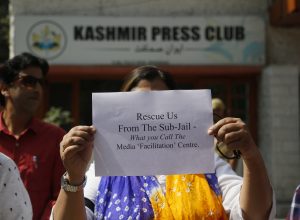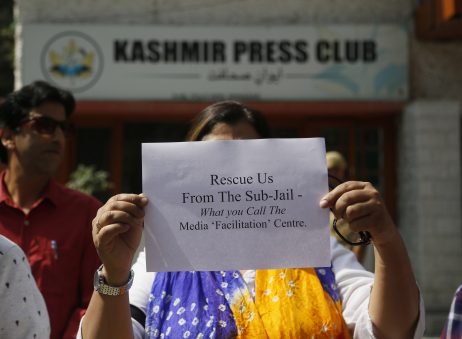 The recurring intimidation and abuse of journalists by the Indian state has risen to an alarming level in the recent past. An abysmal scenario has squeezed space to operate and report freely in Indian-administered Kashmir in particular. In a recent instance, a local journalist was reportedly "made a human shield" by Indian soldiers — a common occurrence in the valley, landlocked between the three nuclear-powered neighboring countries of India, Pakistan, and China. 
Recalling the horrible incident, Qisar Mir, who contributes to a regional network TV9 Bharatvarsh, said that on the evening of February 29, while he was returning home after work, he was stopped at Babgund in Pulwama by government forces. There was a siege laid in that area. "I was stopped by 55th Rashtriya Rifles (55RR), an Indian army counter-insurgency force. Despite showing them my journalist identity card, they snatched my laptop, camera, and mobile," said Mir.
The journalist further alleges that he was "made a human shield" by the Indian soldiers. "I was asked to lead them to a door to door search operation in the village; when I resisted, they pushed me against the wall and landed a couple of punches and blows. I was set free only after about six hours during the night," he added.
It didn't stop there; the next week, on March 4, Qisar Mir, along with a fellow journalist, Qayoom Khan of CNN News 18, was held by the state police in Hakripora, a village in Pulwama district and were not allowed to report. The state police confiscated the journalists' cameras and phones.
The other journalist, Qayoom Khan, said, "Our camera and phones were snatched by police, when the National Investigation Agency (NIA) raid was going on at Hakripora, Pulwama. We were capturing visuals from the spot that time police officer shouted at us and instructed his men to snatch our cameras and mobile phone. We got our phones and cameras back only after six hours from Police Station Kakapora," he added.
Mir said the police deleted all the photos and videos they'd taken during the NIA raid. Mir added that reporting in South Kashmir has become difficult as many journalists are being harassed and abused.
Local journalists are not the lone sufferers from the conditions in Kashmir. International journalists, too, have faced difficulties while reporting from the conflict-torn valley contested by India and Pakistan. The government of India, in an advisory to foreign journalists working in India, instructed them to ask prior permission to travel to "protected areas," which includes Kashmir. 
Going against the advisory has had its ramifications on a Pulitzer Prize awardee, Irish photographer Cathal McNaughton, who wasn't allowed to re-enter India last year. McNaughton, at that time, was based in Delhi as the chief photographer for Reuters in India. When he returned from the Pulitzer ceremony in New York, he was denied re-entry into India.
In a recent media report, McNaughton says, "The Indian authorities said I was excluded for breaking the terms of my visa by traveling to restricted areas in Kashmir, but through government back channels we discovered it was actually because I was highlighting what was going on there."
McNaughton had stayed on a house-boat on Dal Lake, in Indian-administered Kashmir, and alleges that the state was suspicious about him. 
The members of Kashmir Press Club (KPC), Kashmir's largest elected media body, this year in February, observed that ever since the Parliament of India revoked Article 370 of the constitution, journalists and media are far from operating freely in the valley. The prolonged internet shutdown further hampered journalists. The KPC claims that journalists are being intimidated, and often questioned on flimsy grounds.
Although Kashmir has witnessed numerous internet blackouts over the years, this is the most extended shutdown, lasting for for 213 days. The communication blockade was invoked on August 4, 2019, the day when India repealed Article 370, which granted Kashmir the special status within the Indian union and stretched to March 4, 2020. The government of India incrementally restored cellular services on postpaid connections recently, but only voice services. The majority of the user base comes from prepaid mobile consumers, and the internet is hardly accessible across all communication networks.  
Earlier, Reporters Without Borders in a series of video interviews with local journalists highlighted the blackout on communications and restrictions imposed since August 2019 in the Kashmir Valley. India is ranked 140th in Reporters Without Borders' 2019 World Press Freedom Index. "Such flouting of the principles of press freedom outside of any legal framework is typical of authoritarian regimes. For the sake of easing tension in the Kashmir Valley, we urge the Indian government to allow journalists to do their job by covering the operations of the security forces, and to respect the confidentiality of their sources," Daniel Bastard, the head of RSF's Asia-Pacific desk mentioned in a recent report.
Meanwhile, journalistic bodies based in Kashmir, including the Kashmir Press Club, issued statements condemning the assault on journalists. They urged upon the authorities to show restrain and let go of these harsh measures that verily chokes press freedom.
It remains to be seen whether the Indian state is willing to cede some space and listen to diverse voices from within and outside the Kashmir valley. The need of the hour is to make a conciliatory outreach to break the impasse pitting two vital institutions of any democracy at loggerheads. 
Bilal Hussain is a freelancer and columnist based in Kashmir. His principal interests are press freedom, Kashmir, and conflict economy.