Russian Maritime Reconnaissance Aircraft Spied on US Submarines
The two Tu-142MZ aircraft intercepted by U.S. and Canadian fighters on March 9 were loitering around a U.S. submarine exercise, the commander of U.S. Northern Command said this week.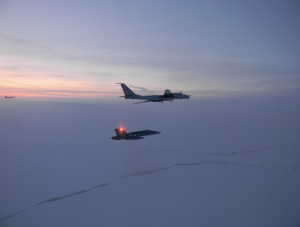 Two Russian Tupolev Tu-142MZ maritime reconnaissance and anti-submarine warfare aircraft, intercepted by U.S. Air Force (USAF) and Royal Canadian Air Force (RCAF) fighter jets off the coast of Alaska on March 9, were spying on U.S. submarines, the commander of U.S. Northern Command (NORAD) said in a congressional testimony on March 11.
The aircraft were "operating in one of our ICEX exercises we had where submarines actually pop up out of the ice," USAF General General Terrence J. O'Shaughnessy was quoted as saying during a House Armed Services Committee hearing yesterday by the Military Times.
O'Shaughnessy referred to Ice Exercise (ICEX) 2020, which kicked off earlier this month, "a three week biennial exercise that offers the Navy the opportunity to assess its operational readiness in the Arctic and train with other services, partner nations and Allies to increase experience in the region, and maintain regional stability while improving capabilities to operate in the Arctic environment," according to a U.S. Navy statement.
The Russian aircraft were loitering around 760 meters above a temporary ice camp, Camp Seadragon, constructed for the exercise with U.S. fighter jets tailing the Tu-142MZs in close proximity.
"Seadragon will serve as a temporary command center for conducting submarine operations and under-ice navigation exercises," the Navy said. "The camp consists of shelters, a command center and infrastructure to safely house and support more than 45 personnel at any one time."
The Seawolf-class fast-attack submarine USS Connecticut (SSN-22) and the Los Angeles-class fast-attack submarine USS Toledo (SSN-769) are participating in the exercise.
As I reported earlier this week, the two Tu-142MZ were intercepted by USAF F-22 Raptors and RCAF CF-18s, a variant of the U.S. Navy's F/A-18 Hornet, in the Alaskan Air Defense Identification Zone (ADIZ). The USAF and RCAF fighters were supported by a Boeing E-3 Sentry airborne early warning and control (AEW&C) aircraft and a KC-135 Stratotanker.
The Tu-142MZs never entered U.S. or Canadian airspace and remained over the Beauford Sea, NORAD said in a statement. "The Russian aircraft remained in international airspace over the Beaufort Sea, and came as close as 50 nautical miles [92 kilometers] to the Alaskan coast," the statement reads. "The Russian aircraft did not enter United States or Canadian sovereign airspace." As I noted earlier this week:
The latest variant of the Tu-142 currently in service with Russian Naval Aviation, the Tupolev Tu-142MZ reportedly features a modern avionics suite, advanced anti-submarine warfare equipment, and new NK-12MP engines.

The Russian Navy deploys around 14 Tu-142MZ aircraft, although it is unclear how many of them are operational and flightworthy. Overall, the Russian Naval Aviation inventory of Tu-142s of all variants consists of approximately 24 aircraft.
NORAD released pictures of the U.S. and Canadian fighter jets escorting the Russian aircraft.