Taiwan Braces for Economic Impact of Global Coronavirus Outbreak
Taiwan's tourism and aviation industries are struggling, but most sectors have withstood heavy damage and the government has planned a $2 billion bailout.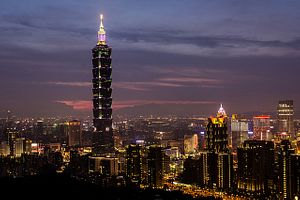 Taiwan, lauded for its response to the coronavirus despite its exclusion from the World Health Organization, is nevertheless bracing for an economic slowdown and planning to bail out its struggling aviation and tourism sectors.
The country, which confirmed its 45th case of COVID-19 on Friday, cut its 2020 economic growth estimate to 2.37 percent last month. On Wednesday, Taiwan's statistics minister said it will "have no problem" maintaining 2 percent economic growth, helped in part by a planned $2 billion stimulus package, according to Reuters.
That package, approved by the cabinet on February 27, is currently being reviewed by Taiwan's legislature.
Taiwan is a key cog in the global technology supply chain. The Taiwanese company Foxconn, a major supplier for Apple, said on Tuesday its first quarter revenue would drop 15 percent in sectors affected by production interruptions in China.
China, which remains Taiwan's largest trade partner, may face its first economic contraction since the 1970s due to the coronavirus outbreak, according to CNN.
Taiwan officials have thus far resisted the urge to hit the panic button. On Wednesday, economists advised against an interest rate cut by the central bank, a move which would mirror the United States Federal Reserve's emergency decision to cut interest rates on Tuesday.
Taiwan's central bank will convene for a quarterly policymaking meeting on March 19.
While the economy at large has withstood the pressures currently threatening the U.S. economy, leading to talk of a recession in the United States, Taiwan's travel sector is being threatened, leading to worries that layoffs and unpaid leave for employees may follow.
Taiwan's transportation ministry is planning a $140 million bailout of the aviation industry, which relies heavily on international flights as most travelers do not fly to domestic destinations.
"The aviation industry is being hit hard by the epidemic. It is the biggest victim," transportation minister Lin Chia-lung said on Wednesday.
The bailout was calculated to compensate for an estimated 25 percent drop in air traffic, a ministry policy adviser said.
China Airlines, one of Taiwan's two major international carriers along with EVA Air, called the outbreak's impact an "avalanche" in an internal letter to employees on Monday and warned of tighter measures should things worsen.
The transportation ministry has also planned a $26.7 million fund to provide training to people working in the tourism industry, including tour guides and bus and taxi drivers. The plan, funded by an existing ministry program, would allow workers to attend up to 120 hours of seminars each month with hopes of equipping them with more professional knowledge, a deputy minister said.
Taiwan has barred entry to travelers arriving from countries and territories including China, Hong Kong, and Macau. Flight passenger volume between Taiwan and those destinations has dropped by up to 92 percent, The Diplomat reported on Tuesday.
On Monday, Taiwan's Travel Quality Assurance Association said over 90 percent of its 3,926 member agencies would be forced to stop business should the outbreak continue into the second half of 2020.
"Our conservative estimate is that more than 500 travel agencies would temporarily cease business in the first half [of 2020 and] at least 1,500 travel agencies might be forced to place their employees on furlough," said Wu Mei-hui, the association's secretary general.
Taiwan's planned $2 billion economic stimulus package, announced last month, will take the form of "stimulus coupons" valid at restaurants, shopping centers, night markets, and arts and culture locations, economic affairs minister Shen Jong-chin said Wednesday.
The coupons – intended to encourage domestic travel and help industrial and commercial sectors affected by the outbreak – will likely not be introduced for six to 12 months, after the spread of the coronavirus slows, Shen said.
Taiwan's premier also approved $137.5 million in subsidies for furloughed and dismissed workers on Thursday, including subsidies for children and minimum wage coverage for workers participating in training programs.
The labor ministry also relaxed qualifications for entrepreneurship subsidies, allowing anyone aged 20 or older who starts a new business to receive $66,725 in subsidies.
On Friday, the banking and financial services group ING said Taiwan's economy had seen visible damage from the coronavirus, pointing to negative inflation observed in February.
The brief noted the negative inflation does not indicate deflation and projected the central bank would not cut interest rates, but noted the New Taiwan dollar could weaken in the months to come.