With Olympics Pushed Back, Tokyo Braces for Coronavirus Spread
Japan's capital is preparing hospital beds and mulling the possibility of a lockdown.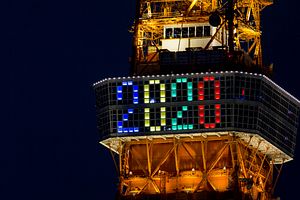 On March 23, Tokyo Governor Yuriko Koike warned that the metropolis of 13 million people could be forced into a "lockdown" if there is a surge in new coronavirus cases. At the time of her remarks, there were a total of 154 confirmed infections in Tokyo. She emphasized the importance of the next three weeks in containing the virus.
On Tuesday, the day after Koike's conference, an additional 17 individuals were confirmed as having tested positive. This was the largest number of cases the city has confirmed in a single day so far. Cases are increasing across Japan, with Saitama and Gunma prefectures recording their first deaths of coronavirus patients.
Infectious disease experts in Japan are sounding the alarm about the country's complacency when it comes to the threat of COVID-19, the disease caused by the novel coronavirus. Last weekend, Tokyo's public parks were full of people celebrating the cherry blossoms. Young people who do not show symptoms could spread the infection if they do not restrain their own activities. What is particularly worrisome is the possibility of "overshoot," or an explosive increase in cases. The Health, Labor, and Welfare Ministry's task force has estimated that 500 people may become infected in Tokyo by April 8 if no new measures are taken. In response, the Tokyo metropolitan government has taken steps such as increasing the number of beds exclusively to deal with coronavirus at public and private hospitals, and extending the period for the public to refrain from holding large-scale events from the end of March to April 12.
Though the first wave of infections originating from China was relatively small, there are serious concerns that a more explosive outbreak could result from infections originating in Europe and the United States. The Foreign Ministry announced that Japan will impose an entry ban on foreign travelers from 18 European counties and Iran, as well as extend the suspension of visas issued to Chinese and South Korean nationals past the original March 31 deadline. The Foreign Ministry has also urged the public to avoid nonessential travel for the whole of the United States, and is set to ask travelers from the United States to self-quarantine for 14 days after their arrival into Japan.
Meanwhile, the Education Ministry will allow local authorities to decide whether to reopen schools or not, despite a growing number of coronavirus infections in the country. The Education Ministry also announced new guidelines, such as students being urged to wear face masks, avoid crowded venues and enclosed spaces with poor air circulation, and refrain from talking in close proximity to others. If an infection case is confirmed after a school reopens, local authorities can suspend the infected student and those who came in contact with the student, shut down classes at that school, or close some schools but not all schools in their jurisdiction.
As the central government's request to shut down schools — issued on February 28 and effective as of March 2 — was not a mandate, some schools had already resumed classes on March 16. Though the central government may shut down schools again if there are more cases, for now, local authorities can make their own decisions based on local health conditions while taking the advised precautions.
Regarding the Olympics, after much speculation and hand wringing, Japanese Prime Minister Shinzo Abe said on Tuesday that he and International Olympic Committee President Thomas Bach agreed to postpone the Tokyo Olympics by about a year. Abe is still committed to holding the Olympics and Paralympics within a year, and even though they will be held in 2021, the games will continue to be branded "Tokyo 2020."
Abe vowed that the games would be held "in the complete form, as a testament to victory over the infection."