COVID-19 and India's Nowhere People
The lockdown, and loss of jobs, lays bare the plight of India's millions of internal migrants.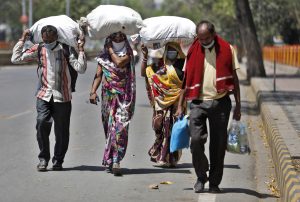 Images of hundreds of thousands of Indian migrant workers from several states trudging for miles and miles on highways have been flooding newspapers and television screens for days. Luggage perched on their heads, babies in arms, and elderly struggling alongside, migrants are fleeing en masse to their native villages.
The tragic exodus was triggered by the 21-day lockdown imposed to curb the spread of the novel coronavirus. The journey has been fatal for some. Some migrants have died — at least 22, though the actual count may be much higher. One 39-year-old, who set off on foot from Delhi to his hometown in Madhya Pradesh, collapsed and died after walking around 200 kilometers. He had worked at a restaurant in Delhi that closed due to the spread of COVID-19. Another migrant, who had subsisted on just one meal in two days, told a reporter wryly: "If coronavirus doesn't kill us, hunger will!"
The Economic Survey of India 2017 estimates that inter-state migration in India was close to 9 million annually between 2011 and 2016, while the 2011 census pegged the total number of internal migrants in the country (accounting for inter- and intra-state movement) at a staggering 139 million, according to a report by the World Economic Forum.
Most of these poor migrants are daily wage workers who are now out of work as businesses and establishments have shut down. In the absence of money and jobs, and bereft of any food, savings, or shelter in large cities, they are desperate to reach their villages. But with railway and bus services suspended amid the lockdown, there were few options other than simply packing up and trying to walk the often-vast distance back home. Many are being sent back from the borders by lathi-wielding cops for violating social distancing norms amid the lockdown. Some have even been sprayed by a toxic bleach disinfectant used to clean buses.
As the humanitarian crisis unfolds, the harrowing plight of migrant workers continues to surface. With the media and civil society raising a hue and cry, buses were finally arranged to take the migrants back to their villages. State governments, meanwhile, are scrambling, often in partnership with local communities, to provide rations and shelter for the now suddenly visible migrants.
But the question to ask is: Isn't this too little, too late? Why weren't night shelters, community kitchens, public toilets, and free food – the basics services required of any government – put in place for the poor before the lockdown was announced?
It's a good question, and one that the Narendra Modi government is fumbling to answer.  The mismanagement of the pandemic has also thrown the lid off the desperation that drives the poor to work in the cities. Largely invisible in the census and in national sample surveys — and consequently to administrators — seasonal migrants are a dark and discomfiting reality of urban India.
The demographic occupies the lowest paying and informal market jobs in key sectors such as construction, hotels, textiles, manufacturing, transportation, services, and domestic work. As most find work as unskilled laborers since they enter the job market at a very early age, they experience no upward mobility and remain stuck in the most unskilled, poorly paid, and hazardous jobs for their whole work-life span, says a survey.
The government's neglect of the internal migrant population is a travesty, considering welfare and infrastructure programs have been clearly provided for the urban poor in the 11th and 12th five-year plans. These include basic amenities like shelter, water, sanitation, toilets, access roads, and infrastructure facilities. However, the benefits are clearly not reaching them. Blame it on bureaucratic apathy, an inefficient outreach, or policymakers' myopia — or all three.
The principles of free migration are enshrined in clauses (d) and (e) of Article 19(1) of the Indian Constitution and guarantee all citizens the fundamental right to move freely throughout the territory of India, as well as reside and settle in any part of India. This is a good thing, as research proves that internal migration bolsters the economy. This movement is known to improve households' socioeconomic status, and benefits both the region that people migrate to and where they migrate from. Across the developing world, economic growth and integration have been inextricably linked with a surge in internal or domestic migration.
But clearly this link is lost on Indian policymakers. The Interstate Migrant Policy Index 2019 (IMPEX 2019), an index compiled by India Migration Now, a Mumbai-based nonprofit that analyzes state-level policies for the integration of out-of-state migrants, has revealed widespread apathy and discrimination toward migrants by state-level policymakers and migrant unfriendly policies.
"Almost all states are apathetic to the needs of migrants, which stops the latter from accessing jobs, education, welfare entitlements, housing, health benefits and even voting in elections," states the report. "Often, even if states make provisions for migrants' access to benefits and support, no measures are put in place to make migrants aware of the relevant schemes and policies or to facilitate this access. Migrants have little or no state-level support and are often scapegoated by local law enforcement and politicians for any trouble. They are underpaid, underserved and unable to be fully productive."
To make matters worse, migration is often enmeshed in dirty politics. In their book, Nativism and Economic Integration across the Developing World, Rikhil Bhavnani and Bethany Lacina point out that internal migration is frequently associated with the rise of anti-migrant politics across India, as parties cater to nativist sentiments or as new parties emerge to cater to such sentiments.
"In Maharashtra," the duo writes, "domestic migration fueled the rise of the Shiv Sena, which railed against South Indian migrants until the 1970s, then switched its focus to Muslim migrants in the 1980s and 1990s, and has since targeted North Indians, particularly Biharis. Since competitive elections are held at every level, politicians face strong electoral incentives to define and cater to their own constituents. State governments hired fewer domestic migrants after the decentralization reforms."
In a country currently roiled by a pandemic, the hapless migrants – starved of funds and food – don't care about terms like "social distancing" and "lockdown." Social distancing doesn't work without social security. And as state governments and urban municipal bodies have evidently failed to take care of them, going back to their villages, even on foot, is their only option.
Hence, they will continue to walk. "Their walking conveys a deep distrust of the state, especially when it promises assistance. They act as if the offer is a diversionary tactic to make them relent by a wily state, which will go back to being its uncaring self, once they do… The poor see and experience the state often through a lens of violence and control, as evidenced in the recent orders, and rarely through a prism of care," Partha Mukhopadhyay and Mukta Naik wrote for The Indian Express.  
Looks like the Indian government has a lot of making up to do.
Neeta Lal is a Delhi-based Editor and senior journalist.