COVID-19 Comes to Asia's Most Densely Populated Slum
Poverty and population density intensify the race to contain the coronavirus' spread in India's largest slum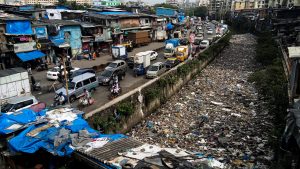 When Indian Prime Minister Narendra Modi extended the country's lockdown till May 3, 2020, to help authorities contain the community spread of COVID-19, migrant laborer Sunil Das felt hopeless and dejected. For three weeks, Das has struggled to survive on rice and salt while packed with 14 other migrants in a cramped shanty with three rooms in India's largest slum Dharavi, nestled centrally in the country's financial capital of Mumbai.
Das is not alone. Millions of migrant laborers form the backbone of India's service industry and migrate from the poorer northern states of Uttar Pradesh and Bihar for employment in the richer cities of Bangalore, Mumbai, and the capital New Delhi. Now these workers have suffered a sudden loss of employment, their hardship compounded by a lack of access to food — all while they are cut off from their families in villages while the government struggles to ensure the infection numbers remain low.
"We have run out of food and neither have money nor ration now. There are 15 of us living confined within three rooms. We have been surviving on the charity of others and cooking whatever the neighbors donate to us. It's hopeless," 27-year-old Das, who comes from India's state of Jharkhand, told The Diplomat.
In recent weeks, India's death toll from the new coronavirus has surged to 592 while more than 18,600 people have tested positive, according to statistics from India's health ministry. And the numbers are expected to rise further, health experts say as India has increased testing after a slow start in March when asymptomatic patients were not tested.
In Dharavi, which flanks the key neighborhoods of Bandra, home to Bollywood stars, and Worli, housing many business tycoons in sky-high towers, the number of cases has jumped significantly in recent days with seven deaths and 60 infected patients, a spokesman for Mumbai's civic authority Brihanmumbai Municipal Corporation (BMC) told The Diplomat.
Dharavi, which was made prominent globally by Danny Boyle's film Slumdog Millionaire, houses migrants from all over India who eke out a living by working in informal industries, including tanneries, pottery, plastic recycling, and textile processing. The slum has a sky-high population density of over 270,000 people living per square kilometer, according to data from the World Economic Forum. Public community toilets and communal water supply are the norms, making social distancing extremely difficult.
This makes Dharavi a potential hotspot for the spread of the highly infectious coronavirus.
"I came to Mumbai to work as a mason in construction sites. If the government had lifted the lockdown even for a few days, I would have tried going back home to be with my family," Das says. He adds that his family of five in Jharkhand are struggling to make ends meet after he failed to send them money due to the lockdown.
Officials from the BMC are struggling to contain the spread of the virus in the slums. Dharavi and the neighboring Worli Koliwada, and have enforced a strict lockdown.
Adding to the panic arising from a lack of food and essentials, hundreds of thousands of migrants last Tuesday assembled in public places across Maharashtra's Mumbai, Gujarat's Surat, Rajasthan's Jaisalmer, and Telangana's Hyderabad demanding the government led by Modi's Bharatiya Janata Party (BJP) to allow them an opportunity to go home.
In Mumbai, almost 1,000 migrants could be seen in the popular Bandra Railway Station emerging from the slums, stoking fears the virus spread could intensify in the city, one of India's worst-affected regions with multiple containment zones.
A Tinderbox
The spread of COVID-19 in Dharavi is alarming for health officials. the tin-roofed shanties are home to over 1 million people living in an area spanning 0.82 square miles, making social distancing and contact-tracing extremely difficult for authorities.
Authorities ramped up measures to isolate key areas where infection cases were found in Dharavi after the first confirmed death in early April triggered panic among locals. Authorities have acquired a local hospital, converted a sports complex into a quarantine facility, and are aggressively setting up more testing sites and medical camps.
To limit the number of people in public places, authorities also closed markets for essentials except pharmacies after local residents failed to stay indoors since March 25, when the lockdown was announced by Modi.
"We have 10 teams conducting testing in Dharavi and have provided 500 protective kits and established 18 thermal scanners. We send high-risk contact patients to Rajiv Gandhi sports complex or Dharavi Municipal school," BMC's assistant commissioner Kiran Dighavkar told The Diplomat.
"Dharavi has 225 public toilets and they are inspected and disinfected on a daily basis along with containment zones," Dighavkar said.
Health experts suggest the pandemic could spread rapidly in slums as self-isolation and distancing are extremely difficult. Almost six residents, on average, are crammed into each small house for lack of space.
For 42-year-old Tahilal Das, speaking to his family every night and cajoling his panicked children about his imminent return is heartbreaking. Tahilal left his home in Jharkhand for Dharavi's spirited cottage industries to tackle crippling poverty 15 years back.
Now he is unsure if the future will ever go back to normalcy. Still, he supports the lockdown as a necessary measure to save lives despite its economic rout.
"My family is back home in the village and I feel so helpless. Neither can I feed them anymore nor can I feed myself. I have almost run out of food and am surviving on what my employer provided me with so far," Tahilal told The Diplomat. He shares his dwelling with four others, all of them migrants working as laborers in Mumbai's construction sites.
In the eyes of local resident Rajesh Prabhakar, who works as a freelance fixer for numerous international news organizations, the biggest mistake the residents of Dharavi made was ignoring early warning signs as mere hype after the virus first emerged in Mumbai.
"Even during the 1992-93 riots in Mumbai, Dharavi sprung back quickly on its feet and it was business as usual. So, there was always a sentiment among people that the virus wouldn't impact them, which was a mistake that can have huge implications in the next few weeks. It's a living nightmare," 49-year-old Prabhakar told The Diplomat.
Prabhakar further added the virus could change Dharavi's very existence in the near future.
"The idea of Dharavi is based on the basic premise of people living and working in compact spaces. After the virus, the entire social structure of the slums will be altered. Human-to-human interaction is the very essence of Dharavi and to survive now, we have to cut it to a halt," Prabhakar added.
The Economic Consequences
In line with its global peers, Asia's third-largest economy too will face huge disruptions, slowing growth, and a huge uptick in unemployment figures, experts warn.
Early in April, the International Labor Organization (ILO) warned that 400 million Indians working in the informal sector were at risk of falling into deeper poverty during the virus-led crisis.
For Modi, who won a second term with the promise of revitalizing economic growth, these numbers are a cause for concern. The country was already beset by an unemployment crisis and falling growth figures before the virus hit Indian shores.
Nearly 90 percent of Indians, like Das and Prabhakar, work in the informal sector. Modi announced cash transfers and food subsidies to help almost 800 million poor tackle and navigate the crisis but many of India's poorest are still reporting failure to access either food or money due to regulatory bottlenecks.
According to data from the Centre for Monitoring Indian Economy (CMIE), the unemployment rate in rural India jumped from 8.29 percent in March to 20.21 percent in the first week of April, highlighting how the lockdown has impacted rural communities.
For India overall, the figures could be as high as 23 percent, CMIE noted.
"India, just like the rest of the world will face massive unemployment at least for a year after the situation is brought under control. but the poorest will be hit the hardest — especially those living in places like Dharavi or in industrial belts," Ashutosh Datar, an independent economist, told The Diplomat.
Vinod Shetty from the not-for-profit Acorn Foundation believes the state and central governments have failed Dharavi, despite making announcements about a redevelopment project that failed to take off in two decades.
"After we contain the virus, public healthcare and housing have to be the priority for the government. India spends marginally less than many smaller countries on its healthcare, so how can we expect to lead regional groups like SAARC [the South Asian Association for Regional Cooperation] without leading by example?" Shetty rues.
He further states most residents in slums across India, including Dharavi, have access to bank accounts; hence officials need to offer monetary support to help them tide over the crisis.
"We cannot be leaders if we can't even release sufficient funds to fight the disease, which may cripple our economy and cause permanent damage to our growth story. Labor is the wealth of any country," Shetty, who works for marginal communities in Dharavi, adds.
Experts say places with a high population density like Dharavi need new strategies from governments to help contain the spread — primarily more testing, developing containment zones, and arming medical workers with sufficient safety gear, including masks and gloves.
"There has to be an advantage of the lockdown and the government just can't kill livelihoods without a proper plan. Even frontline medical workers who are going inside Dharavi don't have kits themselves or are struggling," Shetty says, highlighting the urgency of the developing situation.
But it is Prabhakar who highlights the risks of containing 1 million people in confined spaces without a proper plan.
"I went to Italy two years back to talk about Dharavi… and now reading news about Italy's situation with virus infections worries me… if such a medically advanced country failed to tackle or intercept the virus, how will we do it in Dharavi or India?"
Vishal Manve is an Indian journalist who reports on communities, climate change, and political economy. This article was originally published under a pseudonym.