Rural India Likely To Be Hit by India's COVID-19 Tsunami
Massive state elections rallies and religious festivals are likely to bring the disease home for many living in rural India.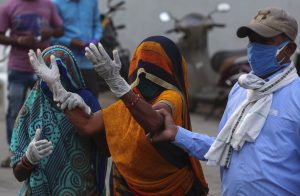 The second wave of the COVID-19 pandemic that is ravaging India's cities is likely to cause even greater devastation with infections spreading to smaller towns and villages. Health infrastructure in rural and small town India is far weaker than that in cities. Unable to access medical treatment, many COVID-19 patients in rural India could die.
The daily caseload during the second wave has touched unprecedented levels. On Saturday, the country reported 401,993 new infections in the preceding 24 hours, bringing the country's total tally of COVID-19 cases to over 19 million.
Several states including Delhi, Karnataka, and Maharashtra have imposed lockdowns to control the transmission of the coronavirus. Migrant workers in industrial hubs have been heading home to their villages and towns in response to surging cases in cities and the lockdown announcements. Their numbers are not small.
In the southern state of Karnataka, for instance, hundreds of thousands of people left the state capital, Bengaluru, by bus and train for their hometowns when a 14-day lockdown came into effect on April 20. Other cities, like Delhi and Mumbai, have witnessed an outflow of migrant workers in the wake of the second wave.
A year ago, when the federal government imposed a nationwide lockdown, India's cities saw a similar exodus of migrant workers. This flow of migrants from the industrial hubs during the first wave did result in spreading coronavirus infections to populations in India's small towns and villages.
However, the spread of infections that India is likely to see in towns and villages in the coming weeks could dwarf what it experienced last year.
For one, the second wave is far larger than the first one. This time around infections are being carried back to rural and small town India from cities that are besieged by a veritable tsunami of infected people.
Already the number of infections outside the state capitals and metros is rising rapidly. India's software hub, Bengaluru, which currently stands second among cities with regard to the number of daily infections, accounted for the overwhelming number of infections in Karnataka state. Other than a few town and villages in the districts, most districts recorded just double-digit infections.
But numbers are surging outside Bengaluru in recent weeks. Bengaluru contributed to 62.23 percent of the 21,794 positive cases that Karnataka reported on April 20. Seven days later, Bengaluru's share fell to 55.13 percent of the state's total tally. Smaller towns are turning into COVID-19 hotspots.
Another reason for the rise in COVID-19 infections in the smaller towns are so-called super-spreader events. If in 2020, those returning back to villages were mainly escaping loss of jobs and shelter in cities, this time around there are millions returning home to towns across India after participating in the Kumbh Mela.
A religious event that ran over several weeks, the Kumbh Mela saw over nine million people congregate on the banks of the River Ganga at Haridwar in the northern state of Uttarakhand. This was at a time when the second wave was raging through the country. Pilgrims at the Kumbh Mela neither wore masks nor followed social distancing norms.
Several of those who participated in the Kumbh Mela have tested positive for COVID-19. Uttarakhand's COVID-19 cases is said to have jumped by 1,800 percent between March 31 and April 24. And those returning home to towns and villages in other states have also tested positive. Sixty of 61 returnees from the Kumbh who were tested on returning home to Gyaraspur, a small town in Madhya Pradesh's Vidisha district, were found to be positive.
Another trigger for the mounting spread of infections outside India's main cities are elections. Multiphase elections to assemblies of four states, including West Bengal, and one union territory extended over a month. Political parties held massive rallies and processions in which tens of thousands of people participated. These were crowded events where neither political leaders nor supporters wore masks or followed COVID-19 protocols. Rural West Bengal is now reeling under a surge of infections.
Although rural India is less densely populated and less crowded than India's big cities, this is where most of the country's population lives.
Importantly, rural health infrastructure has always been in a shambles. People have to walk several kilometers to access a health facility and health centers are grossly understaffed and poorly equipped. The country has an average of 3.2 government hospital beds per 10,000 people in rural areas, which is well below the number recommended by the World Health Organization. Rural government hospitals in Maharashtra – which is the epicenter of the pandemic – and Bihar have just 2 and 0.6 beds per 10,000 people, respectively.
If super-specialty hospitals in India's big metros, including Bengaluru, which is the country's medical tourism hub, have crumbled under the weight of the second wave, rural India with its sparse and rather rudimentary health infrastructure doesn't stand a chance.
Fatalities in rural India can be expected to surge in the coming weeks and months.