Don't Get Too Excited, 'Quad Plus' Meetings Won't Cover China
The Quad Plus may actually jeopardize what, in recent years, has become the Quad's primary mission long-term: signalling unified resolve to counter China's growing assertiveness in the Indo-Pacific.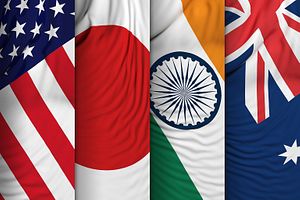 As first reported by the Times of India, on March 20th the "Quad" countries — Australia, India, Japan, and the United States — met via video teleconference to help each other amid the coronavirus pandemic. Interestingly, these like-minded democracies in the Indo-Pacific added several other, non-Quad, countries to the call, including New Zealand, South Korea, and Vietnam. This "Quad Plus" met again on March 27 at the vice-ministerial level and the group discussed not only coronavirus remedies, but also how to revive their economies once the threat subsides. The current plan is for the Quad Plus to convene on a weekly basis.
Coronavirus dialogue is certainly a noble use of the Quad mechanism and harkens back to its roots of addressing the aftermath of the December 2004 tsunami disaster in Indonesia. Moreover, there are good rationales for adding each of these new countries — for example both South Korea and Vietnam have done well in fighting coronavirus and can impart lessons learned, while New Zealand's outbreak is only just beginning.
But for all the good that can come of these countries working together on issues of common concern, the Quad Plus, if sustained, may actually jeopardize what in recent years has become the Quad's primary mission long-term: to signal unified resolve to counter China's growing assertiveness in the Indo-Pacific. Since the Quad's resurrection from a decade-long hiatus in November 2017, the group has met twice per year (no times in person this year yet) and has emphasized maintaining the liberal rules-based international order, which China seeks to either undermine or overturn. Although the Quad Plus would certainly agree with that core objective, none of the Plus states are likely to be particularly enthusiastic about publicly appending their names to a group that seeks to counter China.
South Korea, for example, would rather concentrate on North Korea. Moreover, when the United States in March 2017 deployed Terminal High Altitude Area Defense (THAAD) launchers to South Korea to defend against North Korean missiles, Beijing felt threatened as well and retaliated by crushing the South Korean economy — the effects of which still linger today. Meanwhile, New Zealand appears to value economic ties with China, its largest trading partner, over creating political waves. Wellington seeks inclusiveness and dialogue rather than great power rivalry.
Vietnam, however, is an intriguing case. As I have argued previously, Vietnam would make an excellent addition to a China-focused Quad Plus. Broadening Quad participation to include a Southeast Asian country would weaken Beijing's narrative that the Quad is simply a group of extraregional major powers attempting to "contain" Chinese power. But Vietnamese leaders are also unlikely to go along with Quad Plus unless Chinese assertiveness in the South China Sea dramatically ramps up and forces Hanoi's hand. In the meantime, Vietnam's Three Noes defense policy—no alliances, no foreign bases on Vietnamese territory, and no aligning with a second against a third country—significantly constrain Hanoi's ability to participate in a group aimed at countering China. Although there may be some room for "yes" within these noes and Vietnam's latest defense white paper suggests Hanoi might overturn the policy if threatened, Vietnam in general is likely to steer clear of unnecessarily antagonizing its much larger and more powerful neighbor.
So where might this leave the Quad? I foresee three possibilities. First, Quad Plus proves extremely successful in the coronavirus context and overtakes the original Quad. This would return the Quad to a primary focus on disaster relief efforts and would be problematic for joint attempts to counter China. Alternatively, if the Quad Plus ends after the pandemic recedes, then the Quad should be able to pick up where it left off and turn attention back to China. A third possibility is that both the Quad and Quad Plus continue to exist and work together (or not). This scenario would likely minimize disruption as long as the existence of Quad Plus did not detract from China strategy efforts. At least what we know for now is that the Quad Plus will overshadow the Quad, and this reduces the amount of collective attention to pushing back on China.
Derek Grossman is a senior defense analyst at the nonprofit, nonpartisan RAND Corporation, regular contributor to The Diplomat, and adjunct professor at the University of Southern California. He formerly served as the daily intelligence briefer to the assistant secretary of defense for Asian and Pacific security affairs at the Pentagon.