Guam's Growing Coronavirus Challenge
On Guam, an already complex relationship to the U.S. mainland (and military) is complicated by a pandemic.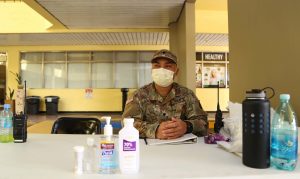 Once the first cases of COVID-19 were confirmed on Guam on March 15, Governor Lourdes Leon Guerrero was quick to respond. The next day schools and nonessential government offices were closed and soon after, public parks, beaches, and most businesses followed. Travel restrictions and a mandatory 14-day quarantine in a government facility for those arriving on the island were imposed. Group gatherings were prohibited.
Early, aggressive steps, the governor said, were responsible for Guam's relatively low number of cases. But as COVID-19 cases rise, the governor's handling of the crisis is receiving mixed reviews, especially the decision in February to promote Guam as a coronavirus-free tourist destination to visitors from the region where the outbreak began.
More recently, the governor's willingness to accept thousands of sailors from the USS Theodore Roosevelt, an American aircraft carrier with a growing number of COVID-19 cases, has laid bare the complicated, often fraught, relationship between the U.S. military and Guam. On Guam, political ambiguity, matters of colonization, and public health infrastructure can be challenging even in the best of times.
Guam, an unincorporated territory of the United States, is home to Joint Region Marianas (JRM), which oversees Naval Base Guam, Andersen Air Force Base, and the other military installations that occupy roughly one-third of an island smaller than the city of Chicago.
Located in the Western Pacific, Guam has developed, but limited, medical resources and infrastructure. Now Guam's 168,000 residents and approximately 6,000 U.S. service members share not just an island, but also a viral pandemic.
In a press conference on April 3, Dr. Felix T. Cabrera, part of the governor's physician advisory group, presented a diagram suggesting that if Guam can decrease the current trajectory of the coronavirus spread by 50 percent, some 700 may die over the next five months. If no preventative measures are taken, fatalities could be as high as 20,000. By flattening the curve, or reducing a concentration of peak infections, fatalities can be slowed and reduced significantly, Cabrera said.
He added that forecast models indicate Guam Memorial Hospital (GMH) and Skilled Nursing Unit may reach maximum capacity (250 beds) around April 22, even if all non-COVID-19 patients can be relocated to Guam Regional Medical City (GRMC), a 136-bed acute care hospital. GMH, the island's primary healthcare facility, has struggled to retain accreditation and is frequently at maximum capacity, even under normal circumstances.
As of April 6, Guam's public health director confirmed that 677 coronavirus tests have been performed by the Department of Public Health and Social Services. 
As of 10 p.m. local time on April 9, DPHSS reported 128 cases of COVID-19, four deaths, and 33 recoveries. By comparison, Hawaii, which has a population 8.5 times larger than Guam, marked 435 cases and five fatalities as of noon on April 8 (Hawaii and Guam are on different sides of the international date line).

In her daily briefings, Guam's governor, herself a registered nurse, projects confidence in her administration's response to the pandemic, yet the territory itself has underlying health issues and a history of economic and political challenges that make fighting the coronavirus difficult.
On a purely human level, in a society where manåmko' (elders) are revered and often part of intergenerational households, social distancing and staying away from those most at risk is especially hard. 
Make Things Right
Dr. Lisalinda Natividad, a social work professor at the University of Guam, points to the island's elevated rates of noncommunicable diseases like diabetes, cancer, and heart disease as complicating factors. She says many are already living close to the poverty line, and the healthcare system is "insanely fragile" and fragmented. 
And while Guam lacks the resources and wealth that would allow it to better respond to the pandemic, it hosts the resource-rich U.S. military, which is relying on Guam's civil society to provide quarantine space and accept the risk of increased spread of disease.
Using the island's Chamorro name, Guåhan, she describes hers as a vulnerable community that shouldn't have to accept thousands of sailors to quarantine in civilian spaces.  Natividad acknowledges that reactions to the governor's decision are mixed, with many accepting the decision. That acceptance, Natividad says, is rooted in the Chamorro concept of inafa'maolek (literally to make good), which includes a recognition of interdependence. "We really prescribe to that very deeply in terms of how we behave as a community."
She went on: "This is the opportunity for [the military] to appease us in terms of legitimizing the military's excessive presence here, but that's not happening. It's clearly them hunkering down for themselves, asking us for help which, in the spirit of inafa'maolek, we're rising to the occasion to our detriment." 
Strength and Weakness
In a written statement provided to The Diplomat, Guam's governor says the island's "greatest vulnerability" is its limited healthcare and human resources, but its greatest strength are its people. "We are a close community and we care deeply for one another," the governor wrote. "Our population is also very sickly, which is concerning because most of these individuals will require hospitalization." 
In the 75 years following World War II, the loss of traditional lands led to rapid changes in development and diet. That contributed to the marked rise of noncommunicable diseases on Guam, leading to a larger population of health-compromised individuals who may have elevated risk factors for COVID-19. 
The governor has been criticized for allowing several thousand sailors from the aircraft carrier USS Theodore Roosevelt to go into quarantine in eight hotels in central Guam. After COVID-19 cases began spreading aboard the carrier, commanding officer Captain Brett Crozier sent a desperate call for help in a letter that was later leaked to and published by the San Francisco Chronicle. The leak led to the abrupt and controversial firing of Cozier, who is now under quarantine on a naval base on Guam after testing positive for COVID-19.
In a leaked recording, now former Acting Navy Secretary Thomas Modly strongly criticized Crozier while praising Guam's leadership, saying, "The governor of Guam has stuck her neck out big time to say she is willing to open up hotel rooms all over this country or this state — this territory." 
As of April 8, the Navy said that 97 percent of the ship's crew had been tested; 416 sailors have tested positive for the coronaviorus. So far, 2,329 of the aircraft carrier's 4,800 sailors have been evacuated off the ship.
In February, when a private cruise ship requested permission to dock on Guam, the governor denied the request, citing concerns for the safety of Guam's people. 
Now that the governor has taken a different tact with the Theodore Roosevelt, she faces criticism, which she flatly rejects.
"It's totally different," the governor wrote in her statement to The Diplomat. "These are sailors who run the USS Theodore Roosevelt. They are operating a very significant, strategic, critical asset for national security and defense in this part of the world… If I believed these sailors would minimize or compromise the safety of our people, I would have never agreed to help." 
She added that the Theodore Roosevelt's crew includes around 20 local Guam residents, adding, "because we have provided help, the military is working to supply the people of Guam supplies and resources in return." 
Requests for comment from Joint Region Marianas, which oversees military command for Guam and the Northern Mariana Islands, did not receive an immediate response.
Short End of the Stick
Desiree Taimanglo Ventura, a member of I Hagan Famalao'ån Guåhan (Daughters of the Women of Guam) says the local government is doing the best it can within the limitations of being a colony. Despite the "One Guam" approach and talk of partnership with the United States, Taimanglo Ventura says, "We're not partners — we are their colonial subject. We are a possession."
As an example, she points to those with access to on-base resources at the commissary worrying about locals depleting goods.
Taimanglo Ventura says that even though the military has offered its assurance that all necessary precautions are being taken, many are unsure of what to trust. "This is our history. We don't get transparency with the military." 
However, as with all issues tied to the military on Guam, there's division and conflicted emotions. Guam has among the highest per capita military enlistment in the U.S. armed forces, yet there is no on-island V.A. hospital and its veteran's funding ranks lowest in the nation.
Guam Senator Sabina Flores Perez says the island has "minimal" capacity with just 15 ICU beds and 50 ventilators, and a lack of trained nurses and personal protective equipment. "Definitely we are not prepared," she says.
Accepting the crew of the USS Theodore Roosevelt is a risk, Perez says. Even for those who test negative for the virus, there is no guarantee that they haven't had close contact with those who are infected. 
In a letter to Guam's governor, Perez requested military leaders use U.S. bases to quarantine military personnel, rather than rely on Guam's civilian infrastructure and people.
The coronavirus crisis, Perez says, underscores the fact that public health is a security issue. "To ensure the public health needs to be one of the top priorities, not just within the base, but also in the communities they come in contact with."
 "The military is a huge factor on Guam which we have no control over here," Perez says. "The lack of political power really limits Guam to taking stronger measures to prevent the spread of coronavirus." 
A Huge Mistake
Dr. Thomas Shieh came to Guam from Hawaii as a Navy lieutenant commander and chief of gynecology in 1996. He says Guam has always had a fragile healthcare environment, lacking critical specialists. In responding to the pandemic, he says the governor waited too long to limit flights, calling her decision in February to promote Guam as a coronavirus free tourist destination as a "huge mistake."
When the first COVID-19 cases appeared on Guam several weeks later, Shieh wasn't surprised. Now he wants stronger preventative measures, more testing and a "real lockdown" enforced by the National Guard and a closure of the airport.
Shieh does, however, support accepting the crew of the Theodore Roosevelt to quarantine on Guam. "This, to me, was a good decision, and I hope that when the time comes, the Naval Hospital Guam will open its doors if the people of Guam needs them."
Political Ambiguity
Dr. James Perez Viernes is a Chamorro educator from Guam who serves as outreach director at the Center for Pacific Islands Studies at the University of Hawaii. Given that Guam is a U.S. territory, he points out that Guam's governor doesn't have the authority to close its borders or restrict immigration like other independent Pacific Island nations.
Guam's reliance on tourism and the military, he adds, puts it at risk in a pandemic and its political ambiguity means that sometimes it's treated like the United States, and sometimes not. 
Since the U.S. liberation from Japanese rule over Guam in 1944, generations have been raised to be grateful. "But with that heroic narrative of liberation and the Chamorro cultural value of reciprocity," Viernes says, "that's all been muddied by… extreme land seizures, lack of political rights, lack of parity with the U.S. government." 
Viernes speaks of a Chamorro practice called chenchule' or "social reciprocity," which has endured despite centuries of colonization. Chenchule' dictates the exchange of gifts in a time of need. Viernes says Chamorros have provided this to the U.S. military since 1898. "As a historian, I can tell you, one after the other, how Guam and its people have allowed the United States and its people to remain a world power."
Now, during the coronavirus pandemic, he asks, "What is the chenchule' they're extending? It's keeping their hospital closed and offloading more sick people onto the island when they can very well safely care for those people within their bases. Those bases, the naval hospitals, never open to civilians in our time of need. Yet now that this [aircraft] carrier has come in infected, we're expected to open our civilian spaces for these people?"
Viernes says it isn't that Guam's people lack compassion or empathy for the sailors, but "it's the longer history of chenchule' betrayed."
Who's the one here making things good? he asks. "Is it the United States military interdependently working with Chamorros? I don't think that's the sense that people are getting right now."
When the COVID-19 pandemic has passed and life returns to normal, or something like normal, will the people of Guam see their relationship with the United States and the military differently?
Viernes wonders aloud, "Is this the turning point? Is this the straw that's going to break the camel's back — the camel that's been carrying the straw since 1898? I think it's quite possible, but I cannot predict that."
Jon Letman is a Hawaii-based independent journalist covering politics, people, and the environment in the Asia-Pacific region. He has written for Al Jazeera, Foreign Policy in Focus, Inter Press Service and others.