How a Tiny South Indian State Is Using Transmedia Storytelling to Fight COVID-19 
Creating relevant content, available through multiple platforms, is helping Kerala combat the coronavirus.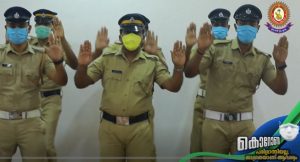 Although Kerala recorded its first COVID-19 case as early as January 30, its positive case load stands at a considerably low number of 265 as of April 2, 2020. This tiny strip of land in the southwestern part of India, known for its high rate of outmigration and more than 3 million migrants from different parts of the country, has now been praised – both internally and internationally – for its efforts at curbing a community outbreak. If the experiences of China, Italy, and the United States are anything to go by, Kerala has been relatively successful in containing the spread of the novel coronavirus, which has now become a global pandemic with its presence recorded in more than 180 countries. At the center of attention is Kerala's health and police departments. By adopting a highly proactive approach in fighting the disease, Kerala is indeed setting an example for other regions – not only in India but across the world.  
Kerala's success in effectively disseminating health-related information can, to a large extent, be attributed to its comprehensive use of both traditional and new media. Akin to an approach used by entertainment franchisees to build a market for their product, Kerala is making use of multiple platforms – print and digital media – to systematically carry out its COVID-19 management and prevention strategies. Apart from print media, news channels and direct announcements – including in different languages (such as Bengali and Hindi) in migrant dominated areas – various popular digital platforms are actively being utilized for their information dissemination capabilities. 
This approach, known in communication studies as transmedia storytelling, essentially involves creating content that has the potential to engage with the masses using disparate techniques to permeate their daily lives. Using multiple media platforms and through coordinated activities, transmedia campaigns can produce fresh perspectives on social and political issues. 
In order to create public awareness regarding the importance of washing hands, Kerala Police's Media Centre produced a short video which shows a group of policemen dancing to the tone of a recent Malayalam blockbuster– Ayyapanum Koshium – all the while demonstrating the correct way to wash hands. The video soon went viral and other states in India followed suit. Likewise, another popular video from the Social Media Cell of Kerala Police utilized VFX to depict the virus, which runs behind a common man clad in a lungi and T-shirt. The video conveys the message of the government's "Break the Chain" campaign – that it is possible to fight the virus using facemasks and hand sanitizer. Kerala Police have also drafted a poem in the vernacular recounting the dire need of the public to work together to confront the pandemic. 
Public awareness is also created through online trolls and memes, often produced and shared by various official platforms of the state government. Giving it an entertainment veneer clothed in local culture and utilizing popular social media platforms such as Facebook, TikTok, Instagram, Twitter, WhatsApp, and so on, helps the state not only widen its reach but also effectively conveys the message. These coordinated efforts over the years have made Kerala Police's Facebook one of the most followed police department pages across the world – with 1.4 million followers. 
Moreover, preparing the route map to trace the places those infected visited before being identified as positive proved to be highly successful when such maps are widely circulated on social media. Looking at the map, it became possible for people to maintain social distance, and contact health officials if they happened to be in that locality with the infected people. The media also shares the experiences of people who have been through quarantine, self-isolation and even completed treatment as recorded in their own words, thereby creating a rich source of content for people to reflect upon. These proactive attempts have proven to be crucial in Kerala's effort to "flatten the curve."
While Kerala's success in fighting COVID-19 can, in part, be explained by the presence of a critical public, improved health infrastructure, and strong human development indicators, its use of transmedia storytelling to create the much-needed crucial public awareness proves to be the game changer. One significant advantage of transmedia storytelling is its wider reach. While print media is popular among the literati and often limited in its scope, combining multiple platform helps the government reach not only Generation X but also Generation Z – a burgeoning class of netizens. Such an approach also makes more sense in developing countries such as India and other underdeveloped regions where print media often has a limited reach due illiteracy and logistical problems. With a fast-increasing internet userbase, banking on such possibilities will help the governments reach a larger audience to create awareness and coordinate actions in times of emergency.  
Mufsin Puthan Purayil is a Ph.D. candidate in Public Policy & Management at the Indian Institute of Management Calcutta, India. He holds an MPhil in Planning and Development from the Indian Institute of Technology Bombay, India. Recently, he has been a DAAD funded exchange scholar to the Centre for Modern Indian Studies (CeMIS), University of Gottingen, Germany. His research interests include public policy, South Asian history & politics, and migration.  
Sayani Malakar holds an MPhil from the department of Political Science, University of Hyderabad. Her research interests include urbanization, political culture, and public policy.