How Can Indians Secure 'Direct' Welfare in a Pandemic?
It might be too early to treat direct benefit transfers as a one-size-fits-all policy solution given the difficulties some Indians have in accessing cash.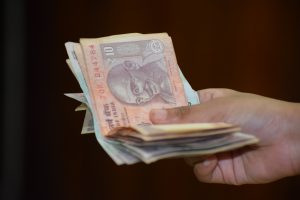 The government of India last month promised a relief package of about $22.6 billion to weaken the blow from COVID-19. Direct Benefit Transfers (DBT) will be the mainstay mechanism of Pradhan Mantri Gareeb Kalyan Yojana's disbursal announced as part of the package. As per a tweet by the Ministry of Finance on April 19, over $1.3 billion has already been deposited in the bank accounts of about 200 million women beneficiaries. Yet, with the coronavirus pandemic placing severe restrictions on people's movement, and overstretching administrative capacities, the DBT machinery is likely to be tested. We explore the challenge of intended beneficiaries being able to safely access funds. 
A look at the DBT mechanism reveals its usefulness. Launched in 2013, DBT is new relative to other longstanding welfare programs and appears innovative in its use of e-governance measures. DBT transfers are usually in cash, in-kind, or in other forms such as honorariums and incentives (we will focus on cash-based transfers). As per the government's website, in FY 2019-20, 427 schemes under 56 ministries made use of DBT (full list here). In total, $34 billion in funds were transferred via more than 4 billion transactions. During the country-wide lockdown, over $4.8 billion has been transferred (from March 24-April 17, 2020).  
DBT has been supported by both physical and technological mechanisms called "enablers." The bulk of processes for cash transfers to the accounts of the eligible are digitized through the use of the Public Financial Management System (the standard operating procedure can be found here). However, while the transfer of money to the beneficiaries' account is digital, the ultimate aim to ensure cash-in-hand is not. This is heavily dependent on at least two physical enablers: banks/ATMs/postal offices and bank correspondents. 
With the coronavirus pandemic, both have to observe strict hygiene measures and guidelines, which is proving to be difficult. For example, the first installment (of $6.60 for a total of about $20 split across three months) was transferred to about 200 million women Jan Dhan account holders in early April. A pernicious effect of the coronavirus crisis has been fear, and rumors about money meant for beneficiaries being returned or blocked led to anxious beneficiaries flouting physical distancing norms to withdraw funds. This was after the Department of Finance had reinforced the need to adhere to strict guidelines of maintaining distance, and measures such as staggering customer arrival.
Thus, DBT's operational difficulties at the last mile have the potential to reverse gains made on health protection through its use. 
An alternative could have been DBT's bank correspondents (also called Bank Mitras or business correspondents), particularly for beneficiaries who may not not be as mobile to travel or could be at higher risk of contracting COVID-19. Among them are senior citizens and people with disabilities, for whom the Union government's relief package mentions a one-time payment of $13. As restriction on movement during the lockdown reduces the regular maintenance of cash supplies, especially in rural areas, the responsibility of turning monetary benefits to actual cash-in-hand has also fallen upon the estimated 120,000 Bank Mitras. These outsourced banking agents function as micro-mobile-ATMs allowing customers to withdraw money. However, they are facing several obstacles. 
Despite their services being classified as essential, reports suggest that they continue to face restrictions in movement and threat to personal security. Moreover, they rely on link bank branches but these branches are themselves rationing cash due to low availability. According to one estimate, only 30 percent of the Bank Mitras are functioning in rural areas, many of whom have little incentive to keep working. This is why the Business Correspondent Federation of India (BCFI) has suggested relief measures of up to $65 for three months for the bank correspondents to compensate them for working under difficult circumstances. To address the issue, public banks such as the Bank of Baroda have announced a transfer of about $26 to each active and functional Bank Mitra for the purchase of personal protective equipment such as sanitizers, masks, and gloves. They have also added a conditional $1.30 per day incentive to active Bank Mitras. 
But, for Bank Mitras to be the true connection at Indian doorsteps, the government will have to install a comprehensive plan for them.
In an extraordinary time such as what the country faces right now,  re-engineering the DBT system to match the crisis is urgent. Until then, it might yet be early to treat DBT as a one-size-fits-all policy solution.
Avantika Shrivastava is a senior communications officer at the Accountability Initiative, a research group part of Delhi-based think tank Centre for Policy Research.
Mohammad Hamza Farooqui is a research associate at Accountability Initiative.
This piece was first published on April 22, 2020, on the Accountability Initiative website.