How India Got Here
Narendra Modi's second term has coincided with the implementation of his party's Hindu nationalist agenda. What is driving this?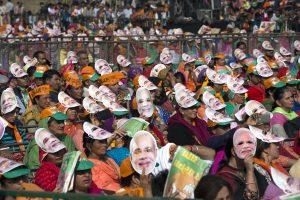 In the 2019 national election, the Hindu nationalist Bharatiya Janata Party (BJP) pulled off what many would have thought impossible in an Indian election. The opposition Congress party went as far as referring to the BJP's thumping victory just five years earlier, in 2014, as a "black swan event" — a highly improbable event that has a negligible chance of happening again.
Yet the 2019 electoral results confirmed a sea change in Indian politics, one in which the BJP would serve as a dominant party at the national level (replacing the position the Congress held from India's independence in 1947 into the 1980s). Overall, the BJP won 303 out of 438 seats that it contested for a "strike rate" of 69 percent, after having won 282 seats in 2014. It was the first time since 1984 that a single party formed the majority in parliament in consecutive elections.
Armed with a sweeping electoral mandate, the BJP has been busy implementing pieces of its Hindu nationalist agenda since returning power. It has been accused of harassing its political opponents, most recently with the jailing of a number of Muslim journalists and public intellectuals critical of the government under the draconian Unlawful Activities Prevention Act (UAPA) — which allows the government to, among other things, declare individuals as terrorists and jail them without charge (and this during a period of lockdown due to the COVID-19 pandemic). The government demoted the erstwhile state of Jammu and Kashmir, the only state with a Muslim majority, to a "union territory" while curbing protections for local populations in land ownership. And, perhaps most controversially, the BJP amended citizenship rules in India to grant citizenship to non-Muslims from neighboring countries who may have come illegally, while not extending the same protections to Muslims in India.
On top of this, an increasingly poisonous media environment has emerged as a key actor in escalating polarization between Hindus and Muslims in India. When one considers all of these factors, it is not surprising that India's Muslim community, which, with a population of 180 million, is the third largest Muslim population in the world, increasingly feels threatened, intimidated, and marginalized in its home country.
But it is unreasonable to think that changes in social attitudes in and of themselves, which are by their nature slow, would engender such extraordinary changes in politics. Is it credible to believe that Hindus in India suddenly became significantly more anti-Muslim in India five to six years ago? A more meaningful explanation of the rise of Hindu nationalism in politics in the last few years must account for key structural shifts in society, politics, and political incentives, while placing these shifts within the context of increasing right-wing populism and ethnic nationalism across the world.
This is how we can begin to understand how India got to where it is today.